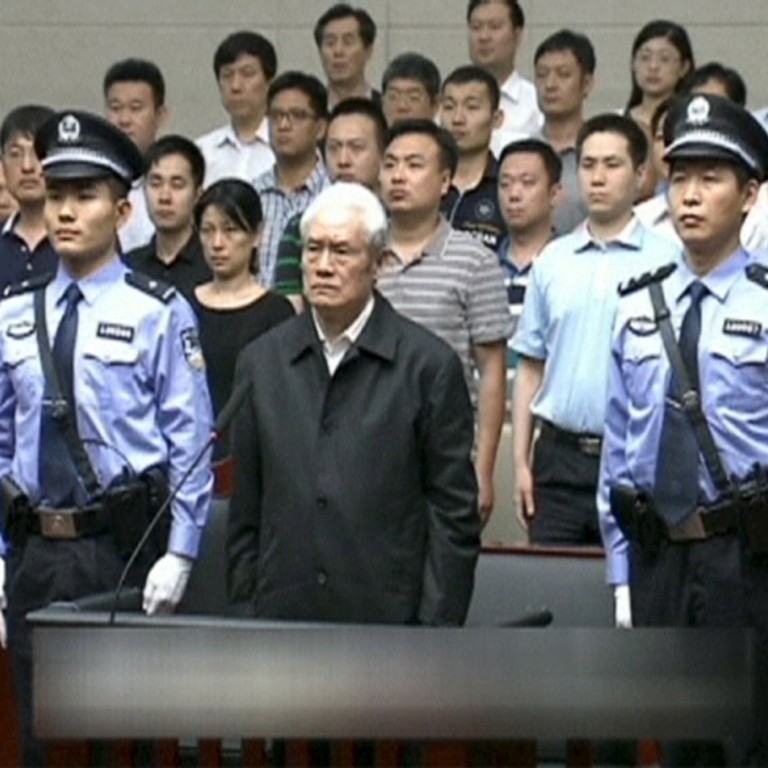 So who is mysterious 'fortune teller' courted by disgraced Zhou Yongkang and Chinese elite?
Cao Yongzheng, hailed for his 'legendary' talents for predicting the future while still only a child, gave testimony against disgraced security tsar during his closed-door trial
The disgraced security tsar Zhou Yongkang once had a legion of trusted aides taking care of his graft schemes. But none of them was a match for the mysterious "Xinjiang sage" when it came to Zhou confiding in state secrets.
When the Tianjin court read out its verdict on Zhou on Thursday, it was revealed that he had handed six classified documents – five of which were top secret – to 56-year-old Cao Yongzheng.
Cao – dubbed the Xinjiang sage after the region where he grew up – has previously been identified by Chinese media as a soothsayer, mystic and expert in qigong, a Chinese spiritual martial art similar to tai chi.
He is reported to have provided testimony against Zhou in a closed-door trial in the northern city of Tianjin on May 22, the Xinhua news agency said, although it was unclear whether he had done so in person or by deposition, or if he was also in custody.
Yet what do we know about Cao, a billionaire reputed to have the "extraordinary" ability to predict the future, who was courted by many of China's most powerful senior officials?
A Southern Weekly report in 2013 said that Zhou had introduced Cao to other people as his "most trusted person".
A report last year by mainland media group, Caixin, revealed Cao's close ties with Sichuan province senior officials, including former provincial party secretary Li Chuncheng and former deputy governor Guo Yongxiang, as well as a range of senior corporate officials at the Chinese oil and gas company, Sinopec. Both Li and Guo have been accused of taking bribes and abuse of power.
It was reported that Cao first won the trust of Zhou after taking care his second son, Zhou Han, who worked in Sinopec and was known for being a solitary character.
Cao has reportedly boasted that all the billionaires listed in Forbes magazine's annual World's Billionaires List would be no match to him if he were to reveal his total assets; he also claimed to have met most than 600 Chinese government ministers.
The Qingdao native, from Shandong province, was originally known as Cao Zengyu. He grew up in a large family and followed his father by earning a meagre wage working for the Xinjiang Production and Construction Corps in the Junggar Basin.
Cao went on to graduate with a degree in politics from Xinjiang University in 1982. He then tried different jobs, including working as a Communist Party schoolteacher and an editor at a publishing house.
However, he remained best known for what were reputed to be his "extraordinary powers" in predicting the future. He has reportedly had such powers since his schooldays, while in Primary Three.
A book written by a senior People's Daily reporter in 1998 has referred to Cao as a "legend" when he was still a child because of his ability to tell, or sense a person's past, present and future within a minute of meeting them simply by looking at that person or the person's photograph, business card, or something that the person had frequently used.
Cao also reportedly once used a chopped branch from a mulberry tree to cure a patient suffering from a curved spine and predicted in 1993 that Beijing was going to lose the hosting rights for Olympic Games to Sydney.
He was also said to have predicted that an unnamed billionaire would develop heart disease within seven days after he spotted the person's name on his computer's notepad. That same billionaire was later said to have helped Cao set up an exclusive health club in Hong Kong which charged a membership fee of US$800,000. Those same members are said to have included the presidents of foreign countries, a secretary of state, leading corporate figures and world-class artists.
Cao's reputation as a "national master" led him to meet many of China's highest ranking officials, businessmen and celebrities and he become a billionaire.
He reportedly bought an exclusive, secluded siheyuan in Beijing's Houhai district for more than 100 million yuan. The large, luxuriously appointed quadrangle property, employed many highly trained staff. Top cadres, billionaires, people seeking cures and others hoping to meet officials were said to have stayed at the residence.
Sources told Caixin that the siheyuan had been visited by at least four provincial-level officials in 2011. However, the residence was investigated by anti-graft officials and shut down in July 2013 by mainland authorities following allegations that it had been used for corrupt purposes.
It has also been reported by Caixin that that Cao's company, Nian Dai, previously obtained privileged land development rights in the high-tech zone of Chengdu and is now the subject of an investigation by anti-graft officials.
However, Cao is not the only self-proclaimed qigong master that is said to have had close links with senior Chinese officials over the years.
Mainland media has reported that another so-called master, Wang Lin, was implicated in a graft scandal two years ago. He is said to have ties with former Guangdong political advisory body chairman Zhu Mingguo and former railway minister Liu Zhijun. Both Zhu and Liu have been investigated for corruption.
Among all the so-called qigong masters Zhang Baosheng is the best known. He found favour with senior Chinese officials in the 1980s and early 1990s.
In 1982, party officials transferred Zhang to work in Beijing because of his special talents. He rose to fame after reportedly demonstrating his special talent for identifying characters using only his nose in front of General Ye Jianying, then chairman of the National People's Congress Standing Committee.
Zhang was later given a job with a unit of the People's Liberation Army; he enjoyed a privileged status, on a par with central government leaders, including having his own residence and staff, and a vehicle for his own personal use.
However, Zhang fell from favour in 1995 after he was accused by scientist He Zuoxiu and other magicians of faking tricks on television. He quickly disappeared and his whereabouts today are unknown.
Hu Xingdou, an economist at Beijing University of Technology, said it was very common for senior officials to seek guidance from so-called masters with special talents in qigong or fung shui.
"Usually the more senior an official is, the more superstitious they will be," Hu said.
"Officials often believe that the ability to preserve their prestigious positions is out of their own control. Their confusion over their destiny means that many of them turn to these so called masters to for spiritual support to point the way for them."
He added that it was also common for such masters to influence the decisions of senior officials and sometimes serve as corrupted money-laundering agents for officials.