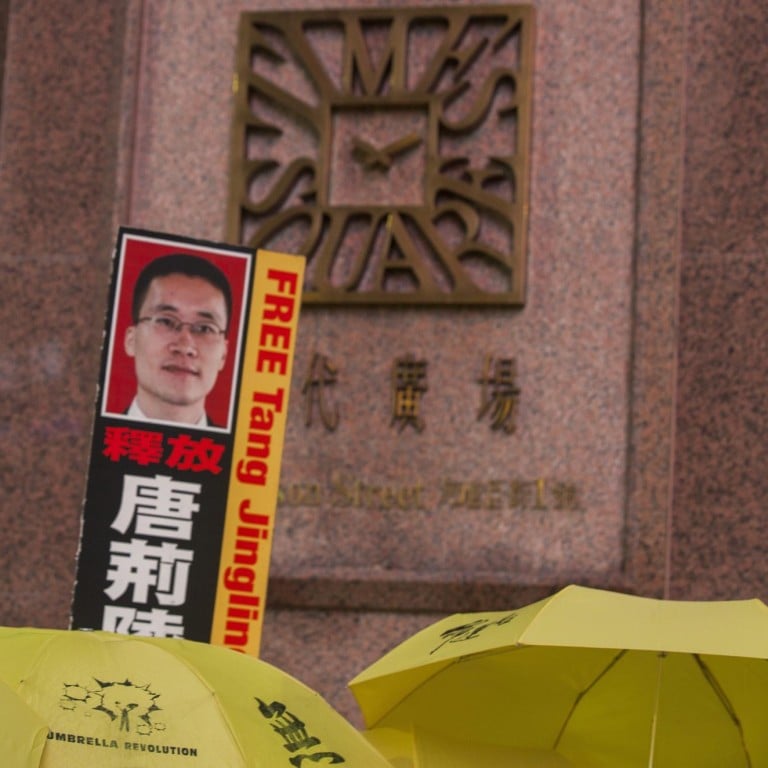 New

|
Chinese activists' subversion trial likened to a battle between justice and evil
Lawyer describes being ill-treated in jail that was 'worse than a Nazi concentration camp'
Human rights lawyer Tang Jingling last Friday described the pain and humiliation he and his two fellow activists had endured, saying it "far exceeded criminal punishment" but was also "a glorious crowning".
In a 14,600-word defence statement in the Guangzhou court where he, Wang Qingying and Yuan Chaoyang were facing the charge of subversion of state power, Tang described the controversial trial as a battle of "darkness versus light, destruction versus hope".
"Even if justice is temporarily defeated, it is still mightier than evil," Tang said. "Even if we can't stop evil from spreading, we can hold on to our pursuit of freedom and justice."
Tang, Wang and Yuan, also known as Yuan Xinting, were arrested in May last year for "starting quarrels and provoking trouble". The charge was later changed to the more serious "inciting subversion of state power".
Tang faced up to 15 years in jail while the other two could be jailed for up to five years, their defence lawyers said. They added that the trio were indicted based on "insufficient" evidence and would appeal if convicted.
Friday's hearing followed a sweeping crackdown on rights advocates a fortnight ago that has seen more than 200 people arrested, detained or put under watch.
In his statement, Tang detailed his 20-year journey advocating non-violent civil disobedience based on the teachings of Mahatma Gandhi, the late leader of the Indian independence movement, and his own views on what he saw as an unjust trial.
He, Wang and Yuan had been detained for more than a year, Tang said, and were deprived of sunlight, contact with their family, the right to write letters, and access to reading materials. They were also locked in a tiny cell of about 20 square metres that was occupied by more than 20 people, he said.
"[We] have been imprisoned for more than a year in a condition that is worse than a Nazi concentration camp in many aspects," Tang said.
"There was only a toilet and a cold faucet … You can imagine what it's like to squash 20 to 30 people in an average person's living room.
"Here, a glimpse of the sun, clouds, moon, a star, or even a blade of grass became a luxury. The torment is unimaginable if you haven't experienced it yourself.
"To have to live in such a condition for an indefinite time … I wish someone smarter than myself could tell me how better to describe this than 'extrajudicial torture'."
This treatment did not apply to him alone but was a standard practice countless other inmates faced prior to conviction, Tang said.
According to Wang's defence lawyer Ran Tong, a video played at the hearing proved his client had been subjected to torture.
Wang's wife, Zeng Jieshan, said Wang's hands and feet were tied together for 48 hours and he was deprived of sleep, food and access to a toilet.
Tang said he had witnessed various means deployed against democracy activists, such as shutting down their internet connection, depriving them of their family income, illegally evicting them from their homes, and meting out heavy sentences.
"All these years, I did only one thing – that is, to push for civil disobedience," Tang said. "This included increasing the number of disobedient civilians, fostering their development and pushing ahead the movement for a democratic and free China."
Tang, 44, a Hubei native, gave up his chemical engineering career to practise law in 1999.
But he was stripped of his licence in 2005, after he joined a struggle by Taishi villagers in Guangdong's Panyu district to exercise their civil rights and their village chief. He began advocating non-violent civil disobedience in 2006, and over the years, he has joined a range of activities including the public mourning of prominent activist Lin Zhao who was sentenced to death decades ago and a 5,000-day countdown to the end of "dictatorship".
According to the China Human Rights Lawyers Concern Group, at least 255 lawyers and activists had been arrested, detained or put under watch in the two weeks from July 10. At least 20 remained locked up, it said.
"We need this progressive force to drive the society. This is why so many lawyers across the nation have come together vowing to defend the case to its best," Ran said.
"This is a major storm … but we must not collapse and must strive to display our persistence, especially at this challenging moment. There must be a rainbow after every storm."
The trio awaits the verdict.
This article appeared in the South China Morning Post print edition as: Activists' trial 'war against darkness'