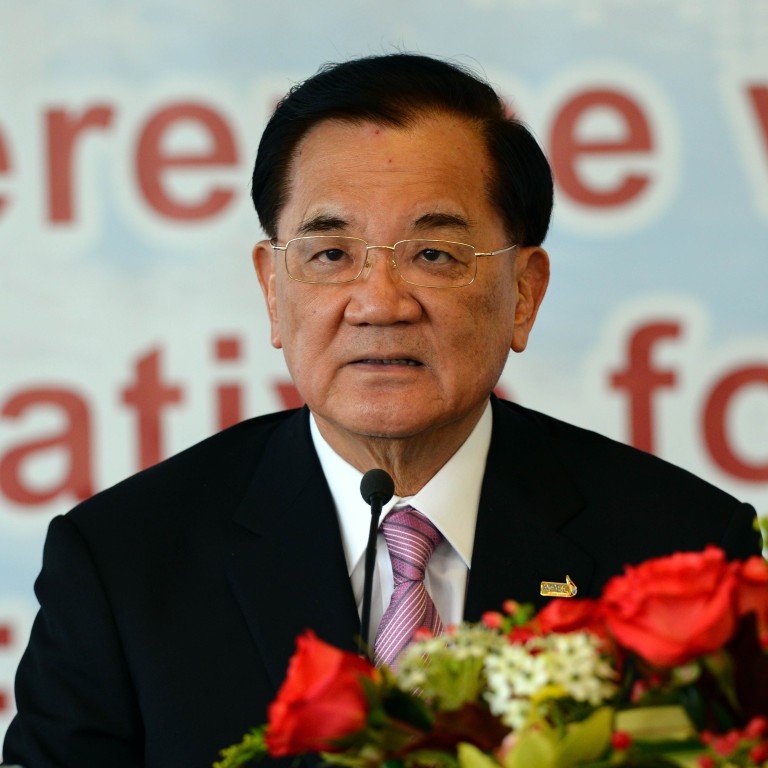 New

|
Taiwan's ex-premier Lien Chan arrives in Beijing for China's victory over Japan parade, to chagrin of island's politicians
Former KMT chairman 'sees no harm' in attending major military parade this week and aims to promote relations across the Taiwan Strait
Former Kuomintang chairman Lien Chan left for Beijing on Sunday for China's military parade this week to mark Japan's surrender in the second world war, despite strong opposition from Taiwan's politicians, including President Ma Ying-jeou.
Chang Jung-kung, a spokesman for Lien, said the purpose of Lien's trip was mainly to promote cross-strait ties. Lien would also maintain the principle of equality in dealings with the mainland, Chang said.
As Beijing's parade was an international event, Lien saw no harm in attending it, Chang told Taiwan-based Central News Agency on Sunday. Cross-strait peace was key to Taiwan's security, he added.
Beijing insists that communist forces led by Mao Zedong played the key role in defeating Japan, but Taiwan argues that the nationalist KMT did most of the fighting against the Japanese army.
Lien's visit sparked strong opposition among politicians in Taiwan, including President Ma Ying-jeou.
"It's not appropriate," Ma said of Lien's visit on Saturday. "This is the stand of the government of the Republic of China."
Taiwan's Presidential Office said politicians should take into consideration the public's feelings and refrain from attending the parade in Beijing. The island's defence ministry said the historical fact that the war against Japan was led by nationalist KMT forces should not be distorted.
Lien would also meet Communist Party chief Xi Jinping during his visit, and make appropriate remarks concerning the historical meaning of the war against Japan that ended in 1945, Chang said last week.
Lien is a frequent visitor to the mainland, had had met Xi's predecessor, Hu Jintao.
Yok Mu-ming, chairman of Taiwan's New Party, arrived on the mainland on Saturday for commemorations and said there was nothing wrong about Lien attending the parade. It did not mean he was praising the Communist Party, he said.
Beijing's grand military parade this Thursday is seen by many observers as a move to flex its military muscle, with tensions growing between China and its neighbours .
Beijing said earlier that KMT veterans of the war had also been invited to take part in the parade. But Hau Pei-tsun, Taiwan's former premier, said earlier in an open letter that veterans from Taiwan should not attend the event, as it meant they were endorsing Beijing's propaganda that the Communist Party was the mainstay in the war.
Meanwhile, Beijing on Sunday announced road closures for the parade.
Shops along five major streets in Wangfujing, Dongdan, Qianmen and Xidan will be closed from Wednesday until the end of the parade.
Some Beijing residents said the road closures would be a serious inconvenience.
This article appeared in the South China Morning Post print edition as: Lien Chan heads for Beijing amid disapproval at home