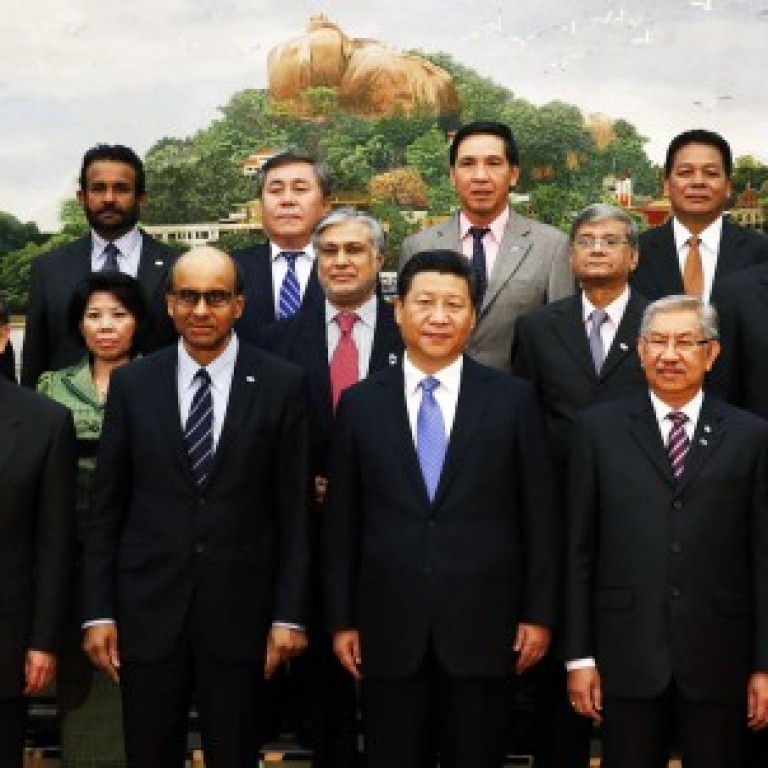 How China successfully redrew the global financial map with AIIB
Beijing was plagued by doubts that other nations would back idea when it first considered setting up the Asian Infrastructure Investment Bank in early 2013, sources say
Plans for China's new development bank – one of Beijing's biggest global policy successes – were almost shelved two years ago due to doubts among senior Chinese policymakers.
From worries that it would not raise enough funds to concerns other nations would not support it, Beijing was plagued by self-doubt when it first considered setting up the Asian Infrastructure Investment Bank (AIIB) in early 2013, two sources with knowledge of internal discussions said.
However, promises by some Middle East governments to stump up cash and the support of key European nations – to Beijing's surprise and despite US opposition – proved a turning point in China's plans to alter the global financial architecture.
The overseas affirmation, combined with the endorsement of stalwart supporters, including a former Chinese vice-premier and incoming AIIB president Jin Liqun – a former head of the sovereign wealth fund China Investment Corp – enabled China to bring the bank from an idea to its imminent inception.
The bank's successful establishment is likely to bolster Beijing's confidence that it can play a leading role in supranational financial institutions, despite the economic headwinds it is facing at home.
"At the start, China wasn't very confident," one of the sources said in reference to Beijing's AIIB plans.
"The worry was that there was no money for this."
A Finance Ministry delegation that called on Southeast Asian nations to gauge interest in the AIIB was not encouraging, the source said.
Governments backed the idea, but were too poor to contribute heavily to the bank's funding.
However, subsequent visits to the Middle East helped to win the day as regional governments informed China they needed new infrastructure and – crucially – were able to pay for it, a source said.
"They are all oil-producing countries, they have foreign currencies, they were very enthusiastic, and they could shell out the cash," he said.
"That was when we thought, 'Ah, this can be done'."
AIIB referred to comment on this story and referred questions to China's finance ministry, which did not respond to a request for comment.
The AIIB, to which 57 nations have signed up to join, is poised to rival the World Bank and the Asian Development Bank (ADB) and will amplify China's influence on global development finance.
Countries accepted as AIIB founding members include China, India, Malaysia, Indonesia, Singapore, Brunei, Myanmar, the Philippines, Pakistan, Britain, Australia, Brazil, France, Germany and Spain.
However, long-time rival Taiwan was left off the list of founding members despite expressing a desire to join.
About one seventh of the countries that signed up to be founding members were Middle Eastern, AIIB's website showed, with Iran, Israel, Egypt, Jordan, Qatar, Saudi Arabia and the United Arab Emirates among the signatories.
Internal government debates about the AIIB lasted for at least six months from spring 2013, and included the Finance Ministry, the Ministry of Commerce and the China Centre for International Economic Exchanges (CCIEE), a state think-tank, sources said.
Government sceptics questioned China's ability to run a multilateral bank given its inexperience and – fearing the AIIB might incur losses – suggested China set up its own state investment fund to finance foreign infrastructure deals, sources said.
Others challenged the need for China to start a new bank given it was already a member of the BRICS development bank with Brazil, Russia, India and South Africa, and had held talks with Russia about jointly establishing another lender.
But the suggestion to start an investment fund was rejected on the basis that a unilateral effort by China could cause other governments to suspect its motives, one of the sources said.
AIIB proponents also argued that other members of the BRICS bank – named after the acronym for the emerging market nations of Brazil, Russia, India, China and South Africa – were all jostling to lead the lender, and that Russia was cool about the idea of starting a development bank with China.
Russia's finance ministry declined to comment for this story.
Only the AIIB would give China the global stage to properly wield its financial influence, one of the sources said.
"The AIIB will allow China to get a hundred positive replies each time it makes a call," he said.
While some officials, including Jin, have over the years pushed for Beijing to start a new international development bank, the idea did not gain traction under previous Chinese governments, sources said.
However, that changed when President Xi Jinping took office in the spring of 2013 and threw his weight behind China's bold "One Belt, One Road" infrastructure and export strategy.
'One Belt, One Road' is a development strategy launched by after Xi called for a revival of the 2,000-year-old land-based Silk Road and a maritime silk route. 
The New Silk Road economic belt will link China with Europe through central and western Asia, and the 21st-century maritime Silk Road, will build roads, railways, ports and airports across Central and South Asia to link China with Southeast Asian countries, Africa and Europe.
The potential for the AIIB to further the "One Belt, One Road" plan persuaded top Chinese leaders to back a 2013 proposal for the bank's creation that was submitted by former vice-premier Zeng Peiyan, who heads the think tank, the China Centre for International Economic Exchanges (CCIEE), sources said.
Zeng drew up the proposal with the support of CCIEE, which held several consultations with Jin, sources said.
Jin, a former ADB vice-president, who speaks English and French, was the obvious Chinese candidate for the AIIB presidency given his overseas experience, a source said.
"No one imagined [the AIIB] would be so successful, that so many people would respond to it," one of the sources added.
The final list of 57 founding members of the AIIB
Australia
Austria
Azerbaijan
Bangladesh
Brazil
Brunei
Cambodia
China
Denmark
Egypt
Finland
France
Georgia
Germany
Iceland
India
Indonesia
Iran
Israel
Italy
Jordan
Kazakhstan
Kuwait
Kyrgyzstan
Lao
Luxembourg
Malaysia
Maldives
Malta
Mongolia
Myanmar
Nepal
Netherlands
New Zealand
Norway
Oman
Pakistan
Philippines
Poland
Portugal
Qatar
Republic of Korea
Russia
Saudi Arabia
Singapore
South Africa
Spain
Sri Lanka
Sweden
Switzerland
Tajikistan
Thailand
Turkey
UAE
United Kingdom
Uzbekistan
Vietnam
This article appeared in the South China Morning Post print edition as: AIIB plans were nearly halted over early doubts