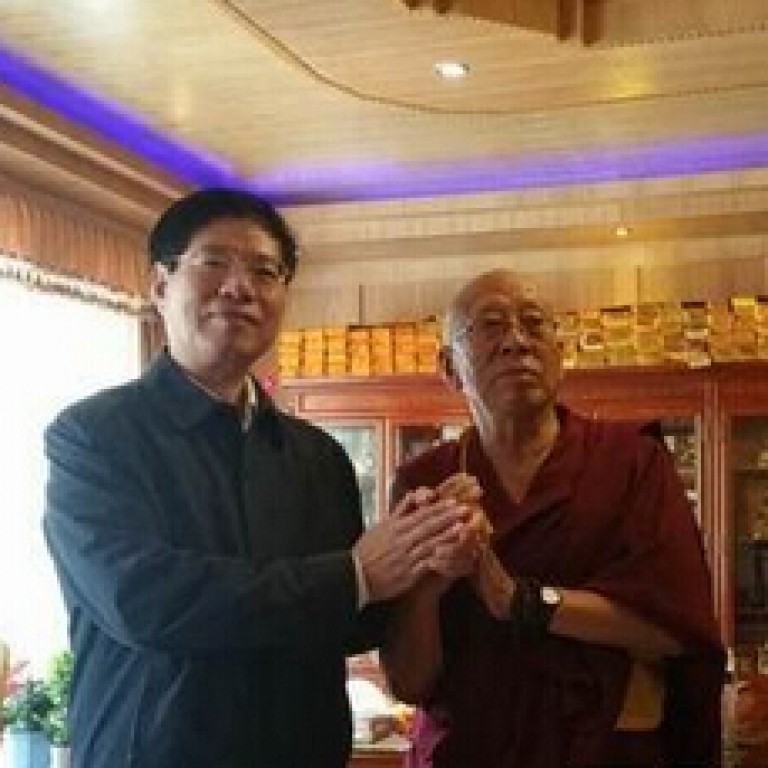 Dalai Lama's former biographer takes up residence in mainland China
A former senior member of the exiled Tibetan government in India and one-time biographer for the Dalai Lama has returned to live in China, a Chinese government-run news website said.
Tibet.cn said late on Saturday that Achok Rinpoche, who had visited China several times in recent years, returned in May and was now living permanently in Ngaba, a heavily Tibetan part of the southwestern province of Sichuan  that is traditionally strongly defiant of Chinese rule.
"I've now really become a Chinese citizen," he was quoted as telling senior Sichuan government official Cui Baohua last week.
The website showed a picture of the two of them walking around a temple in Ngaba surrounded by Tibetan Buddhist monks.
According to the website of the Austria-based Tibet Centre Institute, where Achok Rinpoche is listed as a teacher, he had been working on compiling a list of teachings of the Dalai Lama and had once been his official biographer.
He also lived in Beijing for a year in 1987 at the request of the Dalai Lama and the late Panchen Lama, working at a school for reincarnated lamas, the centre said.
China has ruled Tibet with an iron fist since the People's Liberation Army "peacefully liberated" it in 1950.
Achok Rinpoche and Cui, who heads the United Front Work Department in Sichuan, which is in charge of co-opting religious groups and ethnic minorities, were "old friends", the Chinese report said.
Achok Rinpoche, who was born in Sichuan in 1944 and left in 1959 after a failed Tibetan uprising against Chinese rule, first went back to China in 1982 as part of an effort by Beijing to engage with exiled Tibetans, the Chinese website said.
Tibetan spiritual leader the Dalai Lama fled at the same time. China reviles him as a separatist, although he says he merely wants genuine autonomy for Tibet .
Achok Rinpoche had headed a Tibetan hospital and worked as a senior librarian in exile, the Chinese website said.
He fell and injured himself while in Nepal in December 2014 and asked to be taken to China for treatment, which Cui organised, the report said.
During each trip Achok Rinpoche could see with his own eyes China's amazing development, and that religious and ethnic groups were well-treated, the website said.
"The motherland and home are the best. The motherland is the warmest," it said.
Although he was invited to the Dalai Lama's birthday celebrations in July, what he wanted to do more was come home and settle down, the website said.
It was not immediately possible to reach him for comment.