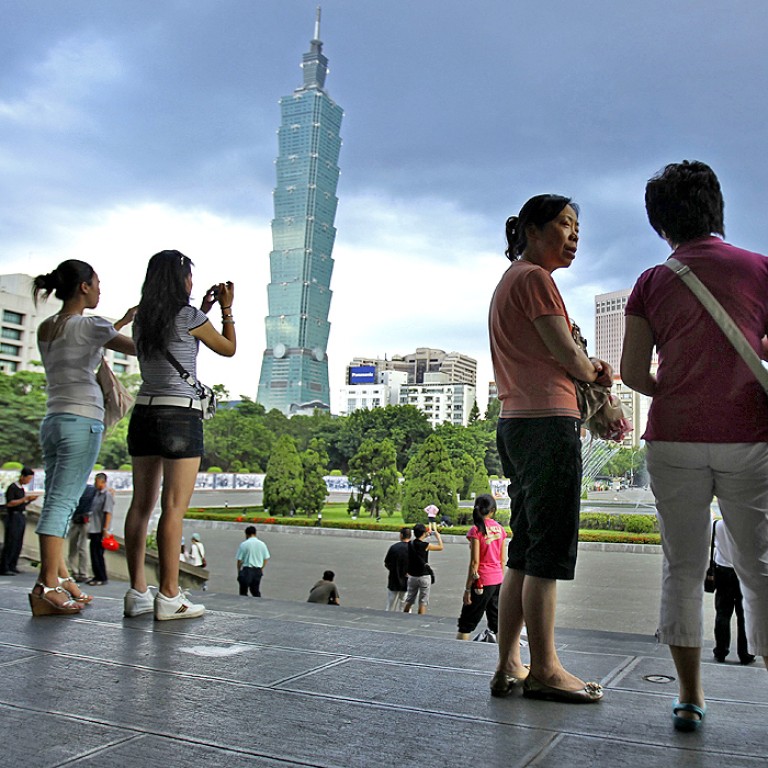 Don't leave, Chinese tour groups! Taiwan's tourism industry fears drop in mainland visitors over presidential election season
Taiwan's tourism industry is bracing for a big drop in mainland visitors during the presidential election season.
The island's tourism bureau said on Wednesday travel agencies had been voicing concerns for about a month that restrictions would be imposed from December 16 to election day on January 16.
Individual travellers would not be affected but the number of visitors in tour groups was expected to halve, the bureau quoted the agencies as saying.
The remarks came after Taiwanese media reported on Tuesday that mainland tourism authorities had ordered a 95 per cent cut in the number of Taiwan-bound tourists at the height of the election season.
Tsai Ing-wen, the pro-independence Democratic Progressive Party's candidate, is the front runner, with the Kuomintang divided over whether to replace its struggling nominee.
The bureau said mainland authorities asked the travel agencies to avoid taking tourists to the campaign sites to "avoid unnecessary disputes".
An employee at a Beijing-based travel agency said it would organise fewer tours to Taiwan in December due to the election.
"There will be only a couple of groups from December to mid-January, while in November we will have over a dozen," she said.
She said the arrangements were probably due to cuts in travel permit quotas.
Mainland tourists waiting to visit the island need permission from public security agencies.
Taipei and Beijing had agreed on a daily quota of 5,000 individual and 5,000 group travellers to the island from the mainland.
"I heard in December [the group tourist quota] would be reduced to only several hundred," she said.
But another Beijing travel agency had not registered any change. "Taiwan is a popular destination during the new year holiday and we will have many groups," an employee said.
This article appeared in the South China Morning Post print edition as: Tourism industry braces for election season lull