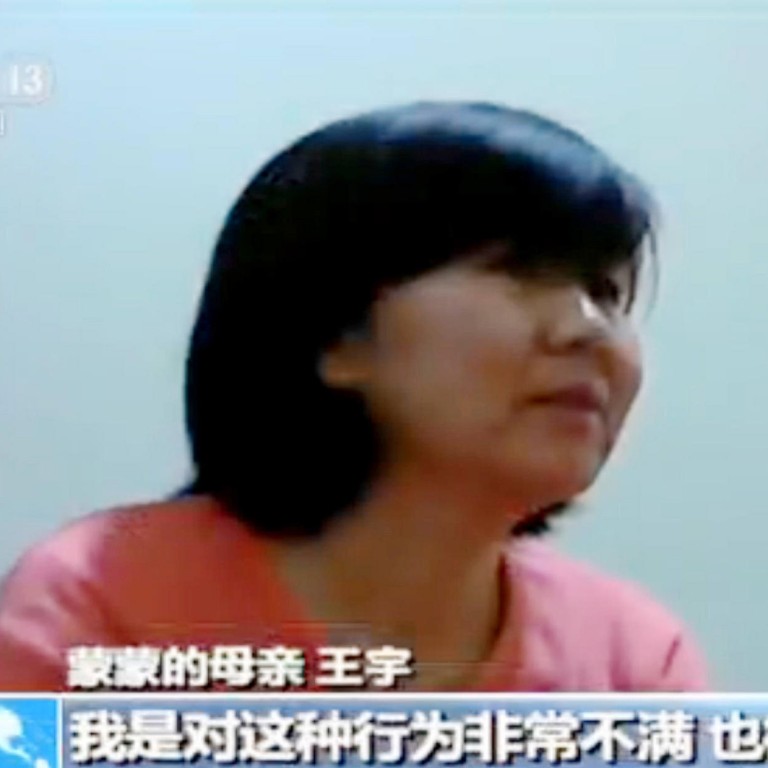 Detained human rights lawyer, Wang Yu, on Chinese state TV informed of 'failed attempt to smuggle son overseas'
Distraught civil rights lawyer and husband, detained for months, are filmed being informed of 'failed attempt to smuggle son out of China'
Human rights lawyer Wang Yu and her husband Bao Longjun, who have been detained incommunicado for three months, were shown on state television in a distressed state yesterday, condemning a failed attempt to smuggle their teenage son out of China.
But a San Francisco-based family friend, Liang Bo, who was to receive 16-year-old Bao Zhuoxuan in the US, said friends were trying to help the boy escape round-the-clock surveillance and his parents had been misled by the authorities.
State broadcaster CCTV yesterday aired footage of the couple, filmed separately, talking emotionally about their son, who was caught after he entered Myanmar earlier this month while trying to flee abroad with the help of two activists.
After the plan failed, the boy was taken back to China to stay with his grandparents and is now under 24-hour surveillance, according to Liang.
CCTV and Xinhua depicted the incident as an illegal smuggling operation that transferred the boy from Inner Mongolia to Yunnan province then into Myanmar. The plan was to take him to Thailand then to "a Western country".
Wang and Bao were the among the first of more than 290 to be taken away in a sweeping crackdown on rights lawyers and activists since July. They have been placed in "residential surveillance" - a form of solitary detention that can last up to six months - on a charge of "incitement of subversion of state power" and have been denied visits from lawyers or family.
Analysts say the crackdown is an effort by authorities to discredit the rights defence movement and to deter other lawyers from taking on rights cases.
Upon hearing their son had been led illegally across the border, Bao Longjun became emotional and Wang fainted, the narrator said in the CCTV broadcast.
"My boy is too young, he is not yet an adult. Regardless of what organisation took him away, it's wrong," Bao said on camera. Another shot showed him breaking down in tears.
A shot showed Wang panting heavily, looking fatigued and stressed. In separate footage, she said: "I want to condemn this behaviour, this is very dangerous and it's illegal."
"I don't want this to happen again... as his parent, I hope the police can protect him," she continued. "I hope those with ulterior motives will not disturb our child's normal life again."
Speaking from San Francisco, Liang noted that Wang and her husband had been kept in isolation for three months and had no access to information outside. She feared that they had been tortured and misled.
Liang said she and others were trying to help the boy regain freedom and that Wang and Bao always wanted their son to study abroad. They were detained as Bao and his son were leaving for Australia to start school.
"It was a righteous act that we were forced to make," Liang said.
This article appeared in the South China Morning Post print edition as: Wang Yu condemns 'abduction' of son