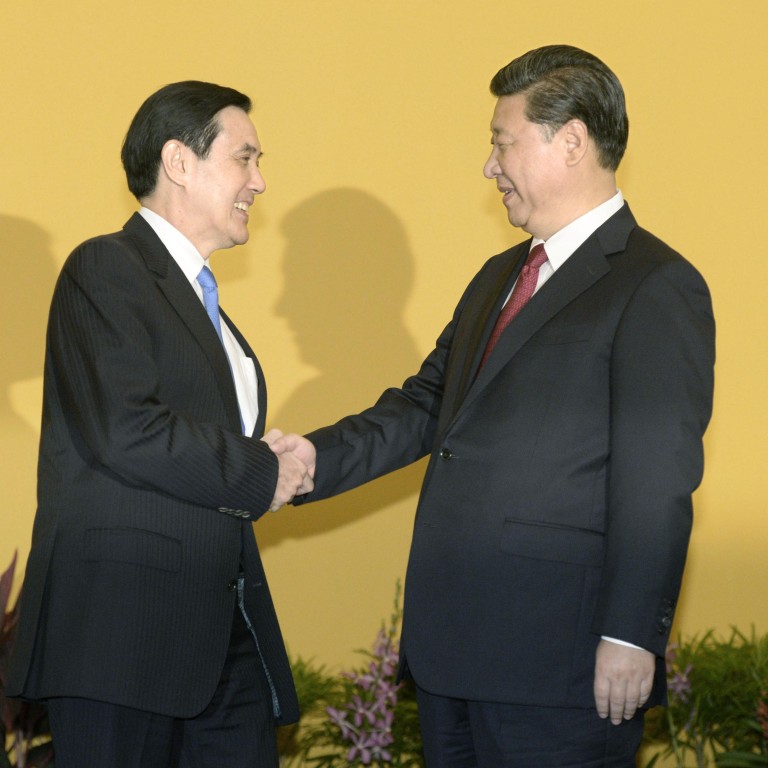 Update

|
'We are brothers': Xi hails closer ties with Taiwan as closed-door talks with Ma wrap up at historic Singapore summit
Xi makes first move with outstretched hand in highly symbolic 80-second handshake that pundits will pore over later as postmortems of the event are conducted online and offline
Welcome to the South China Morning Post's coverage of the historic meeting between President Xi Jinping and Taiwanese President Ma Ying-jeou, which began at 3pm with a drawn-out handshake.   
The two leaders said they would address one another simply as "Mister" before their opening remarks, in order to sidestep the complicated issue of having two Chinese leaders with similar titles, but in the end they refrained from using any such titles in front of the media. 
The meeting was followed at 4.15pm by Zhang Zhijun , head of the mainland's Taiwan Affairs Office, holding a press conference. Ma was scheduled to address reporters half an hour later.
We will be adding photos below as the situation progresses.
5.40pm: Taiwan's Central News Agency reported that Ma has prepared two bottles of sorghum [Chinese liquor] that are over 20 years old for the banquet, as well as eight jars of Matsu [more booze].
On the banquet table, Xi's name plate shows simplified Chinese characters while Ma's is written in traditional characters, reflecting and respecting the different "alphabets" used in China and Taiwan. 
5.25pm: Ma has finished his press conference, signalling the end of the event. A banquet will follow later in the evening.
5.17pm: CCTV finally broadcast Ma's opening remarks about 10 minutes ago, presumably giving the censors enough time to go through the material.
5.15pm: Ma is on a roll and he's not done yet. He just said today was the first time that leaders from both sides have got together to discuss details of the 1992 consensus and what the concept of "One China" really means.
It is also the first time for a Taiwan leader to directly express his country's concerns over the missiles China has trained at it, he added.
On the closed-door meeting and his impression of Xi:
"The meeting had a very friendly atmosphere. It was very positive. I found Xi to be very pragmatic, flexible and frank when discussing issues."
On the 1992 consensus:
"Both sides uphold the 'One China' principle, but we each have a different interpretation of it. Our side does not use expressions like 'two Chinas' or 'one China, one Taiwan' or 'Taiwan independence', because our Constitution does not allow that."
On China's missiles:
"I mentioned that the public is worried about the mainland's military deployment against Taiwan, including its military bases and missiles. [Xi] noted that these deployments are not aimed at Taiwan."
As the Q&A with journalists continued, one reporter asked whether Ma had urged Xi to move the missiles to somewhere where they don't pose a threat to Taiwan.
"I mentioned it," said Ma. "[Xi] said the deployments are holistic, that they are not directed at the Taiwanese people. It is the first time the leaders of the sides have discussed this issue. At least I brought it up, and I told him the Taiwan public has such concerns, and that I hope he can pay close attention to this matter."
On the prospect of a cross-strait hotline:
"[Xi] thinks the two sides can ask the chairman of China's Mainland Affairs Council and the head of the Taiwan Affairs Office to set up a hotline first to exchange opinions on urgent, important issues."
On joining regional economic integration:
"We especially stressed that when joining regional economic integration, it should not be a question of who should join first and who should join later. Xi said he was willing to discuss these issues, and that he is very willing to see us joining the AIIB and One Belt, One Road project."
On China's interefence in Taiwanese NGOs joining international campaigns:
"The [Taiwanese] public often experiences problems when it comes to their joining the activities of international NGOs. When our government takes part in regional activities, there is also interference. I hope that the hostility and opposition in this area can be reduced, especially regarding the NGOs ... Xi responded that individual situations can be dealt with appropriately."
Ma said he did not invite Xi to visit Taiwan during Saturday's meeting.
On that 80-second handshake: 
"[It felt] pretty good. We both used our full strength."
5.07pm: Ma is speaking to the press now.
4.55pm: Members of the Taiwanese media were visibly upset that only one newspaper from Taiwan - the China Times - got the chance to ask questions at the press conference.
Someone in the room felt they suddenly needed to share their thoughts on this, yelling: "I've never seen a press conference as not-free as this!"
4.45pm: Zhang has just finished. Here are some of the takeaways from his statement.
On the 1992 consensus:
"No matter which organisation, or what position it used to hold, as long as it recognises the 1992 consensus and its core meaning, [Beijing] is willing to recognise it and work together."
On setting up a cross-strait hotline:
"Xi Jinping said [this] can help with more timely communications and help avoid any misunderstandings, while also helping to deal with emergencies. Authorities on both sides who are in charge of cross-straits affairs should set up [a hotline] first."
On threats to cross-strait relations:
"The biggest real threat to peaceful development is the Taiwan-independence group and their activities."
On Xi's 'One Belt, One Road; campaign:
"The president said that the people of Taiwan are welcome to actively participate in [this project], and that they are also welcome to join the Asian Infrastructure Investment Bank [AIIB]."
4.30pm: Zhang Zhijun, director of the Chinese mainland's Taiwan affairs office, began speaking to the press at 4.15pm and he's still going. 
3.50pm: The closed-door meeting is fully under way in the conference room. Each side is represented by seven people - even though "8" is considered the luckiest number in Chinese culture because it sounds like the Chinese word for wealth and prosperity.
Xi and Ma are sitting opposite one other. 
Xi is accompanied by his top aides Li Zhanshu, chief secretary of the Communist Party's General Office; Yang Jiechi, a leading diplomat and state councilor; Ding Xuexiang, deputy secretary of the Communist Party's General Office, and a personal secretary of Xi's; Wang Huning, head of the CPC Policy Research Office; and two officials in charge of affairs related to Taiwan - Zhang Zhijun, chief of the Taiwan Affairs Office of the State Council, and Chen Yuanfeng, deputy chief of the Taiwan Affairs Office of the State Council.
Officials from Taiwan are due to hold a press conference at 4.15pm, with representatives from the other side to follow suit at 5pm.
WATCH: Shaky footage of the sit-down in Singapore
3.40pm: Pundits and social media have drawn attention to how Ma's speech at the photo call was censored during a live broadcast by China's state-run CCTV. No huge surprise there, then.
The screen switched to comments by Chinese analysts as Ma began to speak after Xi.
3.20pm: All the reporters have now left the conference room for the closed-door meeting.
3.15pm: Ma said bilateral exchanges since 2008 have borne considerable fruit. 
Peace is the foundation for the two sides to develop according to their own systems, he added.
Referencing an important agreement reached earlier, he said China and Taiwan need to move foward in consolidating the 92 consensus.
In a more sweeping gesture, he said today's meeting was not for his benefit but for that of the next generation
He said history has left a series of "complex and perplexing issues" that need to be resolved.
"On sensitive issues, the two sides should confront reality and deal with any problems using wisdom, patience, sincerity and pragmatism," he said.
They should "try to use the institutionalised negotiations that the two sides have built over the years to reach reconciliation and cooperation, to propel sustainable peace and prosperity."
He also made five propositions in the name of cross-strait peace and prosperity:
1. Consolidate the 1992 Consensus
2. Reduce the state of hostility; peacefully deal with disputes
3. Enlarge cross-straits communication, enhance mutual benefit and forms of win-win cooperation
4. Set up a cross-straits hotline to deal with emergencies
5. Cooperate for the greater prosperity of the Chinese people 
3.05pm: Xi hails the meeting of the two leaders as "historic", just in case anyone missed that.
He said bilateral ties have slowly thawed due to efforts by both sides over the last seven years, which led to this latest milestone.
"No matter whether it be rain or storm, no power can separate us. We are brothers, and I believe the two sides have the ability and wisdom to resolve our own problems," said Xi.
"This is a very special day, and a new chapter in history."
Xi also expressed hope that the two sides will work together to proceed with the 1992 consensus and stick to the road of peaceful development.
2.55pm: And here it comes, the moment everyone's been waiting for: a very lengthy handshake that's been over 60 years in the making. After Xi and Ma posed for the photographers, they made their way to the conference room, waved to the reporters waiting inside, walked to the table and took their seats.
2.50pm: Inside the Island Ballroom, over 600 accredited journalists jostle for places as everyone wants to get the best vantage point.
The handshake will only last for two minutes, according to organisers at the venue.
Then they will move to the tower ballroom, to which only a few dozens of journalists have access. 
2.45pm: Orange-yellow has been chosen as the colour for the backdrop of the stage where the meeting will be held. This was obviously carefully chosen so as not to offend either side, with red being the colour associated with the Communist Party and blue usually representing the Kuomingtang, led now by Ma.
Fifteen minutes to go before the two leaders make their appearance on-stage for the much-heralded handshake.
CRI News Radio reported that seven people from Taiwan and another seven from mainland China will attend the closed-door meeting.
2pm: As Chinese culture is so full of symbols and superstition, pundits may read early omens in the ominous tone set by the weather after lunch as storm clouds have been gathering outside Singapore's Shangri-La Hotel.
Security staff are now patrolling the grounds in pairs as the final preparations are put in place for the meeting, the first between leaders of the two parties in over 60 years.
The mercury reached 33 degrees Celsius in the morning but this has not stopped over 1,000 journalists from mainland China, Taiwan, Japan, Singapore and news organizations from other countries crowding the hotel lobby.
More are expected to arrive with the Taiwan delegation. Select few will be privy to the start of the meeting. Most will just attend the ceremonial handshaking.
WATCH: Singapore's Shangri-la Hotel sees media frenzy in final countdown to summit
Ma arrived at the Four Seasons with the Taiwan delegation in the morning after giving a speech at Taipei Songshan Airport  at 6am. Xi arrived in Singapore on Friday.
There have not been any reports of protestors yet, but it is believed that pro-independence petitioners will cause a scene when the meeting gets going. Disgruntled demonstrators aired their grievances in Taipei on Friday night before Ma departed for Singapore.
Gates to the Island ballroom, the venue of the meeting, were still shut in the early afternoon. Glass walls had been covered by opaque paper to prevent onlookers from peering inside, and the entrances were shaded with blue plastic screens overnight.The ballrooms have been cleaned and re-decorated for the event, which will be watched closely by a global audience.
Several security gates were installed Friday lunchtime, in front of the ballroom area in the Tower Wing, which was blocked off from 2am.
The huge number of journalists that have converged on the hotel reflects the gravity of the event.
Before the meeting starts, Xi was due to have a private lunch with Singaporean Prime Minister Lee Hsian Loong to wrap up his state visit to the island. 
The Shangri-La is part of the Kerry Group, the controlling shareholder of SCMP Group, publisher of the South China Morning Post.
On Friday afternoon Andrew Hsia Li-yan, chairman of Taiwan's Mainland Affairs Council, visited the hotel as more security equipment was put in place, including X-ray scanners and surveillance cameras.
He refused to say whether the meeting would mention the "One China" principle, and said nothing should be read into the fact that Ma would be hosting a press conference after the meeting, while Xi had delegated the task to lower-ranked officials.
At the last cross-strait meeting in Singapore in 1993, Taiwan insisted on the delegates being treated exactly the same to prove the two sides were equal.
Singapore is seen as an ideal location for significant contact between the two sides, who fought to rule the country more than 66 years ago. And the local people know it.
"It's two presidents! Of China and Taiwan! They had war! Now signing a peace treaty here! Because Singapore is neutral," one Singaporean hotel guest said – slightly inaccurately as no deal will be signed – to a Japanese visitor, confused by the cameramen.
Xi and Ma will attend a roundtable banquet dinner from 6pm to 7.30pm and had agreed to share the bill, Taiwan's official Central News Agency reported.
It quoted Wu Mei-hung, deputy minister of Taiwan's Mainland Affairs Council, as saying: "It's not about who will be whose guest, but about them having dinner together."
Wu said the two leaders would share the cost of hiring the venue.
Both Xi and Ma will fly home after the meeting.
Ma's flight is to depart at 8pm. The time of Xi's flight has not been announced.
The day ahead
6am 
Ma gives a brief speech at Taipei Songshan Airport before his departure from Taiwan
2pm 
The Taiwan leader arrives at the Shangri-la Hotel in Singapore
3pm
Xi and Ma deliver opening remarks in the hotel's Island Ballroom before members of the press
3.10pm
Their closed-door meeting begins
4.15pm
The start of a press conference held by mainland officials
5pm
Ma gives a press conference
5.30pm-6.45pm
The two leaders have dinner together (not open to the press)
Xi and Ma are due to depart Singapore following the dinner
Look out: for live updates during the day, starting at 2.30pm.
Today's key topics – some more serious than others
Decoding behaviour
We already know that both presidents will address each other simply as "Mister" as part of the careful orchestration of protocol, so that the two sides are treated equally.
Watch out for small details, such as how the two men walk into the conference room, where they sit at the table, how they shake hands, what they wear, their facial expressions and body language.  
'One China'
How Ma and Xi phrase the "One-China" policy will perhaps prove to be the most significant part of the summit. The policy emerged from a semi-official meeting in 1992, when both sides reached a consensus that there is only one China, but each side could have its own interpretation of what that meant. 
Future 'bridge walking'
In a speech on November 5, Ma said that the summit was expected to "build a bridge" for future cross-straits talks. We don't know whether Taiwan's future president will accept that, but it will be worth watching to see whether Xi makes similar remarks.
Chef's picks
According to the Taiwanese government, Ma and Xi will split the cost of today's dinner, as well as the charges for renting the hotel's conference venue. The names of the – as-yet-unknown – dinner courses could also hold meaningful messages.
Cultural symbols
Xi is allegedly a man of books and he likes quoting literature during his diplomatic speeches. Taiwanese media have previously reported that Ma loves kung fu novels. Watch to see what the two leaders bond over, or if any cultural references come out of their speeches. 
Missiles 
It's been almost 20 years since the last Taiwan Strait crisis when China's People's Liberation Army (PLA) conducted missile tests near the waters around Taiwan. The PLA has now deployed more than 1,500 short-range and mid-range missiles - targeting Taiwan - in the coastal areas of southeastern China, according to Taiwan's media. Pundits are watching closely to see if Xi makes any remark at today's talk to reduce or remove the missile, as a friendly gesture. 
This article appeared in the South China Morning Post print edition as: How Xi and Ma's historic day will play out