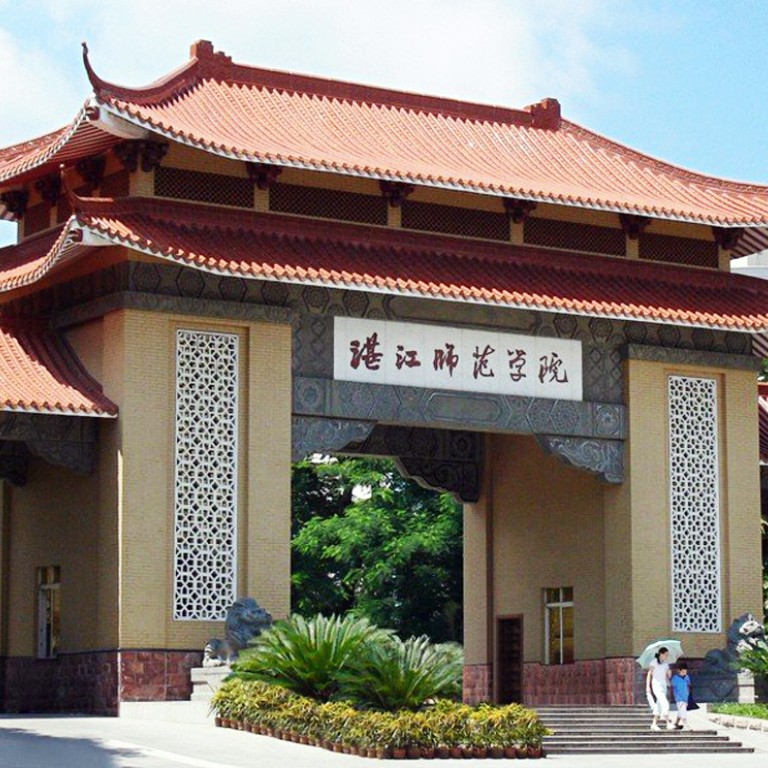 Professor punished for 'radical views' amid fears China is tightening noose on freedom of speech
New Communist Party rules used to punish deputy department head for 'radical opinions' on Weibo are open to abuse, analysts warn
The punishment of an English language professor under new Communist Party guidelines that restrict cadres from criticising government policies has heightened fears the mainland is tightening the net on freedom of speech.
Liang Xinsheng was removed from his post as deputy head of the English department at Lingnan Normal University in Zhanjiang for publishing "radical opinions" on his Weibo account that had been a "bad social influence", Guangdong's provincial anti-graft watchdog said on Wednesday.
The posts by Liang, who remains a professor, were made between 2012 and 2014 and Liang had also violated "political discipline and rules" in July, the commission said, but it did not specify what the posts had said. The posts have been taken down.
Citing a new discipline guideline, the commission warned party members against making remarks that contradicted the central leadership's decisions or spreading opinions that contradicted the party's policies.
Neither should they fabricate nor spread rumours tarnishing the image of the party or country.
The announcement of Liang's punishment comes just days after Zhao Xinwei, the former editor-in-chief of , was expelled from the party over allegations he openly "made improper remarks" on key policies.
He was accused of making comments opposing how the party was run in Xinjiang and his "words and deeds" were said not to match the central or Xinjiang party committees' positions on separatism, terrorism and extremism.
Last month the party amended its disciplinary rules to add such offences as vilifying party leaders, distorting party history, making inappropriate comments and challenging policies.
Ma Senshu, a senior party official with the Central Commission of Discipline Inspection who was involved in amending the rules, had previously warned that open discussion of party policies by officials had severe consequences. He said it "destroys the party's unity and solidarity, and prevents party policies from being thoroughly implemented".
The punishment of Liang and Zhao has worried some political scientists, who fear the guidelines may be abused.
"It is a 'pocket crime' that can be imposed on anyone who dares to express different opinions," said Zhang Ming, an analyst with Beijing's Renmin University.
"It is not new in the history of the party that people have been punished for expressing their opinions. Before and during the Cultural Revolution there were also people arrested for criticising the government."
Gu Su, a political philosophy professor with Nanjing University, said the punishments showed control over party members was getting stricter.
Ma Guoxian, at Shanghai University of Finance and Economics, said as a party member he felt no pressure giving opposing opinions in dealings with government officials, but the latest incidents should make party members think.
"Don't spread unverified rumours about senior party leaders. Beware when criticising government policies and never, ever take advantage of propaganda tools such as television, radio or newspapers," Ma said.
This article appeared in the South China Morning Post print edition as: Censure of professor fuels fears for speech