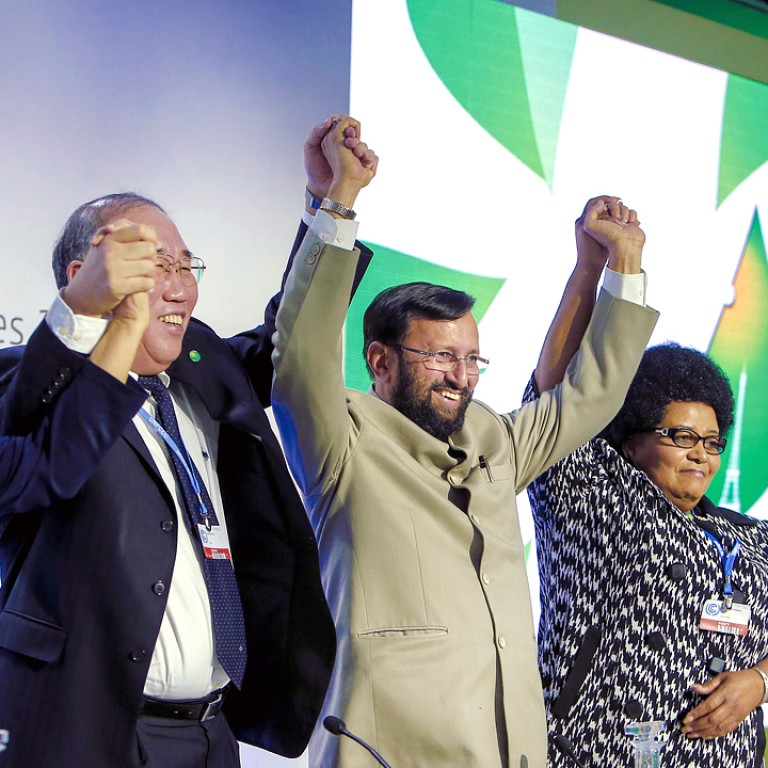 China, India, Brazil, South Africa show 'united front' on principles for climate change deal
Four developing nations say richer countries must bear brunt of cost and responsibility to tackle global warming
China, India, Brazil and South Africa joined forces to insist that richer countries rather than developing nations must bear the brunt of responsibility in any future agreement to tackle global warming as higher-level negotiations at the Paris climate change summit entered a second day.
The four nations, known as the BASIC countries, said at a press briefing that any deal must not alter the basic principle of differing responsibilities among richer and poorer countries, the envoys said.
"We BASIC countries are united and share the same stance," China's special climate change representative Xie Zhenhua said in opening remarks at a press conference on Tuesday.
The four may be left isolated at the talks as reports suggest that more than 100 countries and groups, including the United States and the European Union, are joining a "high ambition coalition" to push for a more ambitious and legally binding deal in Paris.
The BASIC countries say any new Paris agreement on tackling climate change after 2020 should not "rewrite" the principle enshrined in the 1992 climate convention: differentiation between industrialised and developing nations responsibilities.
The issue has become one of the contentious themes at the Paris talks.
Some industrialised nations want the post-2020 climate agreement to allow some developing countries to share similar burdens for emission reductions and funding if they are "in a position to do so".
India's environment, forest and climate change minister Prakash Javadekar rejected the idea:
"There must be no diluting of this [differentiation] principle. The new agreement must make these principles effectively operational."
Xie said funding offered by developing nations should only be offered on a voluntary basis.
He also called for a system to be set up to scrutinise how much rich countries have offered to tackle climate change and where the money has gone.
Javadekar added: "Any action from developing countries depends on financing and technology support from the developed world. Haves should give to have-nots. That's simple logic."
Xie also rejected the United States suggestion that a financial transparency system to tackle climate change should apply to all countries and not just the richer ones.
Brazil's Environment Minister Izabella Teixeira is among those tasked by the French presidency to meditate on the issue of "differentiation" between major players including the United States, the European Union, India and China.
Brazil has previously submitted a proposal to gradually converge countries' responsibilities.
Yu Jie, a climate change expert at the environmental website ChinaDialogue, said: "The four countries are using the opportunity to say that they are still standing together. India plays the hardliner, China also spells out the stance pretty clearly, but Brazil appears to be swinging.
"Standing together before the press, they want to send a message that it's nothing wrong for countries with different national circumstances to have different views."