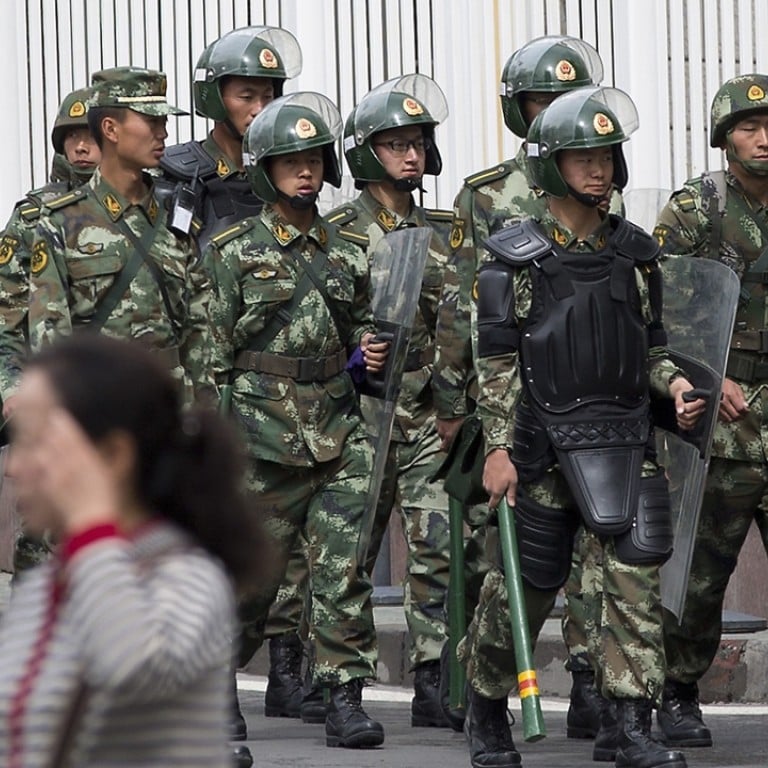 New

|
Anti-terrorism school to be set up in China's northwest, where restive Xinjiang is located
China will launch its first anti-terrorism school in a university in the northwest, where the restive Xinjiang ( 新疆 ) region is located, following the counterterrorism law that took effect on the first day of the year.
The Northwest University of Political Science and Law in Xian ( 西安 ), Shaanxi ( 陝西 ) province, said that the university was working on setting up an independent institution that would take in law graduates and teach them the latest anti-terrorism theories and practices.
The institute would award masters degrees and doctorates in anti-terrorism studies, the university said.
"The purpose is to develop specialised talents for anti-terrorism," the university's president Jia Yu told a conference last week.
The institute would be the country's first organisation dedicated to studying and teaching anti-terrorism, according to a report on the conference.
Shaanxi province is in China's northwest, where Gansu (甘肅), Ningxia (寧夏) and Xinjiang are also located. Xinjiang has a large Muslim Uygur population.
The Chinese government has blamed occasional ­violent incidents in Xinjiang on religious extremists and separatists in the region, calling them ­terrorists.
Jia said the university aimed to become the country's main anti-terrorism think tank.
It was already focused on anti-terrorism issues, running various research programmes and operating the China Anti-Terrorism Information website, according to Jia.
Jia said the university's researchers had conducted several investigations in Xinjiang and that their reports had been delivered to the country's policymakers and suggestions adopted.
China's new anti-terrorism law took effect on January 1, as the top leadership tries to clamp down on rising ethnic violence.
The law requires the setting up of a state-level leading group on counterterrorism. Governments of at least city level are required to set up affiliated agencies. It also allows the People's Liberation Army to conduct counterterrorism operations overseas.
Under the law, technology companies are required to share encryption keys and back-door access with state security agents seeking to prevent or investigate terrorist acts.
Anti-terrorism experts would be in high demand over the next five years, and the university was keen to take advantage of this strategic opportunity, Jia said.