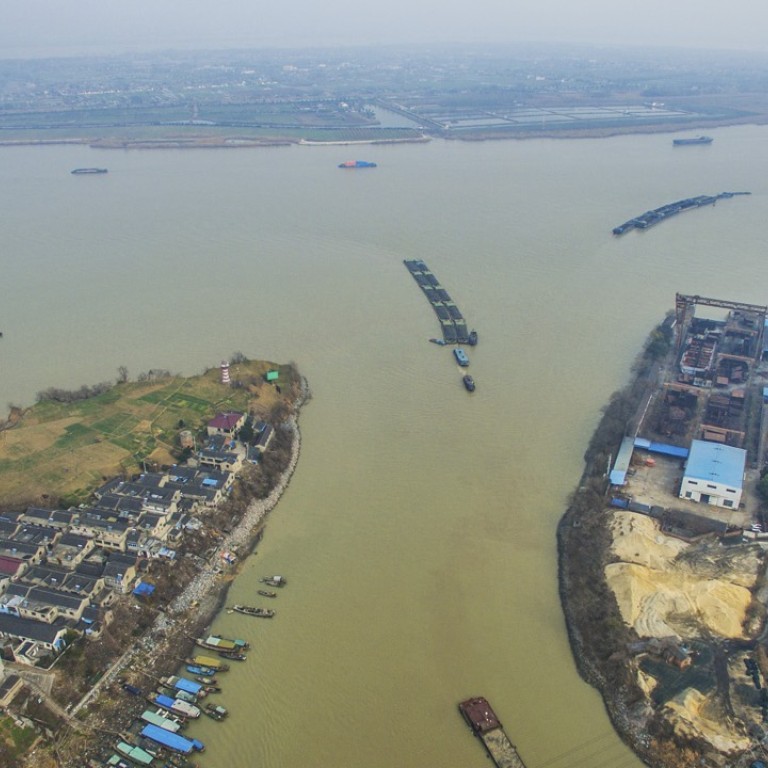 No new projects: China's degraded Yangtze River needs protection, not construction, President Xi Jinping says
Environmental rehabilitation declared major focus for the country's longest waterway but development plans unlikely to be scrapped, analysts say
President Xi Jinping has ruled out new development projects on the embattled Yangtze River in an apparent move to breathe life into the area's heavily degraded environment.
Observers said Xi's declaration indicated a strong official desire to protect rivers, but the authorities were not likely to surrender development plans.
During a trip to Chongqing last week, Xi said that after decades of construction, environmental protection and restoration would be a "dominant focus" for the Yangtze River Economic Belt. Authorities along China's biggest river should "work together for major protection, instead of carrying out major development", Xi told cadres from 11 provinces along the waterway and some ministers, Xinhua reported.
"The Yangtze River has a unique ecological system. It is an important ecological treasure," Xi was quoted as saying.
Until last year, the Yangtze economic belt focused on developing the "golden waterway", with plans to build more ports to spur industrial upgrades and urbanisation in an area home to 600 million people.
Premier Li Keqiang first aired the Yangtze economic belt concept in his government work report in 2014. But Xi said last week that the priority for now and the future should be environmental restoration.
The 21st Century Business Herald reported that transport minister, who oversees navigation on the Yangtze, was not given a chance to speak at the meeting, suggesting a "major shift" in how the belt would be realised.
One economist said Xi's plan showed that Li had been sidelined on the issue, and some government documents may need to be revised for the new priorities. Some planned hydropower projects might be shelved, he said.
Other researchers, such as Yi Peng, from Beijing-based think tank Pangoal, said Xi only wanted a better balance between growth and conservation, and would not scrap development plans.
Environmental activists have criticised massive works along the Yangtze, such as Three Gorges Dam and water diversion schemes, but there has been little official acknowledgment of the projects' environmental impact.
In a surprising change of tone, mainland mouthpieces, including People's Daily, published comments on their social media accounts saying struggles between interest groups have damaged the river's ecosystem and caused severe pollution.
Stephanie Jensen-Cormier, China programme director of International Rivers, said the government was taking a "strong and active" interest in the protection of Chinese rivers, which was in line with recommendations for the next five-year plan.
But the upper stretches of the Yangtze River just as much protection as other areas otherwise the effects would also manifest downstream.
Additional reporting by Wendy Wu