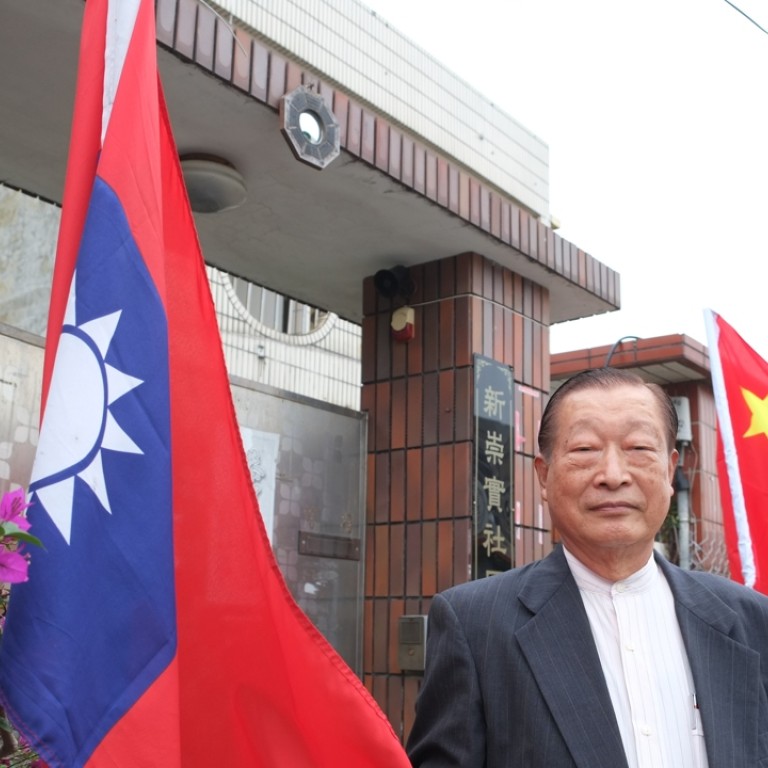 Taiwan's military veterans ready to 'betray' their past at the ballot boxes and vote against the KMT
Three flags fly outside the home of retired captain Chiang Wu in the former Kuomintang stronghold of Zuoying, in the southern city of Kaohsiung.
On one pole, the once dyed-in-the-wool KMT supporter has hung the island's flag upside down – the international symbol of distress.
Alongside it flies the five stars of the mainland and behind that is the campaign flag of Liu Shih-fang, the opposition Democratic Progressive Party's local candidate for the island's legislature.
For decades, Zuoying was a KMT base but Chiang's decision to support the DPP and hang the Taiwanese flag upside down reflects his broader disappointment with Ma Ying-jeou's presidency.
"I am very disappointed in Ma's inability to improve Taiwan's economy and the KMT's failure to protect veterans' benefits," said Chiang,76.
"I will vote for Liu because she is keen to help veterans in villages around here and support our plans to promote our village culture and history."
Chiang lives in the Zuoying Naval Dependent Villages District, a 52-hectare community built by the Japanese colonial government in the 1940s and later occupied by KMT forces who had fled the mainland in 1949.
The port city in the island's south is home to Taiwan's army, naval and air force academies, and legions of naval personnel, from sailors to admirals, have settled there, enjoying such facilities as a naval club.
But in 2011, Taiwan's defence ministry told some of the occupants to move out to make way for an urban renewal project.
Retired admiral Benjamin Han Pin, 75, was one of those ordered to relocate. Han, who captained a destroyer that patrolled the Taiwan Strait in the 1980s and 1990s, lives with his family in a 300 square metre mansion that once belonged to a Japanese admiral. He has lived there for three decades but does not own it.
Han said he would also "betray" his past and vote for the DPP's Liu.
"The unfair massive reconstruction of the villages is the last straw in terms of my loyalty to the KMT," Han said. "Where's the legality of absolutely obeying the defence ministry in today's democratic society? The houses were rewards and compensation for our contribution to Taiwan."
Meng Fan-yan, head of Mingde village, one of four in the district, said the community wanted to preserve and promote the area as a tourist attraction but so far only the DPP's lawmakers had listened to their proposals and offered advice.
"This is the real world. We know Liu has political aims in mind when he helps us. But we have no choice because none of the KMT lawmakers, who we supported for decades, dared to show up," Meng said. "We feel like orphans. Our parents were homeless when they arrived in Taiwan. They spent their lives defending and building Taiwan. They put down roots here but now we are being uprooted by our party."
Chen Lien-hui, 60, is also angry that his home will be razed. Chen, the son of a late admiral, lives in a Japanese-style home with his brother and they have spent millions of New Taiwan dollars maintaining the house in keeping with its original design.
"Our father moved to Taiwan with Chiang Kai-shek and won top honours in the navy. Our family were diehard KMT supporters but everything will change if we lose our home," he said.
Chiang, Han and Meng said they would not vote for the KMT candidate Eric Chu in the presidential election, choosing instead to vote for People First Party chairman James Soong Chu-yu.