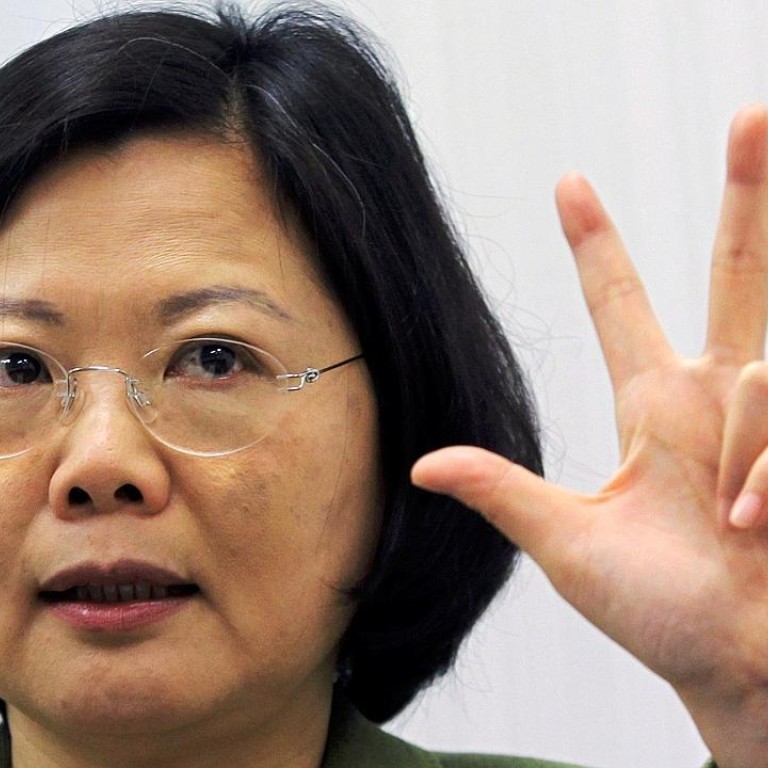 Tsai Ing-wen is an experienced negotiator in cross-strait and international affairs, say academics and diplomats
59-year-old scholar-turned politician taught international trade law for 16 years and was involved in major trade negotiations from the early 1980s
Tsai Ing-wen, the expected winner of today's presidential polls, is no pro-independence troublemaker but a seasoned negotiator with years of experience in mainland and international affairs, scholars who know her say.
Rather than making waves across the Taiwan Strait, the leader of the independence-leaning Democratic Progressive Party is expected to adopt a policy that should ease the nerves of Beijing and staunch ally Washington if she is elected the first female president of the self-ruled island.
In stark contrast with her DPP predecessor Chen Shui-bian, analysts believe Tsai is unlikely to rekindle the tension that once alarmed the two major powers on both sides of the Pacific because of her credentials as a negotiator before and since her entry into politics.
"The fact that she was involved in a long period of international talks, which require extreme patience along with excellent negotiation skills, indicates that Tsai is not a rash or irrational person who acts before carefully thinking through the consequences," said Professor Wang Kung-yi of the Graduate Institute of International Affairs and Strategic Studies at Tamkang University in Taipei.
Tsai, a 59-year-old scholar-turned politician, who taught international trade law for 16 years after obtaining her masters and doctorate degrees in the US and Britain, was involved in international negotiations ¬– including those involving Taiwan's accession to the General Agreement of Trade and Tariffs (GATT), its successor the World Trade Organisation and the Asia-Pacific Economic Cooperation (Apec) forum from 1984 to late 1999.
A retired official from Taiwan's Ministry of Economic Affairs noted that Tsai was a "seasoned negotiator" well verse in cross-strait affairs. "She has been trained to think and act in the manner of a negotiator," he said.
The official, who asked not to be named, was referring to Tsai's time as chairwoman of the Mainland Affairs Council, the island's top mainland policy planning body, when Chen Shui-bian of the DPP became president in 2000.
Despite the anti-Beijing stand of the DPP administration, Tsai was able to strike deal with the mainland to forge the so-called mini-transport and travel links between the two sides following rounds of negotiations.
Douglas Paal, former director of the American Institute in Taiwan, which represents US interests in Taiwan in the absence of formal relations, said in a classified cable to Washington in 2006 that in addition to being extremely capable and persuasive, Tsai was "a tenacious negotiator," according to classified documents revealed by the WikiLeaks website.
Paal's report also noted that Tsai had a key role in formulating cross-strait policy even before becoming head of the Mainland Affairs Council.
"Tsai was chair of the drafting and research panel on the Hong Kong and Macau Relations Act (1994-1995). She was a MAC Advisory Committee member from 1994-98).
Tsai was spokeswoman for Koo Chen-fu, chair of the Strait Exchange Foundation, the negotiating body of MAC, during his visit to China in 1998 to meet his mainland counterpart, Wang Daohan, of the Association for Relations Across the Taiwan Strait.
Because of the pro-independence platform of her party, there have been concerns that if Tsai were elected president, she might follow Chen's attempt to steer Taiwan into de jure independence – a status that China has repeatedly warned would lead to war across the Taiwan Strait.
Chen, the first DPP to become president, had been regarded as a troublemaker by the US and other countries for stoking regional tensions by provoking China with his pro-independence rhetoric and actions. He has been imprisoned for corruption since he stepped down as president in 2008.
Given Tsai's strong support since announcing her bid last year to run for president, the possibility of her being elected unnerved Beijing and Washington who feared a resumption of Chen-initiated tensions during presidency from 2000 and 2008.
Throughout her election campaign, Tsai was assailed by her opponents – Eric Chu Li-luan of the KMT and James Soong Chu-yu of the People First Party as someone who would steer Taiwan to ruin, if elected, for being incapable of handling cross-strait relations.
She was also attacked for being ambiguous in stating her cross-strait policy, including whether she was able to accept the "1992 consensus" in which Beijing and Taipei both agree there is one China while remaining free to define China as they see fit.
"That ambiguity (surrounding the 1992 consensus) is actually a smartly orchestrated strategy to pacify the party's pro-independence fundamentalists while leaving Tsai room to manoeuvre in her dealings with China," Wang said.
"If you have listened carefully to what she said about the consensus during her televised debate, you would be able to tell the real meaning behind her comment," Wang said.
In her televised speeches, including two debates with her opponents and a presentation of her platform, Tsai admitted that it was a historical fact that Taipei and Beijing held talks in Hong Kong in 1992, during which both sides had different views but agreed at least on one thing – that based on mutual understanding and on the need to move cross-strait ties forward, both sides should try to seek common ground and set aside their differences.
But, Tsai said in her first televised debate in December: "It is just that the term [consensus] did not exist in 1992 and was only created in 2000. I think we should all sit down to discuss the use and interpretation of the term."
But, she believed that cross-strait ties would remain stable as "everything can be discussed and negotiated".
As long as communications were sincere, Tsai said she was confident that China will interact with her party in a rational manner, if elected. "To achieve this, the '1992 consensus' is just an option, but not the only option," she noted.
Tung Chen-yuan, professor of Graduate Institute of Development Studies at National Chengchi University, said it would be impossible for Tsai to adopt a cross-strait policy that would provoke China, given her preference of resolving all problems in a rational manner.
"Tsai's priority list will include avoiding China's military annexation, maintaining peace and stability across the Taiwan Strait, maintaining bilateral official exchanges and negotiations," Tung said of Tsai's priority task after she becomes president.
Tsai was also a drafter of the controversial "special state-to-state relations" that former president Lee Teng-hui used to describe the relationship between Taiwan and China in 1999, a theory seriously provoking China and sparking sharp tensions in the Taiwan Strait.
Analysts, however, said that does not necessarily mean that Tsai herself is a hard-line pro-independence supporter.
"Though she is an advocate of Taiwanese identity, she is seen as an idealist rather than an activist," Wang said, adding the highly patient Tsai opts for communication in resolving problems.
"With a number of old guards leaving the DPP to form their own political groups, Tsai is expected to have less problem in dealing with hardliners within her party, and that would make her easier in dealing cross-strait ties," Wang said.