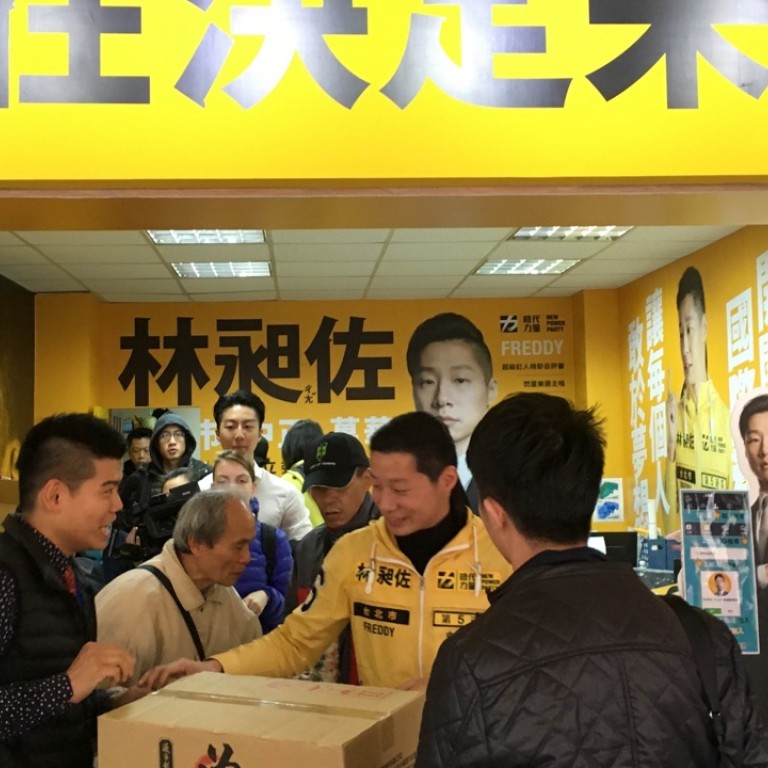 A force awakens in Taiwan: vote of sunflower generation could be pivotal in elections
Su Po-chia, 26, has supported the ruling Kuomintang since he could first vote six years ago.
He grew up in the Democratic Progressive Party heartland of Tainan but his parents worked for the government, a traditional source of KMT support.
"Both my parents are civil servants … and since I was a child their views left me with the impression that the DPP was not good. That's why I still voted for Ma Ying-jeou in 2012, rather reluctantly though," Su said.
But not this year. Su is among a growing number of disaffected youth energised by protests against the mainland in 2014 and who are looking for an alternative to the status quo. Their ballots could well be a deciding factor in this weekend's legislative elections and lay the foundation for a "third force" in Taiwanese politics, observers say.
Su's political awakening began with a course on industrial organisation at Taiwan National University. The course was taught by Jang Show-ling, an academic who championed calls by the 2014 "sunflower movement" for greater scrutiny of a controversial trade deal with the mainland. During the student-led campaign, protesters occupied parliament and forced the suspension of the ratification of the pact.
Su said he joined friends in the protests against the trade pact, and would vote for the DPP's Tsai Ing-wen in the presidential election. But his two other votes would go elsewhere.
In addition to their ballot in the presidential race, each voter in Taiwan casts two other votes – one for their Legislative Yuan electorate and another for a political party of choice in a system of proportional representation.
"I will give my party vote to the Green Party-Social Democratic Party Alliance because they have long championed grass-roots rights, and care more about labour rights, gender equality, abolition of the death penalty, agricultural reform and environmental conservation."
Given the lead Tsai has over her main rival, the KMT's Eric Chu Li-luan, young voters are expected to have their biggest impact in the legislative elections, according to Tsai Chia-hung, director of National Chengchi University's Election Study Centre.
According to census data, about 1.29 million people, or 8 per cent of Taiwan's 18.8 million voters, would be casting their ballots for the first time, Tsai Chia-hung said. "In the past, young voters, including the first-timers, were not interested in politics, and thought of election day as yet another public holiday," he said
"But after the sunflower movement, many have become energised about social justice, believing that they can use their ballots to change certain things or situations, such as the widening gap between the rich and the poor."
These ballots could be decisive in close contests like Taipei.
Taipei has long been a KMT stronghold, but the sunflower movement greatly eroded the KMT's influence in the capital.
Lai Ping-yu, a member of the Black Island Nation Youth Front, one of the core groups involved in the sunflower occupation, said that more young people were motivated to take action.
"In the past, we felt it was difficult to confront a big system and so we didn't do anything about injustice, even if we felt angry or upset about it. But with more people standing up to the system, we believe we can do something to change the situation.
"First-time and young voters are very important in the elections this time because their ballots could signal if there is potential for a 'third force' in Taiwanese politics or whether the bubble will burst after the elections."
Many young people are forming political groups or joining civic groups to run for parliament .
Groups like New Power Party, the Green Party–Social Democratic Party Alliance, and the Taiwan Alliance to Promote Civil Partnership Rights are fielding young activists as candidates to compete with the KMT and DPP.
Competition in some constituencies in Taipei and Taichung is so tough even the DPP is alarmed.
"The impact created by these small parties, the New Power Party in particular, has seriously threatened the KMT and the DPP," said Yao Li-min, chairman of the Citizen's Congress Watch.
Chang Tieh-chih, co-founder of investigative website The Reporter, said young Taiwanese wanted new faces in politics.
Discontent with politics as usual, socioeconomic conditions and anxiety about a stronger and menacing mainland were the top three concerns for the island's younger generation, said Chang, former chief editor of Hong Kong's City Magazine.