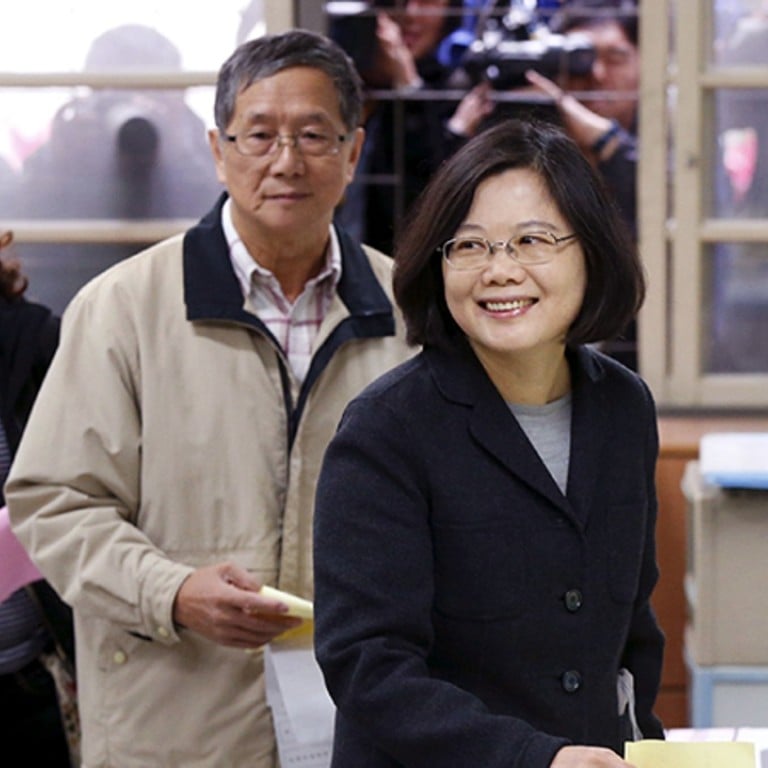 Row over Taiwan's national flag causes furore as millions vote for island's new president
Pro-Beijing candidates fear there may be a backlash against them in the polls after 16-year-old forced to apologise for waving the controversial symbol of sovereignty
Election observers in Taiwan say they are looking into whether the controversy and media coverage over a singer who was forced to apologise after waving a national flag will effect the outcome of the presidential and parliamentary elections on Saturday.
Millions are going to the polls to elect a new leader for the island and its legislators.
The singer Chou Tzu-Yu, 16, was forced to apologise after waving the flag on a South Korean TV programme.
The apology was made after Chou sparked the ire of people living in mainland China.
Taiwan has been governed separately from the mainland since Kuomintang troops fled to island in 1949 after losing the civil war to the communists.
Beiijing, however, considers Taiwan a breakaway province and any suggestion that it is an independent country provokes huge controversy.
Anti-independence candidates in Saturday's election have suggested that the huge outcry over the flag-waving incident will help the opposition Democratic Progressive Party in Saturday's polls.
Its presidential candidate Tsai Ing-wen is widely tipped to win the election and become Taiwan's first woman president.
The governing Kuomintang, or KMT, has tried to forge closer ties with mainland China during President Ma Ying-jeou's term in office, but has lagged behind in the polls.
A video clip of Chou apologising to the mainland Chinese public for waving a Taiwan national flag in November has been repeatedly aired by Taiwanese TV and prominently reported by local news media on the island.
The apology was prompted by a Taiwanese singer based in mainland China, Huang An, who accused the 16-year-old of supporting Taiwan independence by waving the Republic of China flag.
The debate over the apology has gone viral on social media in Taiwan with some people angry that the singer was forced to say sorry.
"Why did you [mainland China internet users] and the Korean entertainment agency have to give her such a hard time? She's just a teenager!" wrote one commenter. "What's wrong for a young Taiwanese girl to declare her identity by showing the flag of the Republic of China? It is not the flag of the Democratic Progressive Party."
Others in Taiwan said on social media they now wanted to punish "China-friendly" parties in the polls because of the apology.
One analyst said the controversy was bound to have an impact on the elections.
"Neutral voters who previously did not want to go out to vote might show up to cast their ballots to Taiwan-centric candidates and China-friendly candidates could suffer as a result," said Yao Li-min, chairman of the Citizen's Congress Watch.
The opposition presidential front runner Tsai weighed into the controversy on Saturday.
"I believe everyone feels hurt and angry to see that Chou Tzu-Yu was forced to do what she was made to do," she said. "It seriously hurt the feelings of Taiwanese people."
The 59-year-old scholar-turned politician made her comments after she cast her ballots.
Taiwanese President Ma Ying-jeou also said at the ballot box on Saturday that there was no need for Chou to apologise.
"No citizens should be punished for recognising the Republic of China and expressing their affection for the national flag," he said
The KMT's candidate in the presidential poll, Eric Chu, also expressed sympathy for Chou.
Beijing issued a statement saying "certain political groups in Taiwan" have been using "isolated cases" to affect the feelings of people across the Taiwan Strait and people should be wary of this.
The statement is viewed as an attempt to control the damage created by the apology.
"We support cross-strait cultural exchanges and our encouragement of exchanges between young people of the two sides has been consistent," the Taiwan Affairs Office said.
Young people are expected to play a big role in this year's election in the wake of student protests against government deals to forge closer links with mainland China.
One young voter, David Chou, 23, cast his ballot soon after the polling station opened at 8 am.
He said he voted for "Light up Taiwan," referring to the campaign slogan of Tsai.
"I will give my vote to whoever can uphold social justice," he said, adding it was his first trip to a polling station.
"Many of my friends who had never voted before will also do so today," he said.
Tsai enjoyed a comfortable lead in the polls over Chu in the run-up to today's polls, largely due to widespread discontent and unease over President Ma's pro-Bejing policies.
The 15,582 polling stations across the island would remain open until 4 pm.
Election observers expect at least 70 per cent of the 18.7 million eligible voters to cast their votes on Saturday – a sunny day which may also help the turnout.
Preliminary results are expected as early as 8.30 pm on Saturday evening.