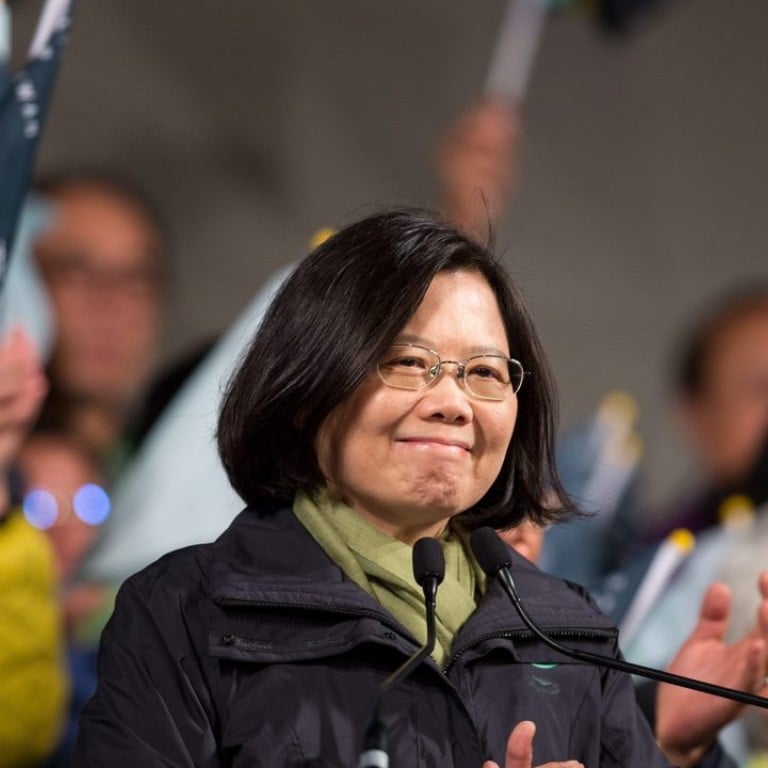 Update

|
Taiwan election: Tsai Ing-wen is Taiwan's first female president after landslide victory in historic poll
Tsai Ing-wen, leader of Taiwan's main opposition Democratic Progressive Party, declared victory as she won more than 56 per cent of the vote in the presidential election
Pro-independence party candidate Tsai Ing-wen has claimed victory in Taiwan's presidential election to become the island's first female head of state.
Tsai said in her victory speech tonight that the election outcome was a further show of how ingrained democracy had become in Taiwan, adding: "The people of Taiwan have elected a government that will defend Taiwan's sovereignty."
She also warned China that "suppression" would harm cross-strait ties.
"Our democratic system, national identity and international space must be respected. Any forms of suppression will harm the stability of cross-strait relations," she said.
Follow our updates of the historic poll below
9.32pm: The election has also drawn keen interest in the pan-democratic camp of Hong Kong, which has sent more than 50 party-politicians and about 100 students and activists in different delegations to observe the polls. Commentator Ivan Choy Chi-keung agreed that the election has shown a strong bond between the civil societies in Taiwan and Hong Kong. "Beijing will have to be careful when dealing with Taiwan in future because any tough move on Taiwan could trigger strong reactions among Hongkongers, who feel they share the same fate with the island," Choy said.
9.11pm: Tsai Ing-wen uses her victory speech to call for freedom of navigation in the disputed South China Sea and for a peaceful resolution of the dispute. She also said Taiwan would continue to strengthen the island's ties with Japan. China claims almost all the disputed South China Sea, where it has built artificial islands that extend its reach. Brunei, Malaysia, Vietnam, Taiwan and the Philippines have competing claims in the sea.
7.57pm: With half of the vote counted for the Legislative Yuan, another landslide victory awaits for the DPP – it is looking to dominate 48 out of the 71 seats. The KMT is expected to get only 19 seats. The New Power Party, with leading figures from Sunflower Student Movement, is expecting to take three seats, with two in northern Taiwan and one in the Taichung city.
7.43pm: The vote count is continuing but live television figures from polling stations show Tsai has about 60 per cent against 30 per cent for Chu. That would be the biggest ever win for any president in Taiwan – the previous record was 58.45 per cent for current KMT president Ma Ying-jeou in 2008.
7.37pm: The terms "Tsai Ing-wen" and "Chou Tzu-Yu" cannot be searched on mainland China's Weibo, the South China Morning Post finds. "According to the relevant laws, regulations and policies, the search results have not been displayed," a statement says.
7.16pm: Nationalist candidate Eric Chu Li-luan conceded and resigned from leadership of the China-friendly party that has governed for eight years. Announcing his resignation at the party's headquarters in Taipei, Chu said: "Sorry everybody, Chu Li-luan has disappointed you. We have failed. We have failed the expectations of all voters. We have failed our responsibilities towards Taiwan." Premier Mao Chi-kuo also resigned following the KMT's defeat.
7.04pm: Tsai Ing-wen of Taiwan's main opposition party will become the island's first female president after the ruling Kuomintang conceded defeat.
6.49pm: The mood is silent outside the KMT headquarters, with some supporters in tears. Pensioner Shao De-Chang says: "I don't worry too much about KMT's future. Let the DPP try for four years – we will see how they are able."
6.38pm: 3,200,000 – that's the difference in the number of votes between Tsai Ing-wen and Eric Chu Li-luan at 6:35pm. Currently, Tsai has 6,458,198 votes and Chu 3,230,126.
6:30pm: Here is a detailed breakdown of the Legislative Yuan vote counts so far
North:
New Taipei city: 9 DPP/2KMT/1 others
Keelung: 1 DPP
Taipei: 5 KMT /2 DPP/1 others
Hsinchu city: DPP
Hsinchu county: 1 others
Miaoli county: 2 KMT
Hualien county: 1DPP
Yilan county: 1 DPP
Kinmen county:1 KMT
Lienchiang county:1KMT
Central Taiwan:
Taichung 4 DPP, 3KMT, 1 others
Changhua county: 3DPP, 1KMT
Nantou county: 2 KMT
Yunlin county: 2DPP
Chiayi city: 1 DPP
Chiayi county: 2DPP
South:
Tainan 5DPP
Kaohsiung: 9 DPP
Pingtung county:3 DPP
Taitung: 1 DPP
Penghu 1 DPP
Other natives:KMT
Mountain natives: unknown
6:25pm: It looks like the DPP is not only heading towards a sweeping victory in the presidential election, they can also win the Legislative Yuan election by a conformable margin. The DPP has captured all the Legislative Yuan seats in southern Taiwan. In the north where most seats traditionally go to the KMT, DPP are also gaining ground. The KMT so far only secured a dominance in Taipei and three other northern counties. In central Taiwan, the DPP enjoy a comfortable lead in most of the constituencies.
6:15pm: Tsai Ing-wen is now leading with 5,460,048 - nearly 2.5 million votes more than Eric Chu Li-luan, who has received 3,098,976. Soong is at 928,578.
6:00pm: The green camp is also set to have substantial gains in the legislative elections. Many DPP candidates are now leading in the polls in constituencies across Taiwan. DPP candidate Huang Wei-che declared victory in his constituency in the southern city of Tainan, a DPP stronghold. Candidates of the New Power Party, an informal ally of the DPP, have also led in at least three of the five constituencies it has fielded candidates. New Power Party's Freddy Lim, who is associated with 2014 Sunflower Movement, is mounting a serious challenge to the KMT long-time legislator Lin Yu-fang in Taipei city. Another New Power Party's candidate Hung Tzu-yung, whose brother was killed in a military detention camp, led her KMT counterpart Yang Chiung-ying in the central city of Taichung comfortably.
5.50pm: With the presidential election result now a foregone conclusion, Taiwan public attention shifts to the row over how 16-year-old singer Chou Tzu-yu was forced to apologise to Beijing for waving a Taiwan national flag on a South Korean TV. Taiwanese KTV company Melody Music World has announced that it will take off the songs of Huang An - another Taiwanese musician who reported Chou to the mainland authorities - from its list permanently.
5.40pm: James Soong Chu-yu has no hope to win this race but his decision has certainly dealt a huge blow to the KMT.
5.35pm: Tsai Ing-wen has built an insurmountable lead. She has got more than 3,530,000 votes, while Eric Chu Li-lun trails far behind at 2,780,000 votes and James Soong Chu-yu has received 510,000 votes - which is already more than the 370,000 votes Soong got in the 2012 elections.
5.21pm: Tsai Ing-wen has already received more than 2 million votes at 2,138,840, while Eric Chu Li-lun is way behind with 1,259,680. James Soong Chu-yu has only received 387,543 votes.
5.20pm: The website of South Korean entertainment company JYP has been hacked, with Taiwanese group Anonymous Tw claiming responsibility. A statement posted by Anonymous Tw online urged JYP to issue a formal apology to 16-year-old singer Chou Tzu-yu after forcing her to apologise for waving a national flag on a South Korean TV programme. The apology video with Chou reading from a script went viral online and triggered intense debates among netizens on the mainland and across the straits on Taiwan. "If JYP would not apologise to Tzu-yu officially, we will launch aggressive attack targeting the company's operation," the statement said. "The people of Taiwan is not what you think. It's payback time for those who bow down to the Chinese Communist [Party]". The website of JYP remains unavailable after 5pm.
5.02pm: Chu and running mate Wang Ju-hsuan might go on stage to address their supporters before 8.40 pm – the original time set for their speech – based on results so far. By 5.02pm, Tsai had more than one million votes, well ahead of Chu's 694,493 and Soong's 277,360.
5.01pm: Chu supporters, some waving Taiwan's "Republic of China" national flags, appear anxious as earlier results of the poll suggest a dismal outcome. By 5pm, Tsai is leading with some 950,000 votes ahead of Chu's 620,000 and Soong's 210,000.
4.48pm: Tsai is leading with 648,476 votes. Eric Chu Li-luan is playing catch-up at 471, 311 – while James Soong Chu-yu has lost momentum, with 131,240.
4.42pm: Tsai is expected to host a press conference at 8pm, when she will likely be grilled by reporters over cross-strait relations – including the incident in which Taiwanese singer Chou Tzu-Yu, 16, was forced to apologise after waving a Taiwan national flag on a South Korean TV programme. In a statement responding to the incident, which had triggered nationalistic sentiment in Taiwan against China, the Chinese State Council's Taiwan Affairs Office condemned "certain political groups" for trying to instigate the feelings of compatriots of the two sides of the Taiwan Strait.
4.30pm: Tsai Ing-wen is leading with 265,784 votes, followed by Eric Chu Li-luan on 170,155 and James Soong Chu-yu with 74,796 votes.
4.29pm: Hundreds of supporters – some waving green DPP flags – rally in front of the campaign headquarters of presidential front runner Tsai Ing-wen as they wait for the outcome. About 30 minutes after all polling stations closed and the count began, Tsai is reported by Taiwanese TV as leading her Kuomintang opponent Eric Chu Li-luan and People First Party chairman James Soong Chu-yu in almost every constituency. By 4.28pm, Tsai has received more than 220,000 votes – far ahead of Chu's 140,000 and Soong's 50,000.