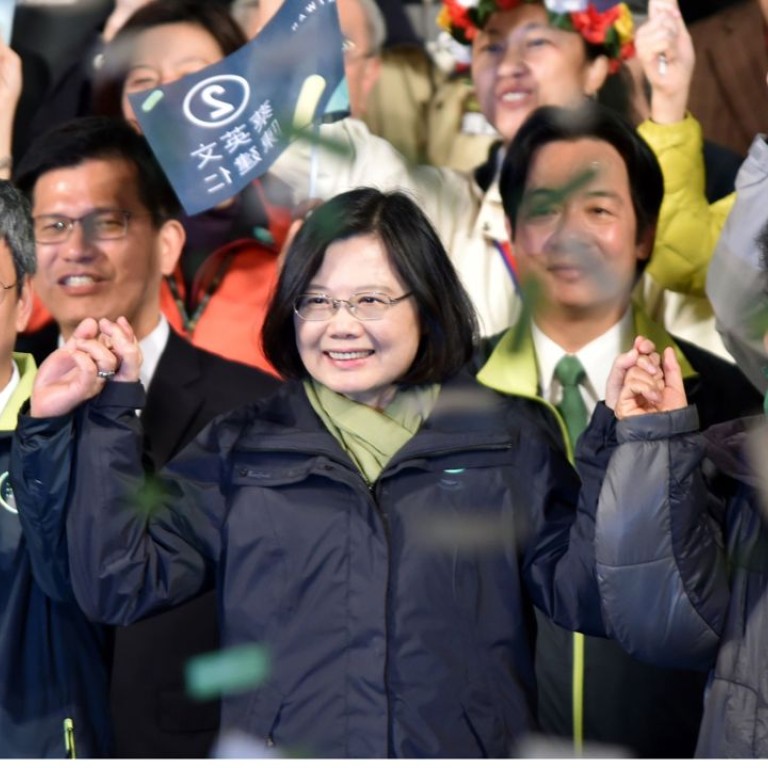 Taiwan's first female president Tsai Ing-wen warns China after landslide victory
Tsai Ing-wen leads the DPP to a crushing victory, gaining control of the legislature for the first time and new authority to negotiate with Beijing
Taiwan's main opposition Democratic Progressive Party yesterday scored a landslide victory, making its leader Dr Tsai Ing-wen the island's first woman president and gaining control of the legislature for the first time.
The stunning victory – announced just three hours after vote counting had started – will give Tsai and her party sweeping authority to shape policies and negotiate with Beijing, which has long eyed the pro-independence DPP with suspicion.
Tsai won 6.89 million votes – 56 per cent of the total – almost twice as many as the 3.81 million (31 per cent) for Kuomintang candidate Eric Chu Li-luan. People's First Party candidate Soong Chu-yu secured 1.57 million votes (13 per cent). The KMT won just 35 of the 113 legislature seats, far behind the 68 won by the DPP.
Watch: Tsai Ing-Wen vows to defend Taiwan's sovereignty
Tsai hailed the result as a proof of how democracy had taken root in Taiwan. She pledged to reform and unite Taiwan to gain respect around the world.
Tsai warned Beijing: "Our democratic system, national identity and international space must be respected. Any forms of suppression will harm the stability of cross-strait relations."
But she also pledged to maintain the "status quo of peace and stability" with Beijing. Tsai said both sides had a responsibility to find mutually acceptable means of interacting – leaving the door open for future negotiation.
"During this election, I have promised on many occasions that I will build a consistent, predictable and sustainable cross-strait relationship," Tsai said in her victory speech. "We will work toward maintaining the status quo for peace and stability across the Taiwan Strait in order to bring the greatest benefits and well-being to the Taiwanese people."
In Beijing, the Taiwan Affairs Office urged Taiwan to "treasure" peace and stability cross the strait.
"Our policy to Taiwan is consistent and will not change because of the local election result. We will firmly uphold the One China principle and against any separatist activities. We will stand firm over this," it said. "And we are willing to strengthen communication with any party that recognise the One China principle.".
Professor Wang Kung-yi, a specialist in international affairs at Tamkang University in Taipei, said the DPP's crushing victory meant Beijing had no choice but to deal directly with Tsai.
He said Beijing may slow down its cooperation with Taiwan and adopt a wait-and-see attitude for a while to before deciding how to deal with the DPP government.
Xu Shiquan, former director of the Institute of Taiwan Studies at the Chinese Academy of Social Sciences, said if Tsai adopted a pro-independence stance, cross-strait relations would "enter an ice age, to put it mildly".
Li Fei, deputy director of the Taiwan Research Centre at Xiamen University, expected relations would see some setbacks. "But the level of the setbacks will depend on Tsai's stance. What she has been saying regarding cross-strait relations is still rather vague," he said.
Despite the emphatic victory, Tsai would still face some stiff challenges, experts said.
"She has to address a number of domestic issues, including Taiwan's economic woes, reduction of the gap between rich and poor, education reforms, pensions for senior citizens and low income problem left by the Ma [Ying-jeou] government," Wang said.
The scale of the KMT's defeat also raised eyebrows. Not only did it lose the presidential election by a huge margin, it suffered heavily in the legislature yuan election.
Chu apologised to supporters and resigned as party chairman. "We have failed. We have failed the expectations of all voters. We have failed our responsibilities towards Taiwan," he said.
Some analysts questioned if the KMT could find a new leader capable enough to reunite the divided party and stage a comeback.
"If the KMT fails to review its problems and carry out a series of reforms, it would be difficult for the KMT to stage a comeback in the next eight years," Wang said.
Focus Pages 4-5