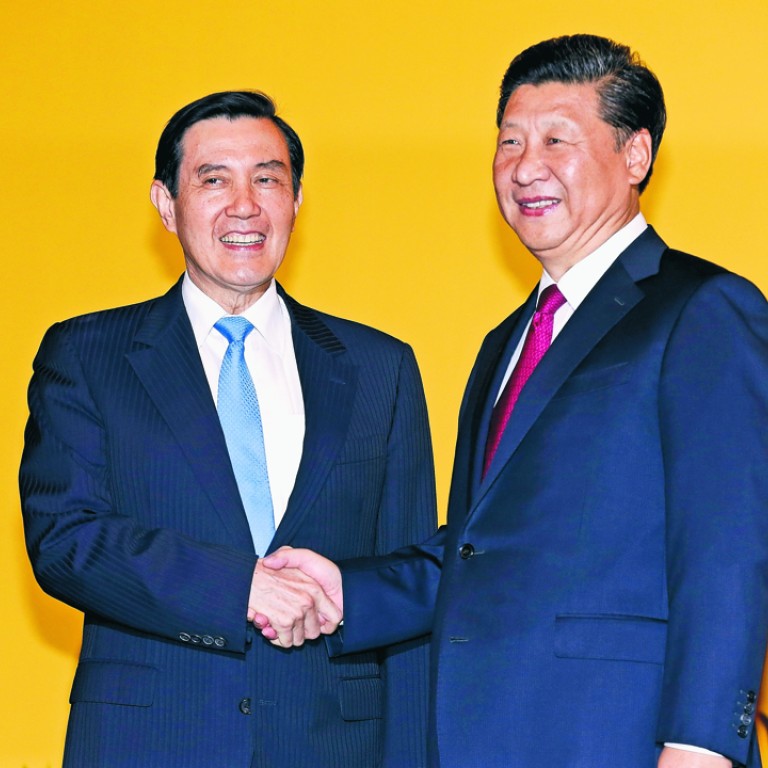 Beijing's deep economic embrace grows stifling
The mainland thought Taiwan would be swayed by a shower of economic gifts, but closer trade ties have aroused suspicion
Since the era of Hu Jintao, the predecessor of President Xi Jinping, Beijing has adopted a strategy of drawing Taiwan closer economically, in the hope such ties would eventually bring the island closer politically.
Efforts to advance economic relations took off after Beijing-friendly Ma Ying-jeou came to office in 2008. Amid warming relations, 23 deals were sealed, hundreds of mainland investments were made in Taiwan, and millions of mainland tourists flocked to the island, bringing in cash and boosting its tourist industry.
The results were tremendous. Cross-strait trade more than tripled from 2002 to 2014, while Taiwanese investment on the mainland rose fivefold from 2000 to it a peak in 2013.
But such strong ties in the economy and trade have failed to bring the mainland closer into the hearts of ordinary Taiwanese.
According to surveys conducted by CommonWealth magazine, the percentage of Taiwanese who support unification halved, to 11 per cent, between 2000 to 2015, while those supporting independence doubled, to 35 per cent.
Half of those interviewed wanted to maintain the status quo.
Another survey by National Chengchi University showed that between 2002 and 2015, the percentage of people who identified as both Taiwanese and Chinese decreased by a quarter, to 33 per cent, while those who identified only as Taiwanese increased by half, to 60 per cent. People who identified solely as Chinese fell from 9 to 3 per cent.
George Tsai Wei, a professor of political science at Chinese Culture University in Taipei, said the older, mainland-born generation was gradually being replaced by a younger population with no attachment to the other side of the strait.
"Taiwan media's frequent coverage of bad news on the mainland, such as jerry-built projects, food safety scandals and corruption, also contributed to negative perceptions," he added.
Taiwanese were also upset by the fact that the benefits of closer economic ties had fallen to big business and a wealthy few, rather than ordinary people.
From 2008 to 2015, Taiwan's gross domestic product grew by an average of 2.85 per cent a year, while wages rose only about 0.81 per cent a year, government data showed.
People have also been distressed by increasingly unaffordable housing, experts said. "The mainland's favourable policies towards Taiwan were directed at large businesses. Therefore the benefits flowed to them, not to the public. The proceeds were invested in real estate to increase value, which boosted property prices," said Li Fei, deputy director of the Taiwan Research Centre at Xiamen University.
But the mainland's "economic card" was not to blame for the disenchantment among the island's residents, Li argued. Only large businesses were capable of fulfilling purchase orders from the mainland worth billions of dollars.
"It is the result of globalisation, of the nature of world economy and international trade, which operates by the 'law of the jungle,' letting only the strongest, largest conglomerates survive," he said.
Neither was Taiwanese President Ma Ying-jeou to blame, Li said. "He was not favoured by circumstance, with the global financial crisis arriving soon after he assumed office," he said.
Amid growing economic ties, many Taiwanese feel threatened by Beijing's increasing economic leverage over Taipei, which they fear will translate into stronger political leverage.
According to the CommonWealth survey, three in five Taiwanese polled last December said they worried that the island's economy relied too heavily on the mainland, while two in five said cross-strait economic and trade cooperation should be bound by certain conditions.
"The concern now is that ... if Taiwan becomes overly dependent on the Chinese market, it might risk becoming Beijing's political hostage," Tsai said.
Discontent over the mainland's economic policies towards Taiwan bubbled into massive protests over a trade pack in 2014. Opponents said it would hurt local businesses and the job market while bringing political pressure from Beijing. The deal was eventually shelved after students occupied the island's parliament for 23 days.
"In the short run, it's quite difficult to draw both sides together merely through economic benefits. After all these years, mainland China has come to realise that economic cooperation has not won the heart of the Taiwanese people, and it is gradually adjusting [its strategy]," Tsai said.
Beijing had sent officials and academics to Taiwan to talk to grass-roots leaders, such as village heads, to help find a more effective approach, but it remained difficult, he said.
Cross-strait relations experts on the mainland have also called on Beijing to adjust its strategy. Zhou Zhihuai, director of the Institute of Taiwan Studies at the Chinese Academy of Social Sciences, said the era where the mainland "gave away benefits" to Taiwan had come to an end.
"Since Taiwanese people do not welcome benefits bestowed on them from the mainland, why should the mainland keep doing so?" he was quoted as saying on the annual Cross-Strait Economic, Trade and Culture Forum last April.
He suggested that Beijing should avoid overly materialistic approaches to developing ties in the future, or becoming focused on short-term gains.
Xiamen University's Professor Li said that whether Beijing changed its strategy towards Taipei depended on the attitude of Tsai Ing-wen, the Democratic Progressive Party's presidential candidate who won the island's presidential election yesterday.
"It all depends on her interpretation of the 1992 consensus," Li said, referring to an agreement reached between Beijing and Taipei in 1992, which holds that both sides recognise there is only one China, but each side will interpret what China stands for in its own way.
"If her interpretation is grudgingly acceptable to the mainland, the status quo will be maintained. If it's totally acceptable, cross-strait economic cooperation will continue to strengthen. If it's unacceptable, there will be setbacks," he said. "But even so, cross-strait exchanges will not break off," he added.