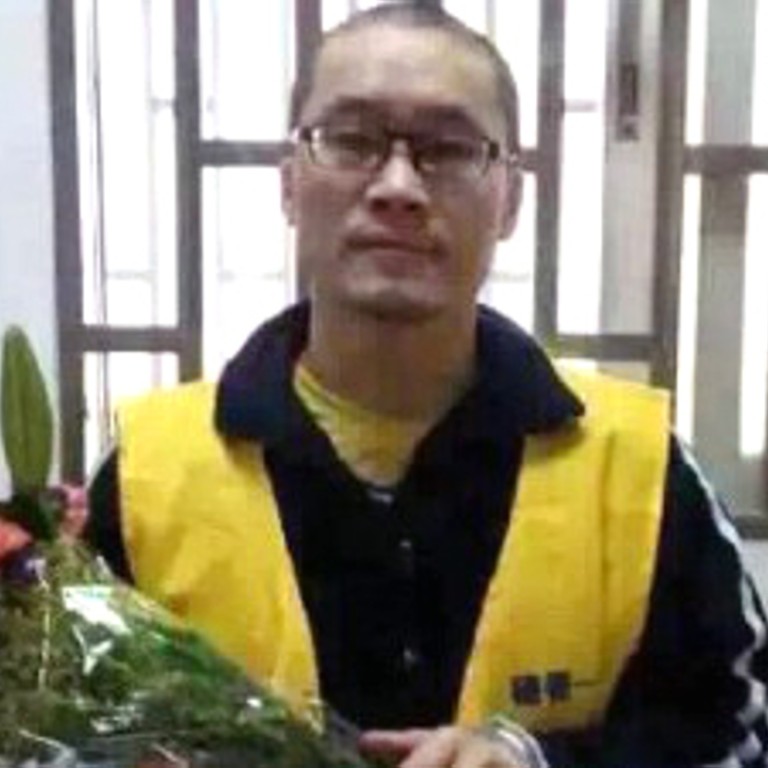 Update
Chinese rights lawyer Tang Jingling dealt maximum 5-year jail sentence for subversion
Guangzhou court also hands down multi-year terms to activists Yuan Chaoyang and Wang Qingying
A former human rights lawyer sentenced by a Guangzhou court to the maximum five years for subversion will not lodge an appeal with "an unjust court ­serving an autocracy", his lawyers said on Friday.
The verdict, handed down to Tang Jingling by the Guangzhou Intermediate People's Court, came as two other activists, Yuan Chaoyang and Wang Qingying, were jailed for 3 ½ years and 2½ years respectively.
Tang's lawyers said his ­sentence amounted to political persecution, adding that five years was the harshest sentence that could be imposed for "inciting subversion of state power".
"The sentence itself is unfair. But it is a glorious honour for Tang from such an institution," Yan Xin, one of Tang's lawyers, said.
Lawyer Ge Yongxi said Tang refused to appeal to what he deemed an illegitimate body. "He said he would continue to appeal for justice and freedom but only to the people and to God. He will move forward," Ge said.
Police took away at least three people outside the court, and ­various activists were banned from leaving their homes to voice support for Tang.
Wang Yanfang, Tang's wife, said the verdict was based on Tang's pro-democracy work since 2005, including his representation of villagers in Taishi, Guangdong, in a stand-off over an illegal land grab, his advocacy of non-violent civil disobedience, as well as the legal advice he gave to ­family members of late activist Li Wangyang.
"He was merely promoting a concept recognised internationally, but in China you go to jail for it," Wang said.
She said she had grave concerns about Tang's health.
"We are very worried. He was beaten in the early days of his detention and forced to labour well into the night. He is also not getting food or letters from his family," Wang said.
"For one year and nine months, he has been deprived of exposure to sunlight as well as visits from his family."
Tang, Yuan and Wang were detained for more than a year ­before a trial took place last year. The charges against them were upgraded from "picking quarrels and provoking trouble" in ­mid-2014 to "inciting subversion of state power".
The trio are among the more than 300 signatories to Charter 08, a manifesto published on December 10, 2008. Others include Nobel Peace Prize winner Liu Xiaobo and human rights lawyer Pu Zhiqiang.The charter calls for changes such as the elimination of one-party rule, the creation of an independent legal system and freedom of expression.
Tang, 45, who is originally from Hubei province, has been a prominent advocate of non-violent civil disobedience in the past two decades, pushing for democracy on the mainland.
Human rights group Amnesty International described the jail terms as gross injustices. "Their peaceful and legitimate work never threatened state security. This is solely about the authorities arbitrarily silencing government critics," Amnesty's Patrick Poon said.
"The authorities appear to be stepping up the use of spurious 'national security' charges as they escalate their attack against human rights activists and peaceful critics of the government's abuse of power."
The China Human Rights Lawyers Concern Group says at least 317 lawyers, activists and their family members have been arrested, detained, put under ­residential surveillance or house arrest in a sweeping crackdown on rights advocates since July 9 last year.