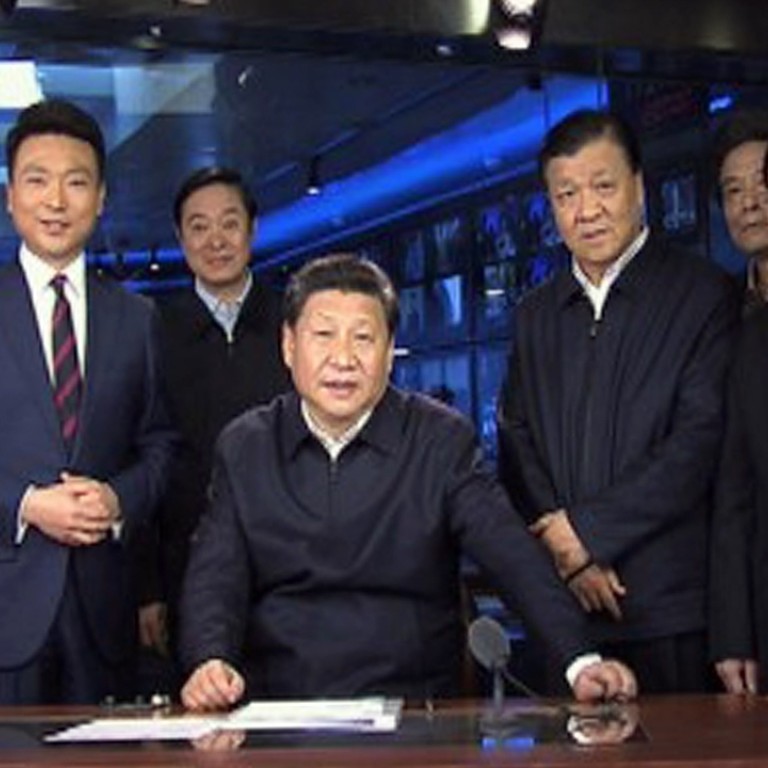 Communist Party warns of gap between 'public and official opinion'
People's Daily social media commentary follows Xi speech on 'need for strictly toeing party line'
Having public opinions that are different from the official ones will shake the foundation of the rule of the Communist party and the country, according to a commentary published by a leading mouthpiece online.
Xiakedao, a social media account operated by the overseas edition of People's Daily, said in a commentary on Friday's high-profile tour by President Xi Jinping (習近平) to the three largest state media outlets – People's Daily, Xinhua and Central China Television — that the party was alarmed by how different public opinion is from official media.
There are two spheres for opinions — official and unofficial media. The latter refers to social media or means of communications not controlled by the party.
"Information dissemination is diversified and fragmented. A real army is no rival of the guerilla (opinions spreading on social media). It becomes a crisis of traditional media," the commentary said. "Official and unofficial opinions are very different … and even contradictory," it said.
Unofficial opinions are different because what the public experiences is different from what is described by official media.
"If the gap lasts, it will erode the legitimacy of the rule, and distabilise the root of the party and the state," it said.
The commentary said making sure that public and official opinions did not deviate was important, especially when China is facing economic downturn.
"As China's economy slows, theories about the threat of China, the collapse of China and how China drags down the world's economy are on the rise. How to prove they are false?"
It did not elaborate how to bridge the gap except to say that state media should be in touch with the public. But in what is seen as a political signal that the party would further tightened its grip on media, Xi said in a speech that all news outlets and "genres" should strictly toe the party line.
A separate commentary by Xinhua yesterday said that controlling public opinion was essential for a a ruling party: "With one hand we grab the guns; with the other we grab the pens," it said. "Mobilising public opinion is the great tradition of our party."