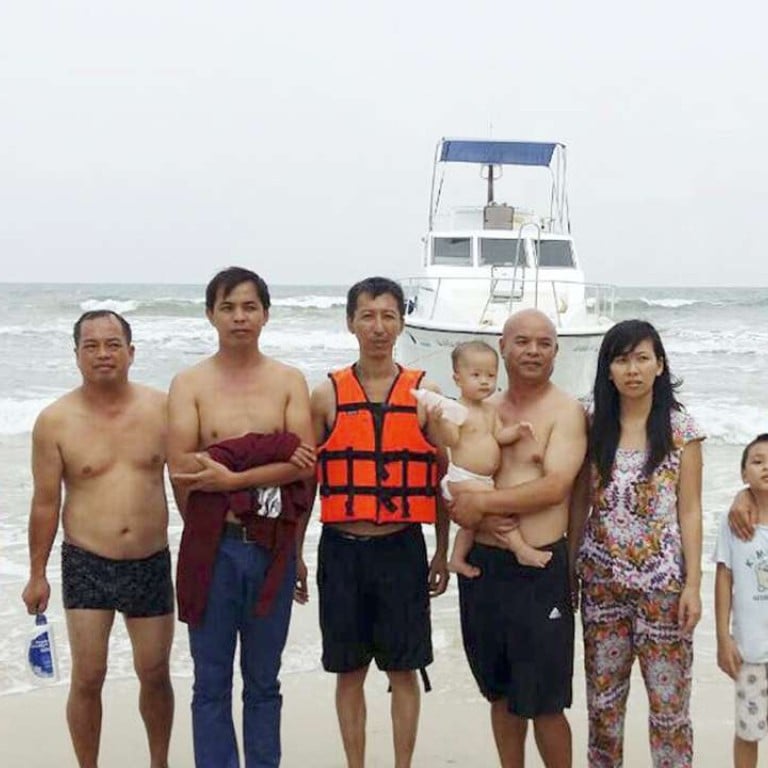 Fearful of China's reach abroad, dissidents try risky voyage
Asylum seekers languish in poverty and fear in Thailand, not knowing who to trust nor when they can be interviewed by UN refugee officials
Dong Junming was detained several times in China before he fled with his family to Bangkok in February last year. A year later, he was preparing to make a more desperate journey to evade Chinese authorities who still felt dangerously close.
In the months since he arrived in Thailand, dozens of Chinese asylum seekers have been sent back home by Thai authorities. Other dissidents have simply disappeared from Thailand and Hong Kong before re-emerging in mainland Chinese custody. Beijing appears increasingly eager to snatch back countrymen who have attempted to escape its grasp.
Dong is a member of the Falun Gong spiritual movement, which is banned in the mainland and whose members are persecuted there. He, his wife and daughter face a long wait to obtain refugee status and resettlement in a third country – they won't even get an interview with the United Nations refugee agency until at least next year. In the meantime, he's unable to work legally and his family's travel documents have expired.
So Dong decided to flee once more. This time it would be by boat, to New Zealand, a hazardous journey of nearly 10,000km.
He would leave with six other Chinese adults, including a couple taking their two sons, aged one and seven. They believed New Zealand offered them the best chance of gaining refugee status.
Dong, as well as eight other Chinese dissidents living in Thailand who did not make the boat journey, described lives of anxiety and frustration bordering on outright despair in interviews with The Associated Press. Though free and under no immediate deportation threat, Dong said he feared what the future might bring. So when offered a berth on the yacht in January, he took it.
"It's highly risky out there on the ocean, but we are so fearful here in Thailand that I thought I should take the risk," he said.
Dong and fellow travellers boarded the yacht at night on February 29. The captain was democracy activist Li Xiaolong, the father of both children aboard. He bought the secondhand vessel, which also carried his wife and two brothers.
They had a month's supply of food and water. Their confidence was boosted by a fellow activist who succeeded in making a shorter sea voyage from Thailand to Australia.
They believed their own journey would be smooth. They were wrong.
Fears over the growing reach of Chinese security services crystallised among many Chinese dissidents with the recent disappearances of five Hongkongers associated with a bookstore that sold gossipy titles on the lives of Chinese leaders. One of the missing men was believed to have been abducted from Thailand, and another from Hong Kong, though both have since said they voluntarily returned to the mainland.
Asylum seekers in Thailand were more alarmed that the Thai government repatriated about 100 Muslim Uygur asylum seekers from Xinjiang last summer, and two Chinese dissidents in November, saying they violated immigration rules. Critics viewed Thailand's military-led government as catering to China, its biggest trading partner.
With President Xi Jinping at China's helm and brimming with confidence, the communist government is pursuing greater cooperation with police abroad.
One aspect of the campaign popular within China is Beijing's Skynet operation, which seeks the return of corrupt Chinese officials and others accused of absconding overseas with ill-gotten gains. Since October, 2014, China has seen the return of 124 corruption suspects who had fled to 34 countries, the country's chief justice told the National People's Congress, China's legislature, this month.
That campaign has had limited success in the US, which has no extradition treaty with China and requires evidence that the offences they are accused of by China would also constitute a crime in America.
Beijing has raised the heat not only on corruption suspects but also on dissidents who fled abroad. Forced repatriations and alleged abductions have particularly rattled Chinese asylum seekers who have congregated in Thailand, where the UN High Commissioner for Refugees has an office.
"Beijing has become so ruthless that it grants us no way out at all," said Hu Junxiong, a democracy activist who fled to Thailand last year, after Chinese authorities detained him 35 days for helping other activists with computer and technology issues.
"It won't let us flee, but stays on our tail to catch us and bring us back to China, where we surely will be met with harsh persecutions and end up in misery," Hu said in an interview from Bangkok.
The yacht set off from Pattaya, southeast of Bangkok. Dong's wife and daughter stayed in Thailand because the family's funds were limited and, since their visas had expired, they were at risk of being detained by Thai authorities.
The next day, the vessel was battling waves up to five metres (16 feet) tall, Dong said.
About 135km into the journey, a problem emerged with the yacht's steering. One of those aboard managed to fix it, but after another 100km the waves returned and the rudder was again disabled, Dong recalled.
"The boat was spinning, and it was shaking violently," Dong said. "We were still 100km from the closest shore."
They turned the boat toward shore and manually operated the rudder. Their distress calls went unanswered.
"I was extremely fearful," Dong said. "We were in lifejackets, and I was so sick I could not get up."
The baby and his brother were quiet, Dong recalled.
"The little one had his eyes wide open and did not cry at all. The older one was simply lying there. I did not know if he was scared or was feeling numb. Their mother was vomiting and could not do anything."
Deep into the night of March 1, the yacht ran aground in southern Thailand's Chumphon province.
The boat was taking on water and listed on the shore. After waves gradually pushed it to an upright position, the adults waded to land, fetched the children and called for help, Dong said.
"Our boat could have sunk out there," Dong said in an interview from Bangkok. "We are lucky to be alive."
Thailand is home to thousands of asylum seekers from China and elsewhere, many of whom live under murky legal status. Even those who enter the country legally often overstay their visas. Thailand has no law managing asylum seekers fleeing conflict and persecution.
Activists say Thai authorities used to look the other way on Chinese asylum seekers, but that changed after the May, 2014 military coup.
Thai government spokesman Sansern Kaewkamnerd said authorities follow the rules when sending illegal immigrants back to their countries of origin.
"If we don't, Thailand might become a hub for smugglers to transport people to third countries and we wouldn't want that," he said.
Vivian Tan, spokeswoman for the UNHCR in Thailand, said asylum seekers were often caught up in routine illegal-immigration crackdowns. Although the UN office has no control over how Thailand enforces immigration rules, it works with authorities to help asylum seekers avoid being detained, Tan said.
Some Chinese refugees fear Chinese agents as well as Thai authorities.
Hu, who travelled to Thailand without identification last year, said someone claiming to be a Chinese diplomat called him and said the embassy monitored local activists' phone calls. He said the caller asked him to inform on fellow asylum seekers.
"I think it's part of (Beijing's) plan to turn us against each other," Hu said.
The Chinese Embassy in Bangkok said it had no knowledge of Chinese authorities conducting surveillance on dissidents in Thailand.
As they wait for years to be recognised as refugees, Chinese asylum seekers say they survive by dipping into meagre savings and practising extreme frugality. They avoid police at all costs, even if they're victimised.
On the night the ill-fated journey to New Zealand ended, however, hiding was not an option.
Of the seven adults who took part in the failed voyage, two – including Li's wife, Gu Qiao – were detained for not having valid documents; they remained in Thai custody this week. Li, the trip's organiser, was charged with aiding undocumented immigrants but later released on bail.
The one-year-old child is also in state custody. The seven-year-old was returned to Li's brothers, who also had been on the boat. Like Dong and one other passenger, the brothers were freed when their documents were found to be in order.
"Now, I am back to live in fear again," Dong said. "I am back to wait for the UN interview, and I feel hopeless."
His family lives as simply as they can. Once rent is paid, their monthly budget leaves them with just 500 baht (HK$110), his wife, Wang Shumei said. They pick through vegetables discarded from farmers' markets, and sometimes sellers give them food out of pity, she said. And they practice Falun Gong meditation exercises.
"Should there be another opportunity, I would leave Thailand again," Dong said. "And many of us have the same thought."