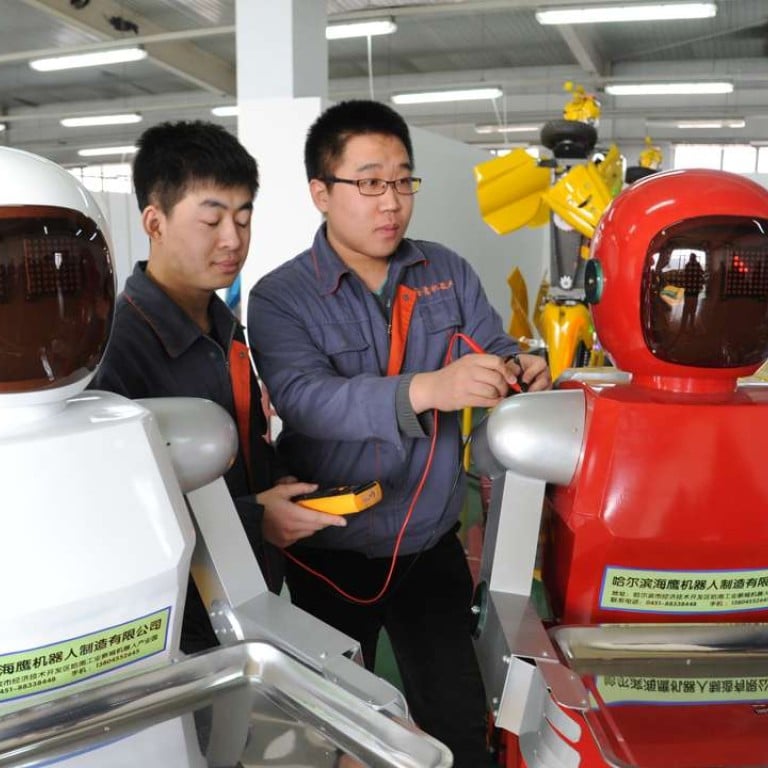 China's five-year plan to transform its robotics industry
Machines capable of tasks from vacuuming to surgery envisaged by proposal, but experts say more emphasis needed on artificial intelligence
China is to pump more money into its robotics industry, but industry experts say this alone will not bring the industry up to par with overseas competitors.
A five-year planning proposal issued on Wednesday jointly by the ministries of finance and industry and the National Development and Reform Commission vowed to make significant progress by 2020 in the production capacity, creativity and competitiveness of the industry.
Breakthroughs were expected in core components of robots including sensors and servomotors, it said.
It also called for building competitive advantage in 10 types of industrial robots capable, for example, of precision welding, surgical applications, vacuum cleaning, performing an array of services and even programming themselves.
The proposal lists several other strategies to boost the domestic robotics industry, including more subsidies and tax breaks, and allowing more investment and financing channels.
"Local governments at the provincial and city level across the country will soon launch their own supporting policies on subsidies to echo the central authorities and prop up the industry in their jurisdictions," said Zhang Fasheng, a sales manager at Shenzhen-based Xrobot Tech.
"Subsidies, rent and tax deductions are critical for domestic robot makers," Zhang said. "Especially at this moment of uncertainty in China's economy."
Early last year, authorities in Guangdong set aside 943 billion yuan (HK$1.13 trillion) to replace human labour with robots by 2018, as the central authorities look to robotics to overcome labour shortages and spur innovation as growth in China's economy slows.
Meanwhile, the government of Zhejiang province said it would invest 800 billion yuan to push its 36,000 manufacturers to replace human labour with robots in five years.
Luo Jun, CEO of the International Robotics and Intelligent Equipment Industry Alliance, a government think tank, agreed that a comprehensive national strategy was necessary to boost the robotics industry in the next five years.
But the government proposal was still short-sighted by focusing on investment in existing technology, Luo said.
"In the proposal, developing and investing in traditional 'core components' for industrial robots remains China's focus in the coming five years," he said.
"But these are expected to become outdated and replaced by newer tech for next-generation robots."
Such an approach was obsolete compared to developments overseas, Luo added.
"When we look at Google, Microsoft and Facebook, artificial intelligence is the direction of next-generation robots," he said.
"I found no mention or thoughts about artificial intelligence in the proposal for our robotics sector."
China's industrial robot sales totalled 57,000 units in 2014, rising 55 per cent year on year and accounting for a quarter of the world's total.