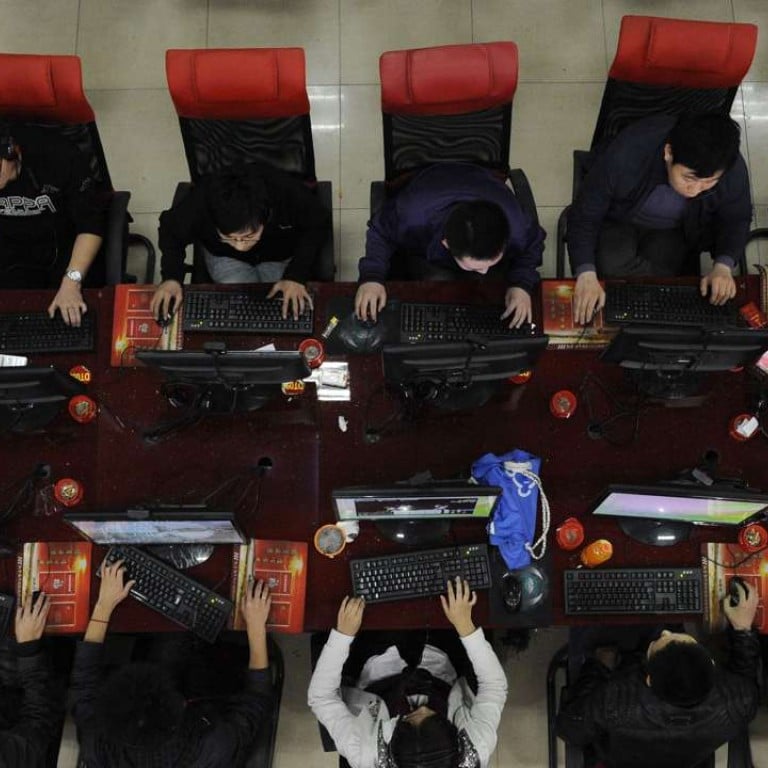 Chinese Xi Jinping's tough internet sell to talent
President calls for greater tolerance of criticism online, as authorities struggle to harness web for economic growth and keep a grip on content
Last week, two interesting developments focused attention on China's booming internet industry, which has not only fast become one of the key engines of economic growth but also turned into an ideological battleground over which the mainland authorities are struggling to exert greater control.
On Tuesday, President Xi Jinping chaired a meeting of high-level officials and top internet tycoons, calling for "greater tolerance and patience" of online criticism, and vowing more support for e-commerce.
But just a day earlier, the authorities suspended Papi Jiang, one of China's most famous video bloggers, for use of "foul language".
And on Friday, news emerged that Apple's iTunes Store and The Walt Disney Company's DisneyLife service were quietly closed under the new Regulation for the Management of Online Publishing Services, which took effect early last month.
The two conflicting messages show the mainland authorities' struggle between harnessing the tremendous potential of the internet to aid economic growth and exerting greater control over online content.
Xi, who personally heads a central government leading group on cybersecurity, urged officials to welcome online criticism, and use the internet to better understand mainlanders' concerns and wishes, Xinhua reported.
"For well-meant criticism raised on the internet, be it at the overall work of the Communist Party and the state, or at individual officials, be it gentle or harsh, we will not only welcome it, but also carefully study it for future reference," he said.
Xi said it was a "marvellous achievement" for China to have 700 million internet users, adding the internet could become a driving force for economic growth. While he stressed the importance of better cyberspace management and a positive and healthy online culture, the general tone of his remarks was quite conciliatory, with Xinhua playing up his call for greater tolerance and patience in its report.
Xinhua even quoted him as saying China would embrace foreign internet firms, even though the authorities are stepping up efforts to block their access and online censorship has intensified.
Given the conflicting developments, cynics have good reason to be sceptical but there are also reasons to be hopeful.
For one, Xi's comments on greater tolerance and patience towards online criticism seem to suggest the authorities realise the ongoing widespread and stringent online censorship and crackdowns could be counterproductive.
According to some estimates, more than 70 per cent of the country's internet users are aged between 18 and 35, and most of them have little time for the propaganda of official media. Instead, they are hooked on new media, including Weibo and the booming video blog sector. The harsh crackdowns, like the one suspending Papi Jiang, can only provoke anger and dismay.
Indeed, even People's Daily said in an online commentary on Wednesday that internet users would always find ways to bypass bans if the authorities continued to resort to old ways to tackle new issues. That approach, it said, inevitably led to missteps, referring to the Papi Jiang incident.
Indeed, over the years, the mainland's internet users have developed an intricate cat-and-mouse game with authorities to skirt bans.
Greater censorship and blocking access to more overseas websites run counter to Beijing's commitment to open the country's doors to foreign investment. There are already suggestions in the international community that China's internet filters should be regarded as trade barriers.
At the Tuesday meeting, Xi acknowledged that many mainland internet firms had become international leaders and made major contributions to economic growth and job creation.
He called for a talent system that was globally competitive, adding that all were welcome, no matter where they were from.
But that will be a tough sell if censorship and crackdowns remain intense given that the best talent is generally drawn to the freer-wheeling side of the internet.