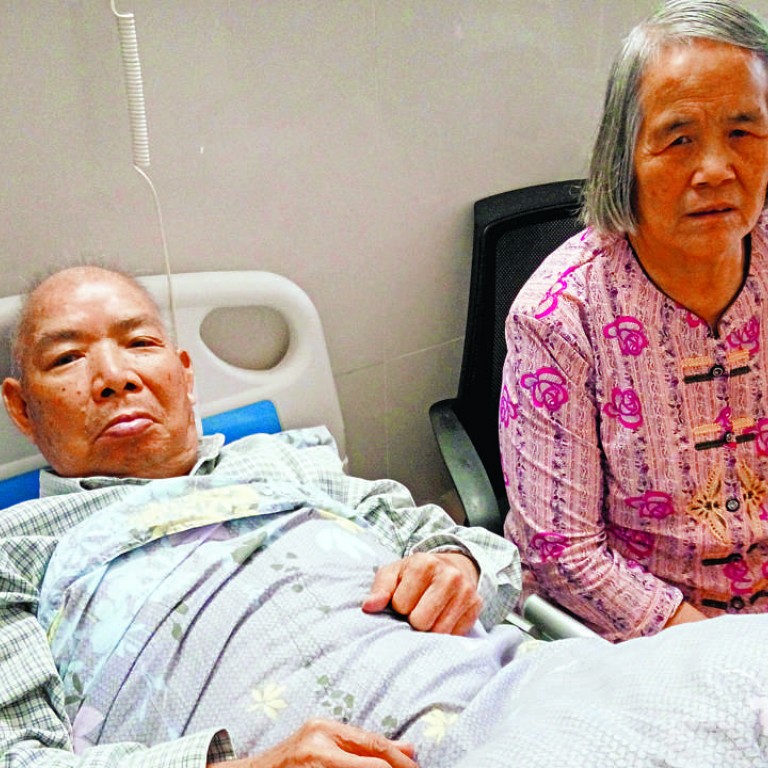 Mother of detained labour activist takes on state media – and forced into hardest decision of her life
After intense pressure from the authorities, Chen Wenying drops her lawsuit against Xinhua and CCTV, which alleged her son, Zeng Feiyang, had committed fraud
Suing Chinese state media for defamation is an ambitious, probably futile battle.
But Chen Wenying, 71, was determined to fight for the reputation of her son, Zeng Feiyang, one of the most influential labour activists in the country.
Zeng was detained along with five other high-profile campaigners last December, in one of the biggest blows authorities have struck against the labour rights movement on the mainland, experts say.
He had been helping migrant workers pursue back pay and injury claims, but it was a ruse to scam donations, Xinhua and CCTV said, citing the police. He has also been accused of disturbing social order and keeping mistresses. He hasn't been formally charged or given access to his lawyer and is waiting for a court date.
"Can you at least tell me when my son can meet a lawyer?" Chen said one day last month when a court official rang to press her to drop the case. "I need an exact date, be it two months or three months ... you know denying him a lawyer this long is not right."
The pressure tactics began soon after she filed the lawsuit against the two news outlets early last month. Even her grandsons had been targeted with threats their careers were at stake, she said. One grandson works as a surgeon at a hospital, and authorities had told his supervisor that his career would be in jeopardy if she pressed ahead with the lawsuit.
Chen decided for the sake of the family to relent. The police took her ID on Sunday to process a formal withdrawal of the suit. "I'm in a great deal of pain but there is no other choice," she said.
On the mainland, non-governmental organisations offer services for workers that the government-affiliated All-China Federation of Trade Unions fails to provide. But the NGOs remain in a legal grey area as they are denied official registration.
The round-up in December had a chilling effect on the NGO sector, said Zhang Zhiru, director of the Shenzhen-based Chunfeng Labour Dispute Centre. "Many have refrained from handling sensitive cases on the front line after the purge, but we are still doing what we believe and shall not adjust our service to bend to the authorities."
According to the National Bureau of Statistics, the mainland had 277 million migrant workers in 2015, but at least 1 per cent were affected by back pay. In 2015, the average amount owed was 9,788 yuan (HK$11,725), up by 2.9 per cent over the previous year.
Migrant workers are often the first causalities of the battle under way to shift economic drivers away from investment and manufacturing as global demand for Chinese exports weakens.
As growth slows, hitting 6.7 per cent this quarter, factories are shutting down or relocating. State firms producing steel and coal are also struggling to survive as the central government moves to tackle overcapacity. Beijing said in February that the two sectors would shed about 1.8 million workers, who could find it difficult to learn a new skill set.
In March, tens of thousands of employees of a state coal firm took to the streets in Shuangyashan in Heilongjiang province over back pay. Similar protests have been seen in the mining and steel industries across the nation's rust belt, including in Jilin province, Heilongjiang's Qiqihar, Hebei's Kaiping and Jiangxi's Pingxiang.
In one of the latest incidents, workers at Songting Steel in Hebei province gathered outside Qianan city government offices demanding more than seven months of back pay on April 21.
In Guangdong, migrant workers are faced with winning social insurance payments before factories collapse or relocate away from the Pearl River Delta. Only 20 per cent of all migrant workers are covered by the social security scheme, despite it being mandatory for all employees under a law that came into effect in 2001. "Covering retirement pension is a long-term concern for first-generation migrant worker without social security," said Professor Pun Ngai of Hong Kong Polytechnic University. Another challenge facing workers is finding enough paid overtime.
"It has been harder for workers to find jobs that pay above 3,000 yuan as production orders are depleted," Pun said. Just two years ago, workers could easily get jobs that paid more than 4,000 yuan with overtime.
She said the transition phase between jobs was also becoming longer, going from one week to three months as factories struggle to keep busy.
Liu Kaiming, a labour researcher at Shenzhen's Institute of Contemporary Observation, expected labour disputes to be on the rise around the May 1st Labour Day holiday. "There were 1.3 million labour arbitrations recorded last year and the number has been growing steadily by 10 to 15 per cent every year," Liu said.
"The government used to dedicate seven days for the May 1st holiday but it has become a long weekend holiday instead of a day to uphold labour resistance, to tone down its political flavour."