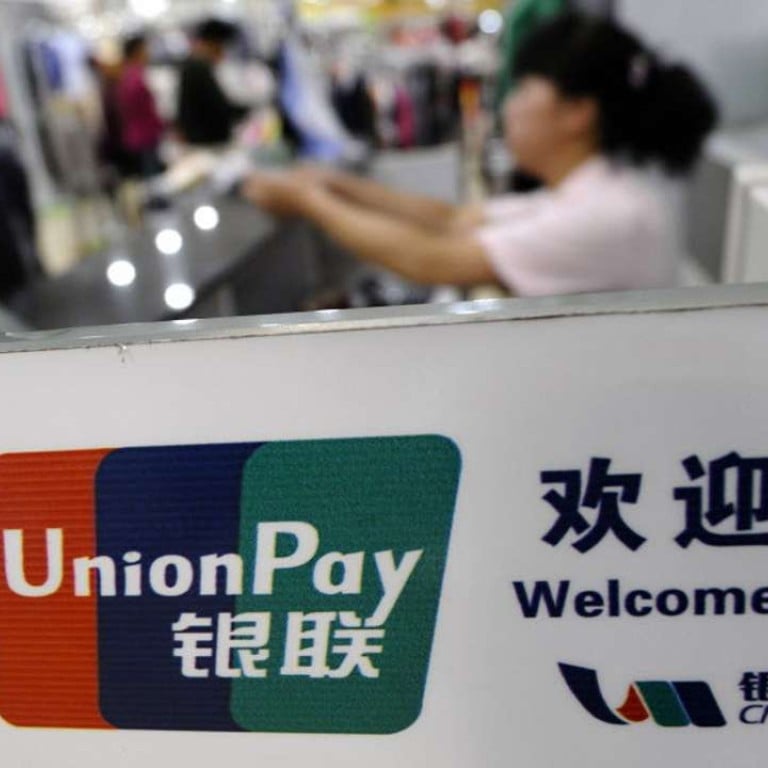 China's UnionPay combats money laundering as yuan goes global
China UnionPay, the national bank card association, has beefed up its measures to combat money laundering as spending by mainland tourists abroad soars and the yuan comes into wider use ­internationally.
The company recently ­ordered its subsidiaries and overseas branches to conduct a thorough study of anti-money-laundering rules in other countries, assign specialised officers to foil money-laundering attempts and intensify monitoring of suspicious deals, according to an internal document seen by the South China Morning Post.
In the document, UnionPay said it would beef up its anti-money- laundering capabilities to ensure smooth operation of its overseas businesses.
"Cross-border payment has become one of the tools criminals use to conduct money laundering," it said. "Automatic teller ­machines, point-of-sale [POS] terminals and online payments are used by them to illegally transfer money."
The memo was distributed to UnionPay's subsidiary that deals with international businesses and its online payment unit after regulators from European countries visited mainland banks' overseas branches to learn about their anti-money-laundering systems.
A press officer with UnionPay International said combating money laundering was a main focus for the company as it ­expanded overseas.
Hao Jinghua, a deputy director of the anti-money-laundering ­bureau at the People's Bank of China, said last month that money laundering and financing of terrorist groups were growing concerns for Beijing due to China's increasing role in the world economy and global financial markets.
Abusing bank cards and POS machines are two common methods criminals use to illegally siphon money out of the mainland.
UnionPay has been trying to combat the misuse of POS machines with a series of measures to ensure all such devices are properly registered.
Macau, the world's biggest gambling hub, has uncovered dozens of cases in which POS devices were used to illegally transfer money out of the mainland.
UnionPay said in its memo it would continue to invest resources into anti-money-laundering operations as its current system wasn't strong enough. It would also organise training courses for staff.
The rising affluence of Chinese has meant UnionPay bank cards are increasingly used outside the mainland as millions of tourists splash out on luxury items.
Meanwhile, as Beijing promotes the use of the yuan worldwide, criminal groups are increasingly using the currency for money laundering in financial frauds, human trafficking and smuggling.
The People's Bank of China has recently cautioned financial institutions over illegal money flows from underground banks, corrupt officials and terrorists.