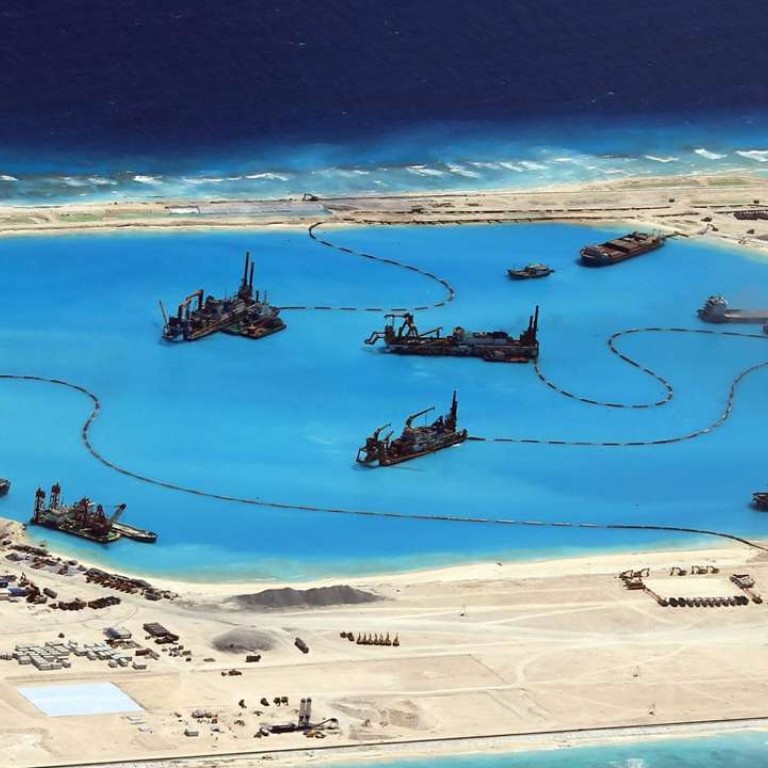 Fish and reefs under siege as feuding South China Sea claimants refuse to cooperate
Marine resources have been fished down to 5 per cent to 30 per cent of their 1950 levels, study finds
Tensions among China and Southeast Asian countries with territorial claims in the South China Sea are creating a conservation vacuum and taking a heavy toll on the ecology of an area known for its biodiversity, conservationists warn.
They say the hostility harboured by rival claimants, and the resultant lack of intergovernmental cooperation, has prevented any meaningful projects to combat illegal fishing, the over exploitation of fisheries, poaching of sea creatures and destruction of coral reefs.
The South China Sea, one of the world's five most-productive fishing zones, suffers from severe illegal, unreported and unregulated (IUU) fishing activities by 12 countries or territories, so much so that its marine resources have been fished down to 5 per cent to 30 per cent of their 1950 levels, according to a
study
by researchers at the University of British Columbia in Canada, published last year.
"Much of the South China Sea is basically a 'free-for-all' [area] in terms of fishing ... fishers of all countries in the area are heavily involved in IUU activities," said Dr Michael Fabinyi, a senior research fellow at University of Technology Sydney, who has studied the use of marine resources.
Destructive fishing practices – including bottom trawling, dynamiting and using cyanide to catch fish – were widely used in the area, severely damaging marine habitats and coral reefs, the Canadian study said. Overfishing and habitat destruction had directly contributed to a reduction in biodiversity, with marine megafauna such as dugongs, formerly abundant along the coasts of Malaysia and southern China, now rarely found.
It said countries bordering the South China Sea should work together to address common problems, but competing territorial claims and historical animosity had created strong barriers to intergovernmental cooperation on marine and fisheries issues.
Mainland China claims more than 250 islands, reefs and sandbars in the South China Sea that are also claimed in whole or in part by Vietnam, the Philippines, Malaysia, Brunei and Taiwan.
China's increasing assertiveness over its territorial claims and counter reactions by other countries only made things worse, said Professor John McManus, a marine biologist at the University of Miami in the United States.
"Any time one claimant tries to implement a fishery regulation, the other claimants are obliged to protest it," he said. "Otherwise, it is widely believed that their compliance with the regulation would be evidence that they recognise another nation's authority and thus, ownership of an area.
"It makes little sense to argue over who should control the fisheries when the fisheries and their supportive ecosystems are being rapidly degraded."
A Manila-based environmental campaigner said the animosity between the Chinese and Philippine governments made illegal poaching and trading of endangered sea turtles by fishermen from the two countries easier due to the lack of joint operations between their coast guards.
A Beijing-based staff member at a green group, who requested anonymity, said that in China, which accounted for about 45 per cent of the commercial catch in the South China Sea, the political and diplomatic significance of the territorial claims had made it "taboo" for conservation groups to even talk to the fishery authorities about over fishing and other illegal practices.
"We tried to approach officials from the fishery authorities to see if there are chances for possible cooperation projects to tackle illegal fishing in the South China Sea, but were told it's out of their responsibilities and is a diplomatic issue," he said. "They are approachable on other issues, but regarding the South China Sea, it is impossible."
Chinese fishermen received "special diesel subsidies" of 168,557 yuan (HK$198,740) a boat from a local government in Hainan province in the middle of last year for month-long voyages to the disputed Spratly Islands, amid claims China is using its vast fishing fleet as an advance guard to press its expansive territorial claims in the South China Sea.
Overfishing is not the only threat to the ecology of the South China Sea, which a Chinese official admitted in May had been "rapidly degrading" for many years, with more than 80 per cent of the coral reefs and 73 per cent of the mangroves present in the 1970s having disappeared.
McManus said the most widespread physical damage to coral reefs across the Paracel Islands and Spratlys was from giant clam harvesting – to make expensive artefacts – by fishermen from Hainan province's Tanmen township.
"They anchor small boats and pull them with the propellers on ... the process spreads sand and silt into the water, which then kill nearly all coral reef animals," he said. More than 40 reefs had been severely damaged, with another 20 under threat.
Destructive as that was, McManus said it was intensive island construction work that spelled the "death sentence" for damaged reefs.
"It is often claimed that China built islands only on areas of dead coral. This is actually true," he said. However, the subsequent burials of coral reefs for island building had permanently destroyed more than 13 square kilometres of coral reefs.
"Although other nations in the region have done some reef burial, China accounts for at least 95 per cent of the total damage," he said.
McManus and Fabinyi said the gloomy environmental situation was only likely to improve if calls for the creation of a "Spratly Islands Peace Park" – modelled on the successful Antarctic Treaty and carefully modified for the South China Sea – bore fruit.
"The treaty will see all territorial claims frozen – kept as they are with no changes – and no nations will have to work to prove administrative control," McManus said. "All will benefit from improved fish catches and from the very high tourist income to be gained from a peaceful South China Sea."
Fabinyi said: "Although I'm not optimistic this will eventuate, it would surely be an improvement on the status quo for the marine environment."