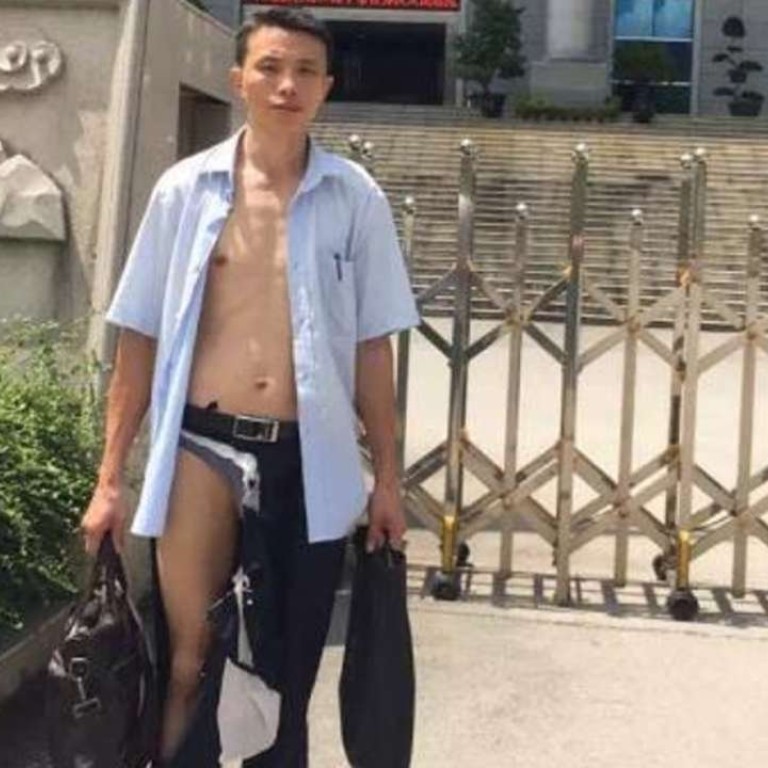 Update

|
'No harm intended' but Chinese court told to apologise to lawyer whose clothes were ripped off
The government of Nanning, Guangxi, denied on Tuesday that court police physically assaulted a lawyer but still ordered the court to apologise and pay compensation.
Lawyer Wu Liangshu walked out of a Qingxiu district court half-naked on Friday claiming he was beaten by three court policemen in the presence of two judges and one other official after his request to file a case was rejected.
The clash broke out when Wu refused to hand over his mobile phone to the officers who suspected him of using it to record a conversation with court officials in its petition office.
Photos posted online showed Wu outside the court with injuries to his hands, his shirt unbuttoned and half of his trousers ripped away revealing his underpants.
Over the weekend, about 1,000 mainland lawyers signed a petition condemning Wu's attack, calling it a "barbaric and violent abuse of power".
Caixin quoted All China Lawyers Association chairman Wang Junfeng as saying the incident was "regrettable" and he would get to the bottom of the case. "If Wu was really assaulted by court police while filing a court case, the association will petition for his rights according to the law," Wang said.
Within hours of the Caixin report being published, the Nanning government released the findings of its own preliminary investigation, concluding that Wu was "not subjected to intentional physical assault".
"Within one minute, court policemen took Wu's cell phone by force which resulted in his pants being ripped. It involved restraining him from the back, closing the door, forcing him to the ground and stamping him on the chest," the city authorities said.
"The purpose was to check whether his phone contained unauthorised video or voice recordings. All of the restraining measures ceased when court policemen got hold of his phone ... There was no intentional harm or physical assault."
It said the Qingxiu court had the right to delete all unauthorised recordings but court policemen carried out the phone inspection without any evidence that Wu had made one. "This exceeded the power of law enforcement and was an abuse of restraining measures," the statement said.
It said the court should apologise to Wu, cover his losses and accept his request to file a case according to the law.