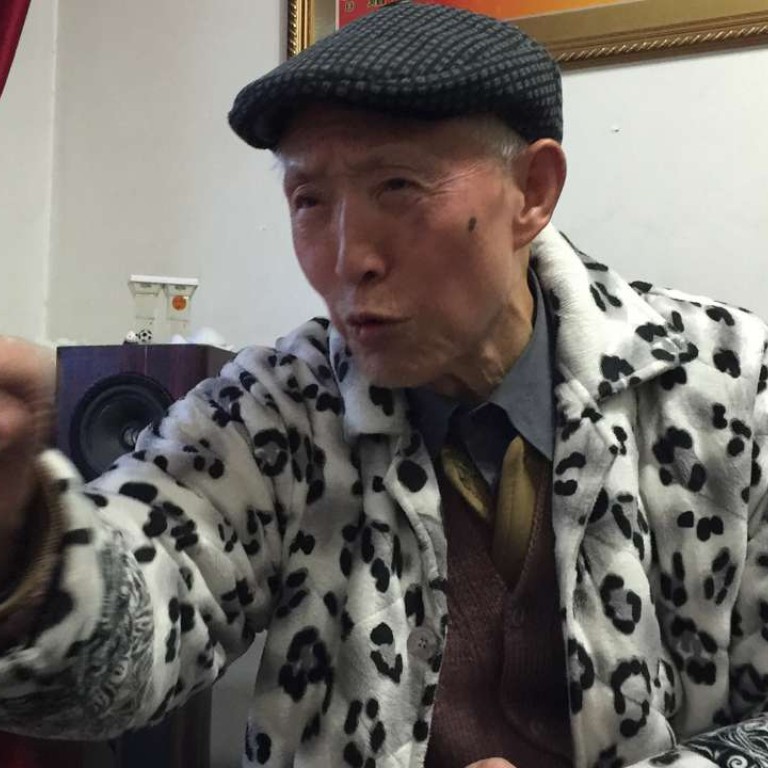 Former Red Guards remember a time when killing was normal
Scars of Cultural Revolution run deep for some survivors
Zheng Zhisheng, a 25-year-old Chongqing University student, turned and waved to two fellow Red Guards sitting in the back of the van.
As had been agreed, they slammed their rifle stocks into the heads of their two captives, members of a rival Red Guard faction, time and again. There were no screams: the captives were already badly injured and unconscious after successive beatings by Zheng's faction on August 18, 1967, at the height of the armed conflicts early in the Cultural ­Revolution.
Zheng told the driver to take a longer route to the hospital, so they could take their time.
"I don't have the guts to kill, I thought, but I could have them killed at the hands of others," Zheng said in a recent interview.
The captives were dead when they arrived at the hospital.
May 16 marked the 50th anniversary of the outbreak the Cultural Revolution, a decade of political and social turmoil that lasted until 1976. It was a time when killing became normal, as universities, factories and cities around China turned into battlefields in what Communist Party chairman Mao Zedong (毛澤東) called an "all-out civil war", with all the factions involved vowing to protect Mao's revolutionary line.
A series of editorials in People's Daily in early June, inflaming and applauding student rebellion, turned the Red Guards into a nationwide phenomenon.
In an editorial published on June 1, the Communist Party's mouthpiece newspaper called for "sweeping away all the oxen, ghosts, snakes and spirits", referring to the "reactionary academic authorities".
Though the Red Guards movement lasted for just over two years, it was involved in conflicts that claimed 230,000 lives across the country, according to official statistics released in the 1980s.
The southwestern city Chongqing (重慶), home to a strong military presence guarding against an increasingly hostile Soviet Union, was among the worst-hit cities.
As in most cities in China at the time, rebellious workers and students in Chongqing split into two major factions, each accusing the other of being "capitalist roaders". At first it was debates and big-character posters, but sticks and rifles soon followed. As Beijing condoned such fights, and even openly urged local army units to support them, Red Guards and other rebels in Chongqing ransacked local arsenals and used rifles, tanks, cannons and gunboats to fire on neighbours and colleagues who were members of the opposing faction.
While that level of violence might seem unimaginable today, at the time it looked like a perfectly reasonable choice to many restless youths involved in the Cultural Revolution following a directive from Beijing to purge "members of the bourgeoisie " from government and the cultural sphere.
In Chongqing, Zheng, who was studying electrical engineering, saw his "humble" principal targeted as the local authorities tried to fill the quota of "two to three capitalist roaders at each university". The quota was passed down by the provincial authorities in Sichuan, which then governed Chongqing, following a directive from Beijing.
Zheng's principal committed suicide in custody.
Numerous cadres, intellectuals and students labelled enemies of the party had been purged in the 17 years since the founding of the People's Republic in 1949, but Mao wanted something different in 1966. On his return to Beijing from a sojourn in the south in July, two months after the start of the Cultural Revolution, Mao ordered the withdrawal of party working groups that had been guiding the campaign.
In a document issued in August of that year denouncing traditional top-down purges, Beijing said "[We] must trust and rely on the people ... don't be scared of chaos."
A week after that document was issued, thousands of people in Chongqing, more than 1,400km from Beijing, staged a massive protest against the city government, something rarely seen before. Many of the protesters, including Zheng, who said he "exploded like a volcano" after hearing of the death of his principal, became the city's first Red Guards. They named themselves after the date of the protest – 815.
Cao Dengju, then a high school student at Chongqing, shared Zheng's anger. But he also felt a freedom he hadn't tasted before, thanks to what he called a "power vacuum".
"Freedom was scarce before the Cultural Revolution. That's why we unleashed so much energy," Cao, now 69 and a retired materials science professor at Chongqing University, said in a recent interview. "Anarchy was what we all longed for. It felt too repressed before the Cultural Revolution."
Cao soon joined Zheng's Red Guard faction. Like others, he published political commentaries and took part in armed conflict.
"In Mao's words, we felt we were liberated," Cao said. "In fact, we fell into a bigger trap and became his pawns."
While seizing power from the bureaucrats, rebels around the country also ended up firing at each other. When Beijing ordered rebels to return weapons to the army two years later, 2.13 million rifles and more than 10,000 artillery pieces were reclaimed across the country.
Li Musen, a technician at Chongqing's artillery shell factory, was one of the top commanders of the "rebel until the end" Red Guard camp, the 815 faction's rivals.
"I did pretty well in the conflicts," said Li, who was 28 when the Cultural Revolution broke out. "I put my life in danger to win the position."
Li fought nine battles before signing a truce to end the conflict. As well as commanding others, he loaded and fired artillery shells in some battles.
"When I commanded the shelling, I wished we could kill as many as possible with each shell ... we all felt like we were guarding Mao's revolutionary line," Li said. "We were not afraid of bleeding or dying."
Like Li, Zheng, first tasked with picking up dead bodies for the 815 faction, was familiar with Communist slogans like "fear neither hardship nor death".
"I saw too many deaths. They were so poor," he said. "I spent time with families of some of the victims. My tears barely dried.
"They were good people, and they died defending chairman Mao's revolutionary line. What's so precious about my life then? It was a mixture of sympathy for our people and hatred towards the other side.
"I was willing to give my life to take theirs with a grenade, if I could catch fighters from the other side."
His anger, stirred up by sympathy for the dead, escalated after July 1967 when Mao's wife, Jiang Qing, a member of the party's leadership, trumpeted violence with the slogan "attack with words and defend with force".
A month later, Zheng presided over the killing of the two captives, something he still regrets.
"Why do terrorists blow themselves up nowadays? They were manipulated by extremist propaganda and hatred upon seeing others killed in the battlefield," Zheng said, drawing an analogy with his mindset during the Cultural Revolution.
The slogan "attack with words and defend with force" was invented by a rebel group in Henan province headed by Yuan Yuhua, then a worker at a pork factory. Unlike Zheng, Yuan remains a firm supporter of the Cultural Revolution and the armed conflict it spawned, and says he never felt fooled or manipulated.
Yuan said the people and Mao relied on each other to crush the bureaucrats in the middle.
"Some might say we were used. But we preferred to be used. Without it, we are slaves. Before the Cultural Revolution, we had no democratic rights," he said. "Before the Cultural Revolution, if you opposed a low-level leader, you would be labelled an enemy of the party ... during the revolution, we could criticise anyone except Mao and other top leaders."
Despite the freedom to accuse, slander and even kill, even the most oblique criticism of Mao could be dangerous, if not fatal.
Li Zhengtian, a graduate from Guangzhou's Academy of Fine Arts, had a narrow escape. In a hand-written poster and a series of debates on the streets of Guangzhou, Li attacked the golden rule of the revolution: "Down with whoever opposes Mao."
While respecting the authority of Mao, Li Zhengtian criticised some top leaders for using Mao's personality cult to violate human rights.
"No thinking, research, exploration, or questioning allowed [against Mao] ... simply nullifies 800 million brains," an article posted by Li Zhengtian and two others in November 1974 said, referring to the Chinese population at the time. "It should be stated that other than those who committed murder, arson, sexual harassment, theft, or provoked armed conflicts, all people should have their democratic rights protected."
The article went off like a bomb and unnerved the propaganda machine, which slammed it for openly respecting everyone, including the "bourgeoisie". Guangzhou residents swarmed to see the poster, some staying after dusk to keep on reading the 26,000-character article by torchlight. Hand-written copies were relayed as far away as Beijing, more than 1,800km away.
His bold defence of human rights soon got Li Zhengtian in trouble, but he survived to talk about it. Yu Luoke, a worker who criticised the classification of people according to their family backgrounds and Zhang Zhixin, who questioned Mao for starting the Cultural Revolution, were both executed.
After more than a hundred struggle sessions, during some of which he was beaten to unconsciousness, Li Zhengtian was sent to hard labour in a mine for being the head of an "anti-party clique".
Looking back at the decade-long Cultural Revolution, Li Zhengtian said that what stood out most in retrospect was the lack of rule of law.
"It was a lawless place," he said of his time in custody. "The investigators could decide who was guilty and who to shoot on their own."
The same rules also applied to his struggle sessions – public criticism for his views – with his treatment heavily dependent on the personal style of local cadres. His struggle sessions in 1974 were under the watch of Guangdong province party chief Zhao Ziyang, a reformist who later became the country's top party boss before being sacked for sympathising with students in the pro-democracy protests in 1989.
Li Zhengtian was able to use a microphone to debate the hardliners at those struggle sessions. "If not for my struggle sessions, democracy and rule of law would not have been household concepts," he said.
But when Zhao left Guangdong and was replaced by an ultra-leftist party boss in October 1975, Li Zhengtian was not allowed to speak and was beaten hard at the struggle sessions.
In 1978, two years after the Cultural Revolution ended, Li Zhengtian was freed after the arrival of reform-minded cadre Xi Zhongxun, the father of current party general secretary Xi Jinping.
By then, Zheng was into the eighth year of a 13-year prison sentence for the killing of the two Red Guard rivals in Chongqing. He was the only one held responsible for the killing, as he refused to name the other Red Guards in the back of the van, thinking they were too ignorant.
Zheng, now 74, thought about the victims' families in jail and afterwards.
"Each time I walked pass the place we used to lock them up, I'll whisper: 'Li Pingzheng, He Minggui, I'm very sorry for you two.'
"When the time comes. I want to meet their families and apologise in person," Zheng said, adding he was willing to try to find their bones and exhume them. "I don't think I'm ready yet."