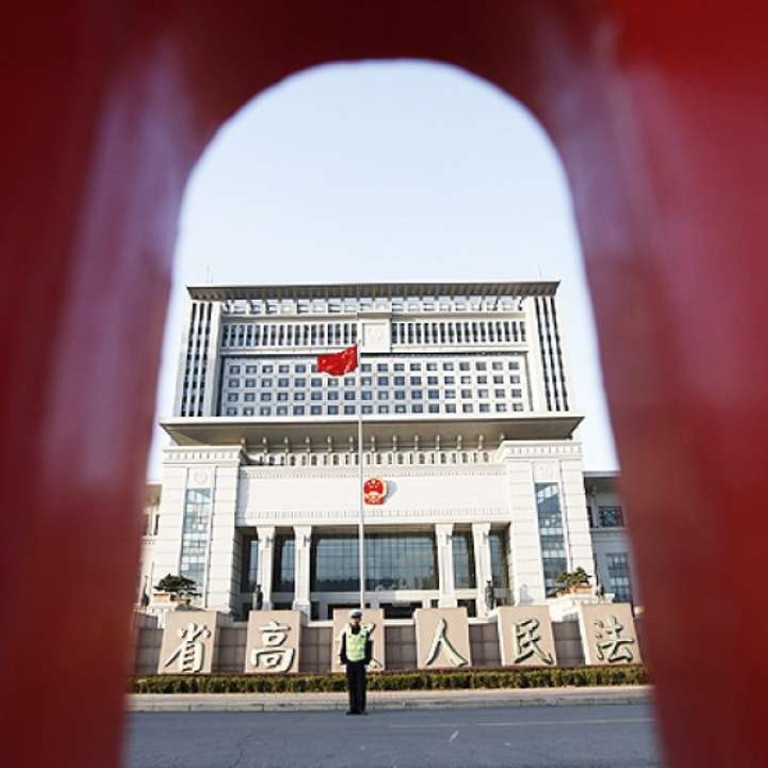 China seeks to open judiciary to lawyers and scholars
Reform aims to recruit judges and prosecutors from private practices, but veterans say the system lacks independence and cannot really change
China will recruit experienced ­lawyers from private practices as law drafters, prosecutors and judges as part of Beijing's attempt to improve its judiciary.
But some legal scholars and lawyers said political influence and remuneration remained ­concerns, despite recent reforms in these areas.
According to a document posted on the internet this week, which was confirmed by a number of lawyers who have seen it, the central government has instructed the Central Political and Legal Affairs Commission and judicial authorities at all levels across the nation toformalise the recruitment of law drafters, judges and prosecutors.
Qualifying lawyers and legal scholars must be Communist Party members and have practised or researched law for no less than five years and have a good reputation, according to the document. Candidates must be of good character and uphold principals of openness and fairness.
The new policy follows a pilot scheme set up in March by the ­Supreme People's Court and the Supreme People's Procuratorate to recruit lawyers and legal academics as judges and prosecutors during what they called "a year of critical judicial reform".
Similar moves were announced in recent years but failed to generate a significant impact, according to critics who questioned whether the latest move would ensure that private legal practitioners could thrive in a judiciary that regards judgesas little more than civil servants.
In mainland China, judges are required to toe the party line and judgments are usually deliberated among a committee that is sensitive to political influences. This is despite the Supreme People's Court last year prohibiting local government andcadres from ­intervening in judgments.
A pilot scheme was launched last year to lift judges' remuneration by 43 per cent in selected jurisdictions such as Shanghai.
Veteran lawyer Wang Cailiang, the deputy director of the administrative law committee of the All China Lawyers Association, said the policy was "a positive step" to attract talent from the private sector as the judiciary was brought up to international standards.
But Wang was not convinced real change would come about this time. "The document does not spell out how private lawyers or legal academics will be officially ranked and remunerated once they are hired by a system that would convert them into civil ­servants," Wang said.
"The legal education that lawyers receive gives them a different perspective to judges raised within the party where judgments are often deliberated among a judging committee prone to political influence," he said.
Lawyers accustomed to independent thinking might find it hard to fit into a system that requires judges to toe the party line.
Renowned lawyer Si Weijiangsaid similar moves in the past were seriously implemented.
"Those with a real commitment to serve as judges would want to rule independently but it is impossible in reality," Si said.