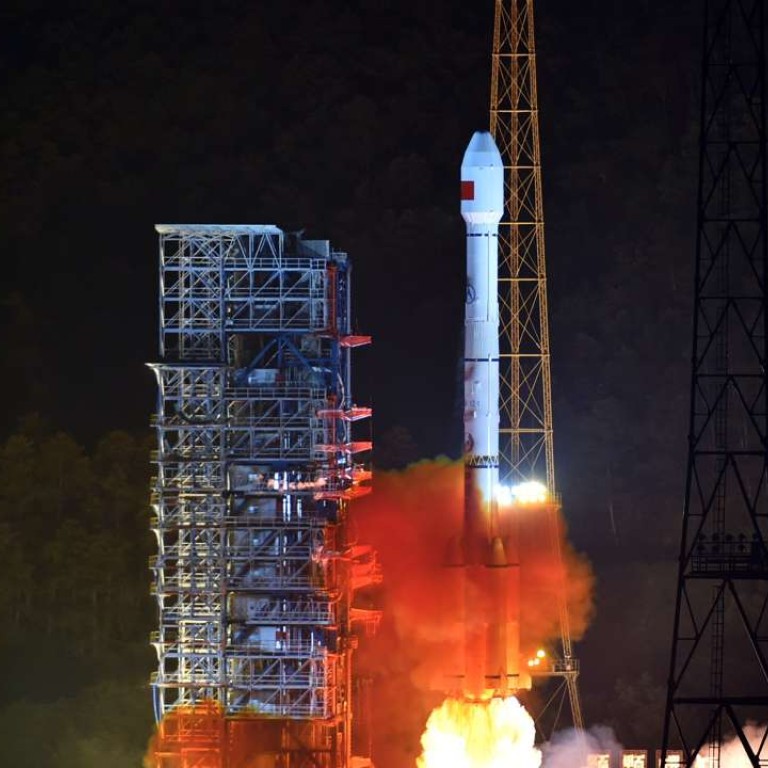 China to massively increase accuracy of its GPS rival, with benefits for smartphone users ... and the military
Advances to Beidou system could help Beijing monitor marine traffic in South China Sea and tracking system would probably be adopted in HK, says satellite office director
China is to massively increase the accuracy of its home-produced satellite navigation system and one of its uses will be improved intelligence gathering in the South China Sea, according to a government official.
Tests of the upgraded system will be carried out at the end of the year.
A simple form of the Beidou system is installed on many Chinese-made smartphones. A more complex and accurate version of the system is already used by China's government for intelligence gathering.
Ran Chengqi, director of the China Satellite Navigation Office, told a news briefing on Thursday that the current accuracy of the system was about 10 metres for mobile phones, but this would be massively improved for all systems and would benefit civilians users and the government and military.
"It will be a change from 10 metres, to decimetres, to centimetres," Ran said. This equates to a several hundred-fold increase in accuracy.
"For example, if we hail a cab with a mobile phone with such accuracy, we don't need to tell the driver where we stand, because the car will arrive directly at our feet," he said.
Ran admitted that Beidou lagged far behind other nation's system such as GPS developed in the US, but the improvements would make it much more effective.
The system was primarily built to meet China's strategic needs and could be used to gather intelligence amid the nation's territorial disputes in the South China Sea, Ran said.
Unlike other satellite navigation systems such as GPS, Beidou can be used directly for intelligence gathering. A Beidou terminal on the ground can communicate with satellites to receive instructions or send out information, using a special channel controlled by system operators in Beijing.
Most Chinese lighthouses, military facilities and tens of thousands of fishing boats in the South China Sea have been equipped with Beidou terminals to strengthen the Chinese government's control of the region, according to Ran.
A lighthouse, for instance, can record and identify each vessel passing nearby and relay any sensitive information to Beijing.
Beidou also allows the government to know the whereabouts of tens of thousands of fishing boats and take prompt action if they encounter problems in disputed waters.
The government of Hong Kong, according to Ran, was in "close contact" with Beijing to bring the Beidou system to Hong Kong and initial applications had already started.
"The Hong Kong government has requested technological exchange and application training for the system, including the construction of testing and evaluation facilities," he said.
"We will include Hong Kong as part of China in our overall plan for construction and application," Ran said.
More than a third of smart phones exported from China in the first quarter this year were installed with Beidou terminal chips, which has prompted some security concerns overseas.
Some users worried that a Beidou smartphone would allow the Chinese authorities to locate and monitor the exact whereabouts of a user.
But a mainland security expert said that most Beidou chips on smartphones did not have the function to communicate directly with a satellite.
"The communication channel has limited bandwidth. Only selected users will have access to the service," said the expert, who asked not to be named.
"A satellite link also requires special antenna and a large power source, which cannot be packed into an ordinary smartphone," he said.
The construction of the Beidou system, which started in 2000, will be completed by 2020 and will operate nearly 40 satellites. Like GPS, an existing higher accuracy Beidou service has been restricted to government and military users.
The improved military-level accuracy of Beidou will also become available to the public, according to Ran.
He also said China was in contact with several international organisations and many countries including Pakistan, Saudi Arabia and Iran about using Beidou.
The International Maritime Organisation has approved the system on seafaring vessels and the International Civil Aviation Organisation was also reviewing the safety and feasibility of installing Beidou on planes, according to Ran.