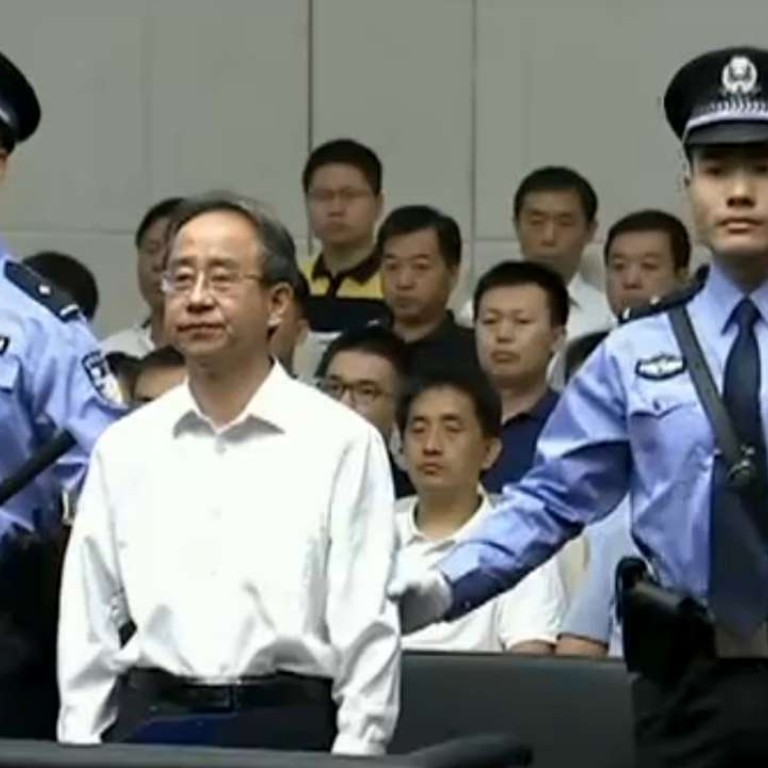 Ling Jihua, former Chinese presidential aide, sentenced to life in prison
Tianjin court says Ling's guilty plea taken into account during sentencing
Ling Jihua, the one-time top aide to former president Hu Jintao, has been sentenced to life in prison for taking more than 77 million yuan (HK$89 million) in bribes, illegally obtaining state secrets and abuse of power, mainland state media reported on Monday.
The secret trial was held on June 7 at the Tianjin No 1 Intermediate People's Court but only reported by state media on Monday, along with the verdict.
The reports of the trial revealed the once political rising star's illicit dealings with high-profile businessmen and a former top aide of disgraced security tsar Zhou Yongkang.
It also exposed how Ling's wife and their son – who was killed in a mysterious luxury car crash – were tied to Ling's corruption. But the report was silent on his brother Ling Wancheng, who fled to the United States and has denied reports suggesting that he passed top secrets to the Americans.
In footage aired on state television last night, Ling looked thinner and with more grey hair than in his last public appearance in December 2014.
"Once again, I offer my humble apology ... and ask the party and judiciary organs for punishment," a hoarse Ling said in the courtroom, adding that he would not appeal against the decision.
"To me, today's trial is unforgettable, just like something engraved on my bones and heart," Xinhua quoted Ling as saying.
In addition to seizing his assets, the court sentenced Ling to life on the bribery conviction, five years for illegally obtaining state secrets, and four years for abuse of power.
Ling's guilty plea was taken into account in the sentencing, the court said.
A People's Daily commentaryissued shortly after the verdict was released said the trial and judgment of Ling had once again showed the Communist Party's clear-cut attitude and determined resolve to comprehensively rule the country in accordance with law and run the party with strict discipline.
The verdict also follows President Xi Jinping's warning to elite cadres on the party's anniversary on Friday to stay true to party ideology and to stay righteous and firm.
As the chief of staff throughout Hu's decade-long administration, Ling, 59, had access to many of the country's top secrets and political resources, making his influence greater than his official ranking.
The South China Morning Post was the first mainstream media outlet to report the derailment of his career after the death of his son Ling Gu in the crash in downtown Beijing in 2012. Ling Jihua was later found to have tried to cover up the crash.
He was later sidelined to head the party's United Front Work Department and appointed a vice-chairman of the country's top political advisory body, both posts he kept until his 2014 downfall.
The trial was told that after Ling was sidelined, he asked a former aide Huo Ke, who headed the secretary bureau of the party's General Office, to help him illegally access "voluminous" classified materials.
The court was also told that Ling and Gu asked for or accepted nearly 15 million yuan from construction company president Lou Zhongfu of Guangsha Group in return for favours for Lou and his son, the Xinhua report said.
Ling Gu had also asked for or accepted nearly 6.5 million yuan from Wei Xin, former chairman of tech company Founder Group, and others, it said.
Ling Jihua also accepted bribes from at least three former high-ranking officials. The court heard that with her husband's tacit agreement, Gu accepted more than 7.6 million yuan from Pan Yiyang, former vice-chairman of Inner Mongolia autonomous region and a rising star with the Communist Youth League, and nearly 900,000 yuan from Li Chuncheng, a former Sichuan deputy party chief and a close ally of disgraced former Politburo Standing Committee member Zhou Yongkang.
Ling also took some 600,000 yuan from Bai Enpei, former party head of Yunnan province.
This article appeared in the South China Morning Post print edition as: Ling jihua sentenced to life for corruption