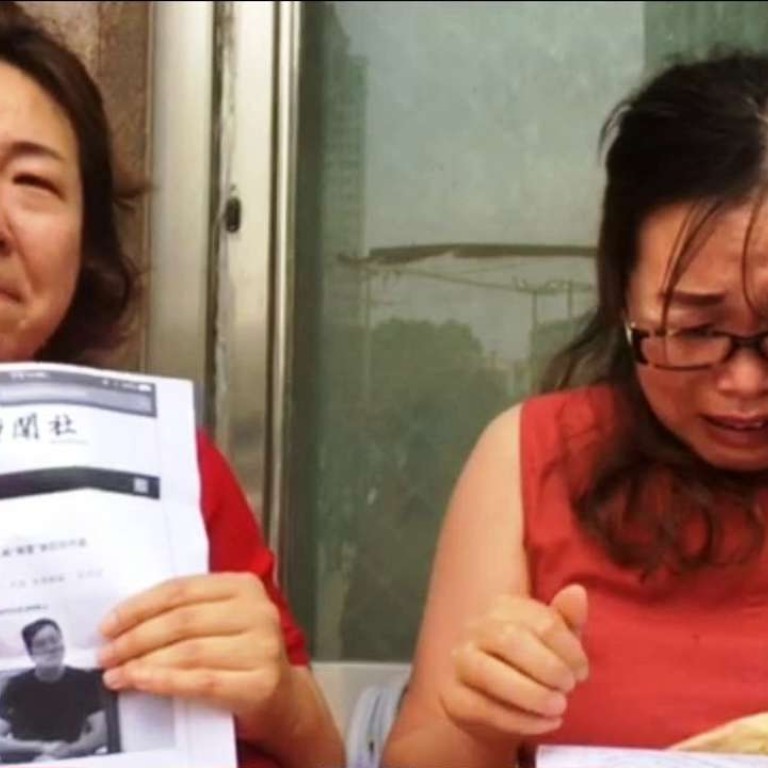 Chinese police hold four wives of rights activists seized in '709 crackdown'
Women were taken away while visiting courthouse to check rumour of trial dates for their husbands
The wives of four detained mainland human rights advocates were taken away by ­police for questioning on Friday after they went to a local courthouse to ask about rumoured trial dates for their husbands.
The husbands were among hundreds of rights lawyers, aides and activists rounded up in what is commonly referred to as the 709 crackdown, referring to the date of July 9 last year, when the sweeping campaign was launched.
Liu Ermin, wife of human rights activist Zhai Yanmin, and Wang Qiaoling, Li Wenzu and Fan Lili – the wives of lawyers Li Heping, Wang Quanzhang and activist Gou Hongguo – were taken away by Tianjin Hexi district police yesterday afternoon.
Critics have called last year's crackdown unprecedented and a move to silence advocates and the mainland's emerging rights defence movement.
They say it also reflects the authorities' fear of a fast-growing civil society on the mainland and their wariness over an expanding community of rights lawyers in the "rights defence" movement.
The four wives arrived at Tianjin Municipal Intermediate People's Court to verify a rumour that a court hearing involving Zhai, lawyer Zhou Shifeng and activists Gou Hongguo and Hu Shigen would be held on Monday.
Although Zhai was arrested more than a year ago, Liu has received no official notice of his whereabouts or circumstances.
Wang spoke briefly to the South China Morning Post from a Tianjin police station where the four were held before police confiscated the phone.
Wang said court officials were unable to confirm Monday's hearing date and called police to remove them.
"A dozen officers took us to a police station in Hexi district. Fan is now being questioned by secret police," Wang said, adding that Liu would be next.
"What we feared most is that the cases of Zhai and other activists would be tried in secret without notifying their families and lawyers."
Liu sounded distressed during a phone call in police custody ­yesterday.
She had claimed earlier that her ribs had been bruised in an assault by four secret police last month after a demonstration ­demanding the release of the 709 crackdown ­detainees.
"There is no place for reason here. My husband has been locked up for one year without any notice," Liu said. "What kind of lawful nation is this?"
The Hong Kong-based China Human Rights Lawyers Concern Group said the crackdown had affected at least 319 people in 24 provinces. Twenty-four have been formally charged with subverting state powers, inciting subversion of state powers, and inciting provocation.