Energy
Get more with myNEWS
A personalised news feed of stories that matter to you
Learn more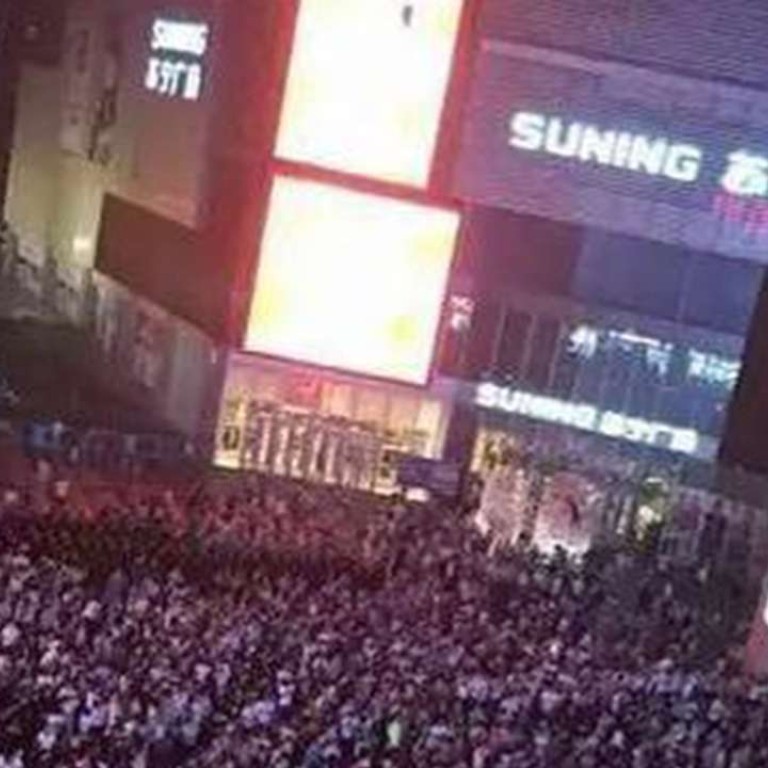 Residents come out in force to protest against Sino-French nuclear project
Rumours that Lianyungang, Jiangsu province will be site of plant sparks rally in city
Residents in Lianyungang in Jiangsu province ignored police warnings and filled a square for a demonstration over rumours the city would be the site of a Sino-French nuclear project.
The rally over a used-nuclear-fuel processing and recycling plant underscored the tension ­between public concern over ­nuclear safety and the growing pressure on China to reduce its reliance on fossil fuels.
The scene appeared to turn tense on Sunday night, the second night of the protest, with pictures posted on Weibo claiming to show police in riot gear, and messages claiming police scuffled with demonstrators. The claim could not be independently verified.
The Lianyungang city government also issued a statement late on Sunday, saying the site for the project was still being deliberated. The government pledged to ­ensure transparency and consult the public, but also warned it would deal with rumour-mongers severely.
Residents started to gather in a square downtown on Saturday night, with some chanting the slogan "boycott nuclear waste", videos and photos circulating on mainland social ­media showed.
"The government only highlights the mass investment in the project and its economic benefit, but never mentions a word about safety or health concerns," a local resident surnamed Ding told the Post by phone. "We need to voice our ­concerns, that's why we went on our protests," he said.
Police had issued a warning late on Friday saying that the demonstration organiser had not applied for the gathering, and calling on residents not to be misled by information circulating on the internet. Large numbers of police officers were also deployed to the demonstration venue.
Saturday's demonstration appeared to be peaceful, with no reported conflicts.
Meanwhile over the weekend, the country conducted its first comprehensive nuclear-emergency drill, which aimed to test and improve responses to nuclear ­incidents, according to the State Administration of Science, Technology and Industry for National Defence, Xinhua reported.
Dubbed Storm-2016, the drill had no pre-planned scripts or ­expected results, Xinhua added.
China's ambition to develop nuclear power was briefly hampered in 2011, after Beijing suspended approval for new nuclear power stations and started to conduct nationwide safety checks of all projects in the wake of the ­disaster in Fukushima, Japan.
The moratorium was lifted last year when at least two nuclear power plants, including one in ­Lianyungang, were given the green light for construction.
The nation's five-year plan covering 2016 to 2020 calls for a dramatic increase in non-fossil-fuel energy sources, with six to eight new nuclear plants to be built each year.
China has 35 nuclear reactors in operation and 20 under construction, according to the International Atomic Energy Agency.
Six provinces – including Guangdong, Shandong , ­Fujian, Zhejiang and Gansu – the only inland province – are listed as candidates for the Sino-French project, according to China Business News.
However, public anger was triggered late last month when comments on a government news website hinted that Lianyungang would be the site of the new project. According to CNNC's website, the plant was to be the biggest ever project between China and France, and would be built by CNNC using technology from ­Areva, France's state-owned maker of nuclear reactors.