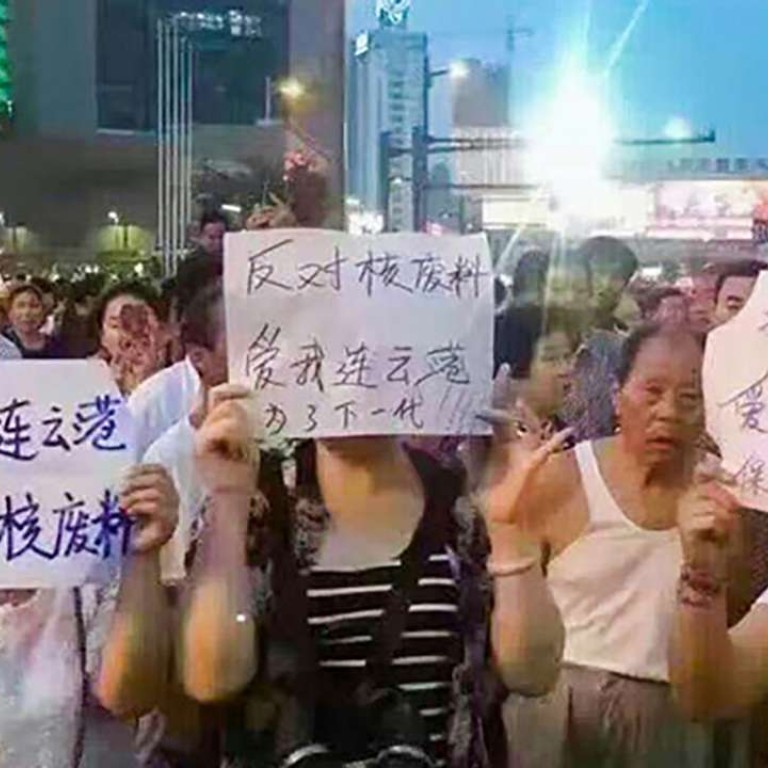 Nuclear fuel plant on hold in eastern China after thousands protest
The government in Lianyungang in Jiangsu province issues brief statement saying work on nuclear fuel reprocessing plant project suspended
The authorities in Lianyungang, Jiangsu province, have ­suspended plans to build a ­nuclear fuel reprocessing plant after several days of street protests against the project.
Observers said the decision could put other nuclear projects under greater public scrutiny, and urged backers of similar schemes to improve transparency.
The Lianyungang city government announced the halt in a one-sentence statement issued early Wednesday morning.
"The government has decided to suspend preliminary work on site selection for the nuclear recycling project," the statement said.
It came after thousands of protesters launched a series of street demonstrations from Saturday, protesting about the potential ­radiation risks and the alleged lack of transparency in the decision-making process for the project.
Residents used social media platforms to question the process but the comments were soon deleted by censors. "What if there is any radiation leakage? Why does the government want to make a decision on such a big issue on its own, a decision that will affect ­future generations?" they asked.
China National Nuclear Corporation planned to use technology supplied by French firm Areva to develop the spent ­nuclear fuel reprocessing plant.
The companies previously said construction would start in 2020 and be completed by 2030, but had not settled on a site.
The process has been shrouded in secrecy, with Lianyungang residents discovering that their city could be the site for the plant after the State Administration of Science, Technology and Industry for National Defence announced in a press ­release that a deputy head visited the city on July 26 and claimed "much progress has been made on site selection".
The Lianyungang city government issued a statement on ­Sunday to try to calm the public, saying the plans were still at an early stage and no location had been confirmed.
Sporadic protests continued on Monday and Tuesday, with video footage posted online showing police mobilised to protect the city government's office building from protesters.
Xiamen University energy policy specialist Lin Boqiang said the plan was shelved as a result of a lack of transparency and communication by the government and state-owned nuclear companies.
"Public concerns can be contagious and spill over to other ­cities, as has been the case with various incinerator and PX [chemical] projects," he said.
Many local governments have been forced to scrap plans for such projects after public protests over health and safety concerns.
A series of deadly blasts at industrial sites over the years has only worsened public fears and deepened distrust of government.
"China's PX industry suffered a severe setback. If the developers of nuclear projects do not learn a lesson, they could be faced with similar problems in future," Lin said.
China is the world's most ­active builder of nuclear power plants. It has 32 reactors in operation, 22 under construction and more planned.
The government has also spent heavily to build up its ability to produce nuclear fuel and process the waste.
This article appeared in the South China Morning Post print edition as: Protests derail plan for nuclear fuel plant