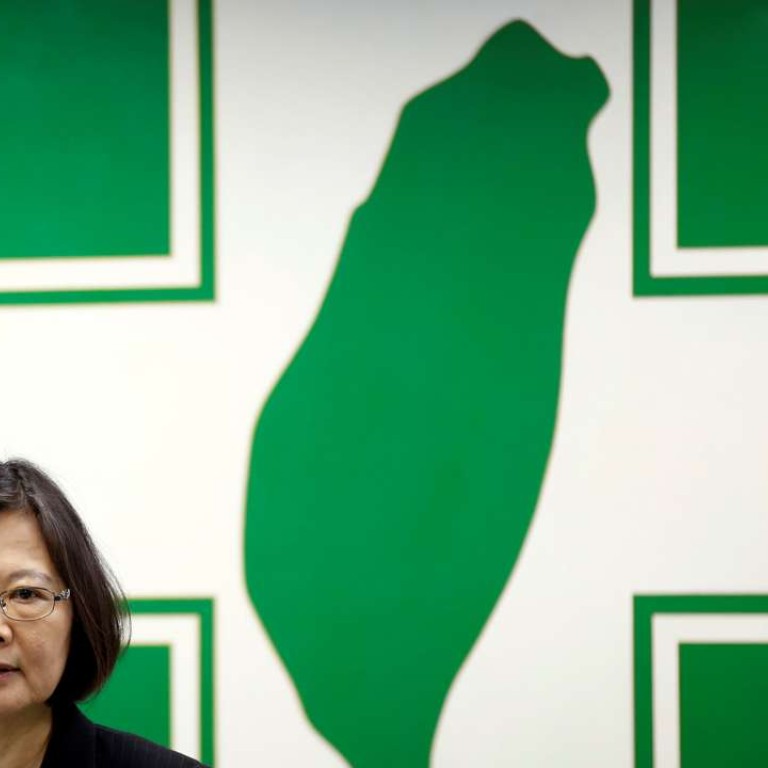 President Tsai Ing-wen 'losing control' of Taiwan's pro-independence camp
Analysts point to withdrawal of nominations for two top posts in island's judiciary
Taiwanese President Tsai Ing-wen is facing what analysts view as the biggest challenge to her authority since taking office after she reluctantly withdrew her nominations for the top posts in the island's judiciary.
Political observers said the harsh criticism Tsai had endured from supporters and the withdrawal of the nominations were a sign she was losing control of the pro-independence or "green" camp in Taiwanese politics.
All this comes as a new poll released on Monday shows Tsai's approval rating slipping below 50 per cent for the first time since she took office in May.
Tsai announced on Sunday that she was withdrawing her nominations of Hsieh Wen-ting and Lin Jin-fang for president and vice-president of the Judicial Yuan due to "unfair accusations levelled against the two".
Hsieh, who heads the Public Functionary Disciplinary Sanction Commission, and Lin, the secretary general of the Judicial Yuan, have come under fire from the green camp since Tsai nominated the two in July.
Civic groups and members of the legal community, especially those identified with the green camp, allege that Hsieh, a veteran judicial official who served during the martial-law era of the 1970s, colluded with the then-authoritarian KMT government in silencing dissent. They also criticised Lin, describing her as highly conservative and alleging that she had plagiarised other people's work.
On Sunday, both Hsieh and Lin said they did not want the posts because of the accusations, prompting Tsai to withdraw the nominations.
Analysts said the withdrawal was the result of Tsai losing her popularity, thereby allowing the hardcore pro-independence camp to challenge her authority.
Since taking office in May, Tsai has faced a host of challenges at home and abroad. These include a flood that crippled the island's main airport, a strike by flight attendants, labour disputes over a five-day work week and a ruling by an international tribunal in The Hague that classifies Taiping Island in the South China Sea as a rock, meaning Taiwan can no longer claim an exclusive economic zone around it.
More recently, Tsai was forced under public pressure to allow Antonio Chiang, whom she had named as Taiwan's envoy to Singapore, to tender his resignation after he was caught drink driving before assuming his post.
The latest opinion poll released by the private Taiwan Indicators Survey Research on Monday showed that 49.2 per cent of the public found Tsai trustworthy and that 45.5 per cent were satisfied with her performance, a drop of 6.6 and 4.7 percentage points respectively compared to a similar survey in July. It was the first time Tsai's trustworthiness or approval rating fell to below 50 per cent.
"Tsai will soon have been in office for 100 days and many opinion poll results, including two conducted by pro-green institutions, have shown her approval rating falling," said Lo Chih-chiang, a former presidential spokesman under ex-president Ma Ying-jeou.
While the poll results were generally blamed on Tsai's poor crisis management of cross-strait, diplomatic and domestic issues, the results from the pro-green institutions pointed to dissatisfaction with her failed judicial nominations, Lo added.
He said this showed that Tsai was losing control of the green camp, which could continue to challenge her policies, including her strategy of maintaining the cross-strait status quo.
Kaohsiung Mayor Chen Chu, however, said withdrawing the nominations would not hurt Tsai's image or weaken her authority.
Professor Chen Fang-ming of the graduate institute of Taiwan literature at National Chengchi University said withdrawing the nominations showed that Tsai was willing to heed public voices.
This article appeared in the South China Morning Post print edition as: Tsai 'in fight for political control' of green camp