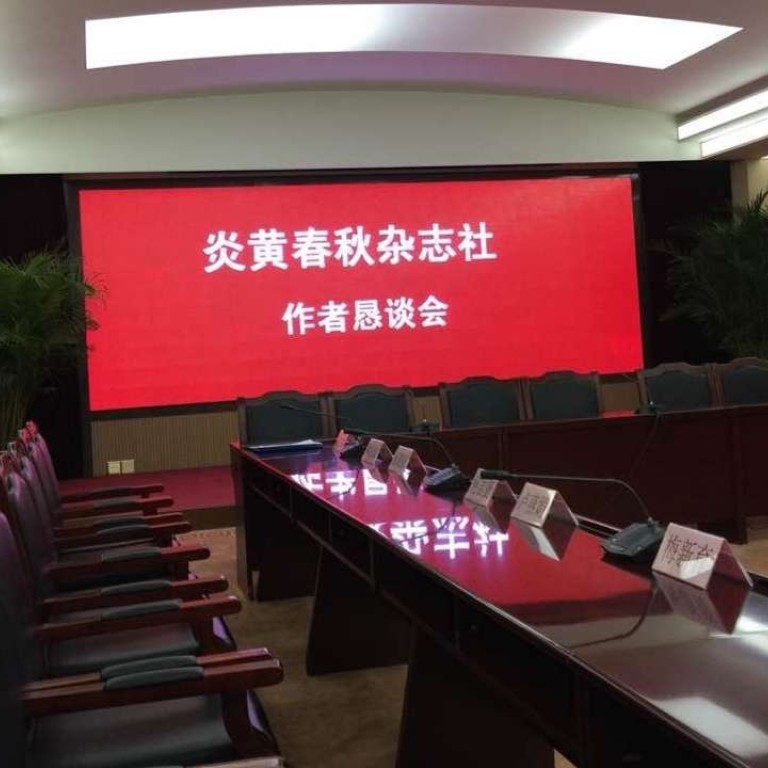 'Leftist takeover' at Chinese liberal leading light Yanhuang Chunqiu
New publishers of respected reformist magazine enlist conservatives as writers, despite promise not to change journal's stance, former editors say
The newly appointed leaders of once outspoken political magazine Yanhuang Chunqiu on Monday invited leading leftist and conservative researchers to write for the journal, insisting they toe the Communist Party's official version of history.
Former editors slammed the move as a betrayal of the influential journal's original editorial ­policy.
Among those invited to a meeting convened on Monday by the new leaders were hawkish air force senior colonel Dai Xu, and Mei Xinyu, a researcher with a Ministry of Commerce-affiliated think tank, according to a photo posted on the social media account of Guo Songmin, a prominent Maoist academic.
Dai is best known for calling the H7N9 virus a US "bio-psychological weapon".
Mei and Guo were both sued by the magazine's former executive editor, Hong Zhenkuai, over alleged abusive language used to attack the magazine's critique of official party history in patriotic education. A Beijing court rejected the case in December.
New publishers and editors were installed by the magazine's supervising body in July.
Amid concerns that the personnel changes would silence the publication, the new leaders pledged to stick to "the original editorial line".
Hong said the meeting yesterday reflected a U-turn in editorial policy. "These [authors] are basically people who have been attacking Yanhuang Chunqiu. They are mostly ultra leftists," he said.
The magazine had a monthly circulation of about 200,000 and voiced support for constitutional democracy. It also repeatedly ran articles that contested the official version of party history.
Many attributed its rare outspokenness to support from liberal retired officials, many of whom contributed to the magazine.
Former editors and original contributors refused to publish any new issues after the July reshuffle, which included the sacking of reform-minded publisher Du Daozheng, 92.
"[The list of new writers] directly contradicted our original editorial policy, to seek truth from facts," said Wang Yanjun, a former deputy editor of the magazine who rejected the new publisher's offer to stay on. "They're the people who are devoted to hiding the dark side of history."
Attendees at the meeting were asked to contribute stories to the new magazine and toe the official narrative of history, according to one of the people at the meeting.
Former editors said the journal would never restore its reputation. "Our readers only followed the original writers. The new magazine will surely be thrown away," Wang said.
Hong said: "By publishing under the same name, they will ruin the magazine's 25-year-old reputation. They're only publishing because shutting it down would look too indecent."