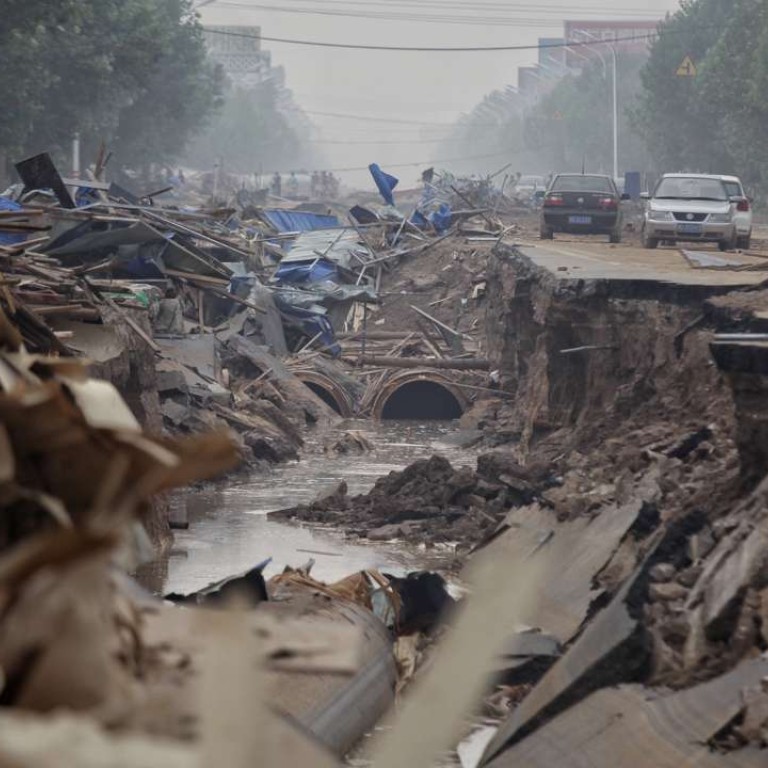 Lessons from China's deadly floods yet to be learned, say angry, grieving villagers
Local officials in Hebei accused of failing to issue timely alerts and turning blind eye to illegal construction projects
Devastated survivors of deadly floods in the cities of Xingtai and Handan last month are losing patience with the local authorities, saying they show little appetite to address their grievances or heed the lessons that should be learned.
While officials insist the flash floods that claimed at least 130 lives in Hebei – leaving 110 others officially listed as missing – were largely natural disasters caused by unprecedented heavy downpours, local residents say the deadliest floods to hit the province in decades were calamities that had been years in the making, exacerbated by a string of human errors.
Villagers say local officials not only failed to issue timely alerts about the extreme weather and the subsequent disaster, but also ignored grave warnings about flood risks for years and knowingly allowed illegal construction projects to occupy usually parched river beds and waterways.
They are particularly bitter that the authorities, who initially denied the heavy death toll until hundreds of villagers blocked a main road in an angry protest, appeared to have wasted no time in claiming victory in their handling of the disaster.
In Xingtai, where 47 people were killed or remain listed as missing, official media bragged about the government-led efforts to repair damaged roads, restore power and water supplies and eliminate future flood risks.
Xingtai Daily, a local government mouthpiece, said a project completed early this month near Daxian village, including strengthening levees that had not been maintained for years and cleaning up and widening the narrow, clogged Qili River, would help the village withstand a once-in-a-century flood.
The river was effectively blocked by a pipeline project near Daxian when the flood hit in the small hours of July 20, severely exacerbating it impact. Nine people died, including five children under the age of 10, the central government and local authorities admitted.
Officials' self-congratulatory claims that such a disaster will never happen again have been met with scepticism and scorn from mainland media and local villagers, who said the authorities had repeatedly made similar assertions before, boasting about spending more than 8 billion yuan (HK$9.3 billion) on flood-control infrastructure along the Qili River over the past decade.
"We used to take similar pledges for granted and as a result some of my fellow villagers lost their lives," said Daxian villager Qiu Shaoqin. "We'll have to wait and see if we can actually be spared another flood."
Meanwhile, residents of downstream villages fear the project, which stops at Daxian, has made them more vulnerable to flooding.
"I really don't understand why the authorities have turned a blind eye to our safety concerns," said Jing Xiaofang, from the flood-hit village of Jingjiatun. "Are we not flood victims too? Why have we been treated differently?"
Jingjiatun residents said the drainage ditches that had helped save their village from floods in 1996 and 1963 had been rendered useless in recent years because the local authorities had allowed them to be filled in so that more houses could be built.
Amid widespread complaints that local authorities in flash-flood-prone regions had failed to take adequate steps to prevent deadly disasters, experts and central government officials admit the appalling death toll in Hebei cast a disturbing spotlight on similar human errors in flood prevention and disaster control efforts across the nation.
Heavy downpours and deadly floods batter large parts of the country each year, causing major casualties. But Hebei, otherwise famous for its persistent droughts, has seen the highest casualties this year. According to official figures, more than 330 people were killed or listed as missing following flooding in more than two dozen provinces by mid-July. But in Hebei alone, at least 130 people were killed and another 110 listed as missing by the end of last month.
With heavy rain expected to persist across much of the country until the end of September, President Xi Jinping and Premier Li Keqiang have accused local officials of failing to take floods risks and repeated warnings seriously, according to state media reports.
The unprecedented human toll in Hebei occurred right after Xi urged local authorities to make people's safety the top priority and make every effort to help relocate people in flood-prone areas to safer places, particularly elderly people living alone and "left behind" children of migrant workers.
Xi also stressed the importance of prompt early warnings and flood relief efforts and vowed that officials who failed in their responsibilities to prevent human errors and save lives would be held accountable.
Li also weighed in late last month, lashing out at incompetent local authorities for a slew of human errors, from a lack of flood prevention awareness and inadequacies in coping with extreme weather to the failure to issue early warnings and take timely action to minimise the loss of life in flood-prone areas.
During an inspection of the State Flood Control and Drought Relief Headquarters in Beijing on July 29, Li appeared to be particularly upset about China's inadequate flood control capability and ineffective emergency response, despite the government spending tens of billions of yuan on such projects every year.
Both Xi and Li warned the country still faced a "grim" flood control situation this year and local governments would have to stay alert and work harder to prevent casualties.
Central government officials said fewer lives would have been lost if local authorities had taken flood risks more seriously and accused local officials making the situation worse by allowing illegal construction in dried-up rivers and other waterways.
Yang Xiaodong, a senior official at the Ministry of Civil Affairs, admitted that human errors and ineffective early warnings were behind the heavy casualties in Hebei.
"Some local people built illegally in the dried-up waterways ... some officials failed to recognise the severity of the flood risks and failed to carry out their duties, leading to huge losses when the areas were hit by natural disasters," Yang said.
Water Resources Minister Chen Lei also warned local authorities that they must fix loopholes in flood response plans and give everyone, especially children and the elderly, enough time to evacuate safely before deluges were released from upstream reservoirs.
Geologist Lu Yaoru, a member of the Chinese Academy of Engineering, told China News Service that many parched rivers in Hebei had been turned into illegal building sites, greatly exacerbating the risk of deadly floods. And Sichuan-based geologist Fan Xiao warned the lack of coordination and transparency in the operations of many small and mid-sized reservoirs in Hebei posed serious threats to the safety of people living in villages and cities downstream.
Many dams and reservoirs had not only exacerbated droughts but also misled the public into believing they were at less risk of flooding in times of heavy rain, he said.
"Local authorities should also enlist non-government organisations to help raise public awareness of flood risks and fix loopholes in disaster prevention mechanisms," Fan said.
Villagers living in Daxian and Jingjiatun are unhappy that the authorities have yet to satisfactorily explain why the floods, which washed away nearly everything they owned, hit so suddenly.
Despite repeated official denials, many say they learned from various government sources that the flooding was mainly caused by the discharge of water from the Dongchuankou and Zhuzhuang reservoirs, upstream on the Qili River.
Jingjiatun villager Jing Ming said a friend who worked in Dongwang township, which administers both villages, had confirmed that both reservoirs had discharged water before the flooding.
Jing Xiaofang said he and many other villagers in Jingjiatun had heard about the deluge affecting upstream reservoirs from local radio news reports.
"I simply want to know why we did not get any warnings about the worst flooding I've ever seen in my life," said the 64-year-old, whose grandson was killed in the flash flood.
Jing said 12-year-old Jing Haoyang would have survived if they had been given even a few minutes' notice about the impending flood.
"The moment we heard through loudspeakers that the flood was coming, at about 2.50am on July 20, it was already too late as our houses were already submerged in floodwaters of more than a metre," he said.
Then, within less than a minute, the muddy floodwaters rushing downstream from Daxian village had risen to nearly two metres.
"My son barely had enough time to rush his younger son to the top of a stack of wooden boards when a wall of water washed his elder son away in front of his eyes," he said.
Several residents of the two villages said they might have to consider petitioning the central government or staging another protest if the local authorities failed to address their concerns.
The heavy casualties in Hebei did not make it to the headlines until hundreds of angry villagers from Daxian, Jingjiatun and other flood-hit villages in Xingtai blocked a major road on July 22 to protest against an official cover-up and ineffective warning and rescue efforts.
Online footage showed locals clashing with phalanxes of police. One video showed a swarm of police lining up across a road, with the person who filmed it claiming they were trying to stop residents from travelling to Beijing to report the incident.
Amid widespread public anger, five local officials in Xingtai and Shijiazhuang, the provincial capital, have been suspended for failing to respond properly to the deadly floods.