Taiwan
Get more with myNEWS
A personalised news feed of stories that matter to you
Learn more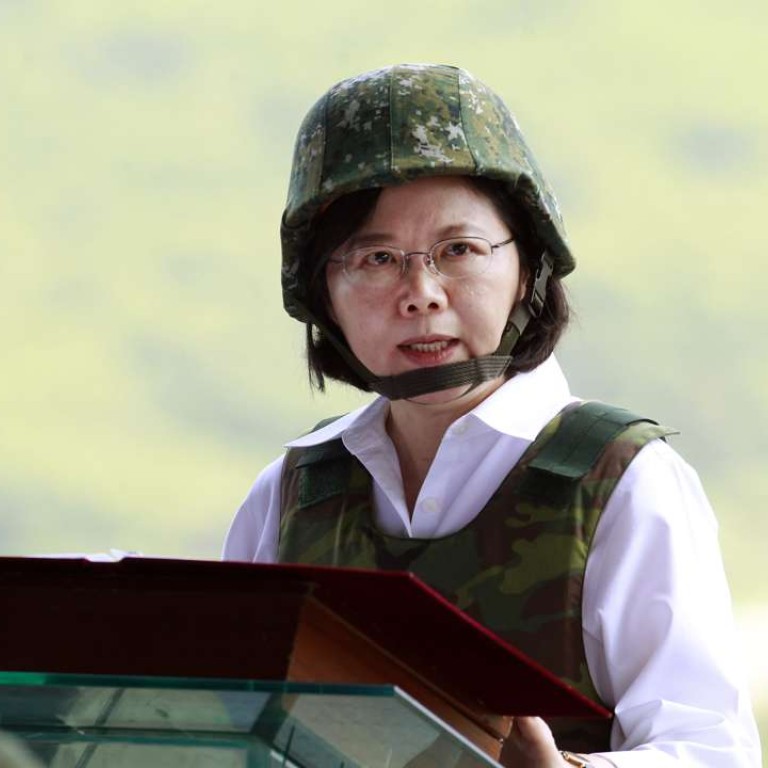 Taiwan's Tsai Ing-wen orders revamp of military strategy, weapons upgrade
Taiwanese leader makes no direct reference to mainland China, but island's ties with Beijing have been strained since her independence-leaning party took power
Taiwan's President Tsai Ing-wen urged the island's armed forces to change their culture and update their approach as the island carried out its annual military exercises.
She demanded that the island's defence ministry submit a draft for the reforms by January.
"The challenges the military faces today come from two areas: limitations from outside and insufficiencies from inside," Tsai told soldiers taking part in the four days of drills, known as the Han Kuang, in Pingtung county, southern Taiwan. "Every step the military takes should follow guidelines," Tsai said.
Her comments came after two fatal army accidents within the past one and a half months.
In one, three Taiwanese soldiers were killed when their tank fell off a bridge amid heavy rain after a drill preparing for the Han Kuang exercises last Tuesday.
Relations between Taiwan and mainland China have been strained since Tsai's independence-leaning Democratic Progressive Party took office in May. Meanwhile, the Taiwanese military has been condemned by the public and even military experts as too weak compared to the People's Liberation Army.
Lin Chong-pin, a former deputy defence minister for Taiwan, said its military had long-standing problems, including a "bad culture brought from the mainland" when the Kuomintang led by Chiang Kai-shek fled to Taiwan in 1949 after losing the civil war to communist forces.
"One of the characteristics of the [Taiwanese] army is, military leaders say something ... their subordinates dare not say otherwise," Lin said. "Sometimes subordinates even try to guess the top commander's thinking, and do something to please him. That's very dangerous."
Lin said another problem was a huge gap in fighting capability between the Taiwanese army and their key rival, the PLA.
Unlike Taiwan's army, the PLA had undergone a series of reforms to streamline its bulky force and make it nimble and quick to react, Lin said.
"The PLA always has reviews after their drills, whether they are sole exercises or joint drills. But [the Taiwanese] army doesn't have this tradition, even in the aftermath of the 1995-1996 missile crisis," Lin said. The incident saw the PLA carry out a series of missile tests in the Taiwan Strait between July 21, 1995 and March 23, 1996, after then-Taiwanese president Lee Teng-hui voiced his "two-state theory".
"I am one of the witnesses to the crisis. The [Taiwanese] army has never done any review," said Lin, who was then vice-chairman of the Mainland Affairs Council.
Lin said Taiwan's military had lost direction, and needed to decide "why they are there, where they are going and what they are fighting for".
Macau-based military observer Antony Wong Dong said that unlike former president Chen Shui-bian, who was also from the DPP, Tsai had more "security sense" and determination to carry out reforms.
This article appeared in the South China Morning Post print edition as: Tsai tells military to shape up