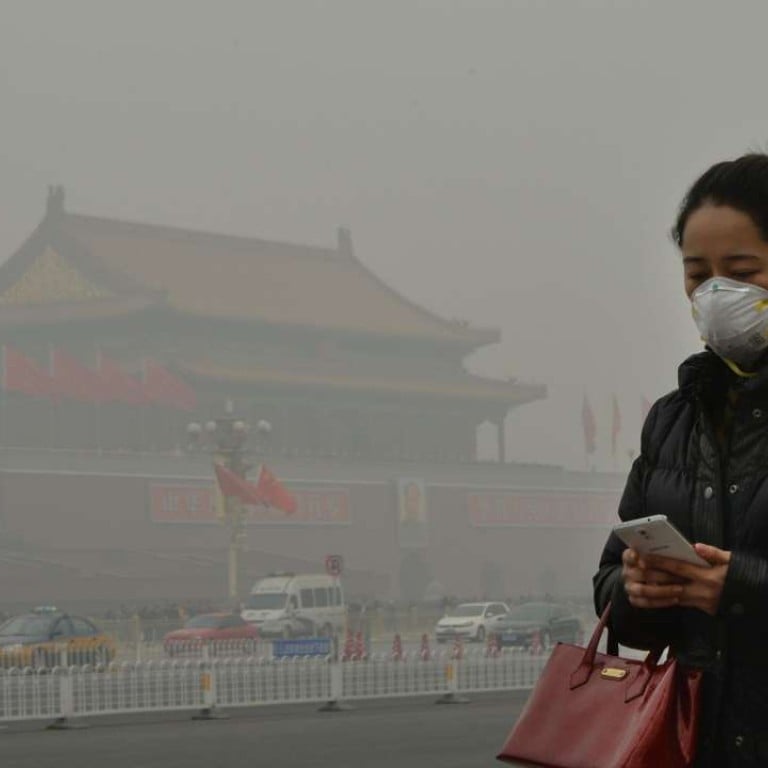 Climate change in East Asia caused by China's air pollution, study reveals ... because it's making goods for the West
Country's reliance on coal and lack of pollution control compound the problem
The air pollution China generates in producing goods for Western consumers is changing the climate in East Asia, a recent study shows.
But the "world factory's" reliance on coal and lack of pollution control technologies also contributes to its high emissions, scientists say.
A paper by researchers in China, the United States and Britain said the climate impact caused by manufacturing activities related to exports from developing countries in East Asia is greater than that caused by domestic consumption. China is the largest manufacturer and the largest exporter in the region.
Manufacturing-led development has caused massive environmental problems in countries such as China and India. Particles in the air, known as aerosols, have been blamed for causing Beijing's notorious smog.
The minuscule particles generated by burning coal or oil are slowly changing the temperature and rain patterns of East Asia, said Peking University scientist Lin Jintai, who co-led the study.
The climate impact is driven by consumption in western Europe and North America, according to the study published in Nature Geoscience this week.
Compared with greenhouse gases, the culprit of global warming, aerosol particles remain in the atmosphere for a shorter period of time, and their climate effects are the strongest in the regions where they are emitted, the study said.
The study shows that export-related air pollution has a cooling effect in East Asia, masking the region from some of the impact from global warming, said Steven Davis, a scientist at the University of California, Irvine, who participated in the study.
But the pollution may also bring undesirable weather patterns, he said in an email.
"As developing countries are doing most of the production, they are exposed to higher pollution and stronger climate effects," Lin said. "But some of the effects will spread to other regions as well."
Lin said the next step was to study the scope and magnitude of climate changes caused by global trade.
A 2014 study co-led by Davis found that 17 to 36 per cent of China's emissions, depending on the type of pollutants, were related to the manufacture of goods exported to other countries.
A major part of this comes from the country's coal-fired plants.
In 2007, 75 per cent of China's primary energy was supplied by coal, the highest level among major energy-consuming nations.
In the United States and Europe, where factories were subject to strict environmental laws, producers usually had cleaning facilities on their smokestacks to scrub out aerosols, Davis said.
"China is increasingly requiring such pollution control technologies, but there is still a lot of room for progress," he said.
After more than three decades of unbridled growth, Beijing is battling severe pollution across the nation by reducing its reliance on fossil fuels and tightening environmental regulations.
A revised environmental protection law came into effect this year to give Chinese authorities more powers to punish polluting firms and individuals.
Hu Bingqing, a scientist at Chinese Research Academy of Environmental Sciences, said industrial restructuring was the most effective way to combat pollution, as the nation now hosted some of the most polluting sectors, such as steel, glass and chemical manufacturing.
A large amount of what is produced is for domestic use. China consumed about 700 million tonnes of crude steel in 2015, compared to the 112 million tonnes it shipped overseas. The country is also the world's top consumer of chemicals and cement.
This article appeared in the South China Morning Post print edition as: Western demand 'changes climate in East Asia'