Wukan
Get more with myNEWS
A personalised news feed of stories that matter to you
Learn more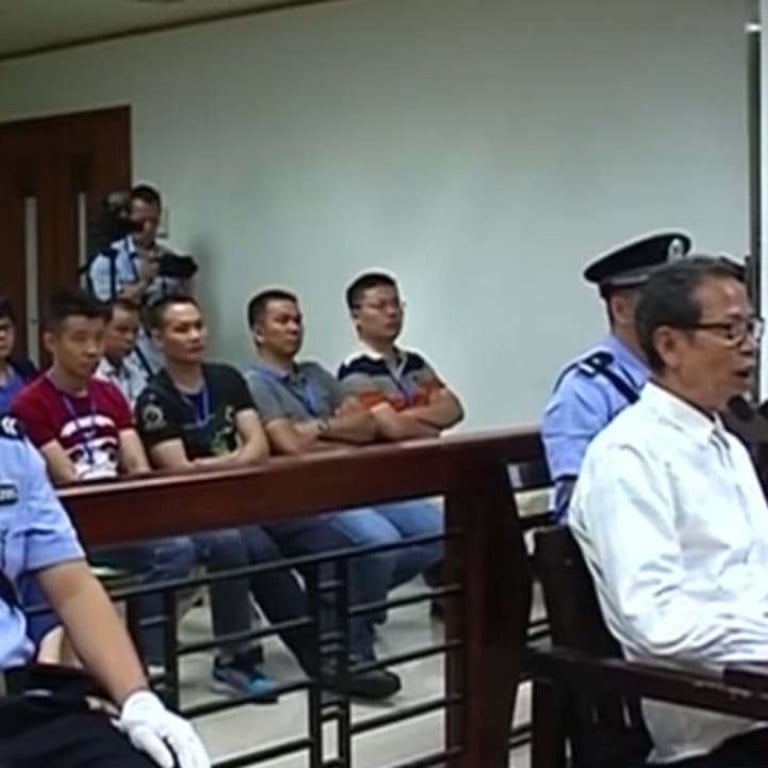 China ramps up security as Wukan village chief Lin Zuluan jailed, fined for bribery
Special police with dogs block streets in 1km radius of Foshan courthouse as Lin ordered to serve 37 months behind bars
The elected leader of a Guangdong village that made headlines for anticorruption protests five years ago, was sentenced on Thursday to more than three years in jail and fined 200,000 yuan (HK$233,000) for taking bribes.
Lin Zuluan, 70, pleaded guilty to two corruption charges in the Chancheng district court in ­Foshan,Southcn.com, a provincial online portal, reported.
Lin was found guilty of taking more than 440,000 yuan in bribes in relation to building projects in Wukan and 150,000 yuan in kickbacks in other deals on behalf of the village committee, according to the report. The court found Lin not guilty of a separate charge of rigging bids for official contracts.
Upset by the verdict, Lin's family said they felt cheated by the "injustice" of the trial. They said they had cooperated with the authorities and thought Lin would get a suspended sentence.
A relative said the trial was "non-transparent", "unfair" and "unjust". "The court had 30 seats for the public. Twenty of these were occupied by outsiders chosen at random by the court, five were reserved for appointed ­village members, and rest went to three family members and the two state security agents watching us," the relative said.
He said the entire village committee took the kickbacks so Lin should not take all the blame. "It was also unfair and illegal for the court to refuse to let us hire our own lawyers," he said.
Lin was represented by two government-appointed lawyers.
The trial was conducted amid tight security in and around the court, including road blocks by special police with dogs. One court employee said colleagues not directly involved in the trial were told to take the day off.
Uniformed and plain clothes police patrolled an area of about 1km around the court. The court's main entrances were blocked and outsiders, including civilians who wanted to enter the court for other matters were turned away.
Security for Lin's trial was far tighter than that for the subversion trial of Guangzhou rights lawyer Tang Jingling earlier this year. During Tang's trial, civilians and court officials were still allowed to enter the courthouse while reporters were only barred within 10 metres of the building.
A shop owner said the road blocks for Lin's trial began on Wednesday night. "What is all this? I've never seen anything like this before," she said.
Zhuhai-based social worker Zhen Jianghua was taken away from his home by police on Wednesday night for a second time this week, for allegedly "provoking illegal demonstrations" after his recent visits to Wukan.
A prominent Guangzhou-based rights activist who was barred from entering the court said he was shocked by the security measures. "This was to prevent his supporters from attending the trial of their directly elected village chief who was accused of corruption," he said.
Lin had been planning a speech in June to rally support for a new round of petitions over unresolved land disputes, which villagers said had been stalled by officials. But police took him away before he could make the speech.
Wukan made headlines five years ago after staging a series of defiant protests against land seizures and alleged corruption.
The protests in 2011 ended with the provincial government backing down and allowing villagers to directly elect their own ­officials.
This article appeared in the South China Morning Post print edition as: wukan village leader jailed for corruption