Wukan
Get more with myNEWS
A personalised news feed of stories that matter to you
Learn more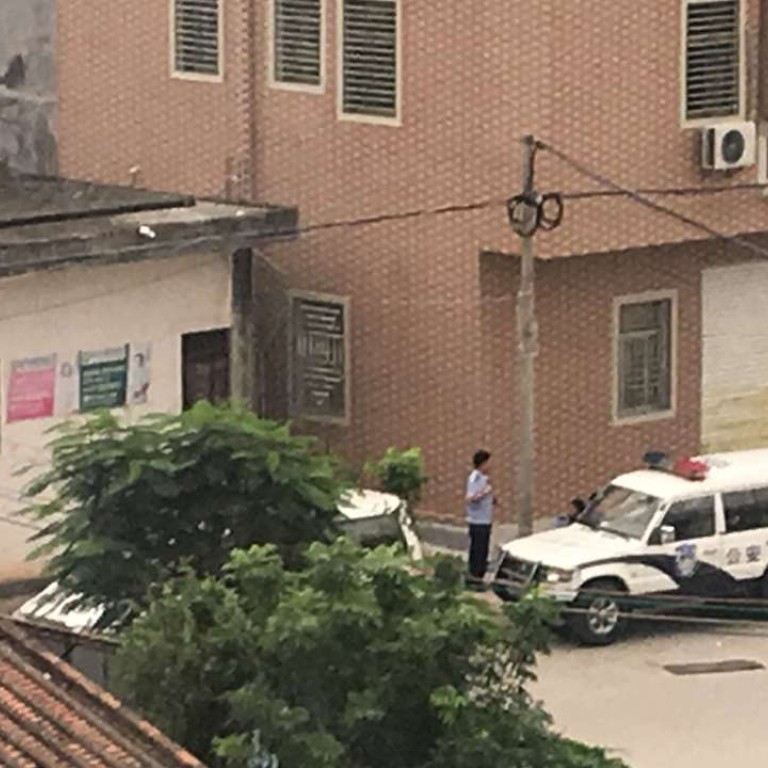 Police step up manhunt for Wukan protesters, but governor denies crackdown
Paramilitary officers said to carry out door to door searches for five suspects following Tuesday's clashes in southern Chinese village, but provincial governor denies any crackdown has occurred
Security officers continued their manhunt for protesters in Wukan in Guangdong province following a violent stand-off that saw tear gas and rubber bullets fired at ­residents, according to locals.
Few residents ventured ­outdoors on Wednesday as paramilitary officers equipped with shields and helmets marched in formation and stood guard on every ­corner.
Guangdong's governor ­denied a crackdown had occurred in Wukan, where residents have staged a years-long campaign against illegal land seizures.
"There was no such crackdown," Governor Zhu Xiaodan told a press conference on cross-border collaboration attended by Hong Kong Chief Executive Leung Chun-ying in Guangzhou.
The violence erupted early on Tuesday following pre-dawn raids by officers seeking to arrest 13 suspects accused of disrupting public order after protests in ­support of jailed village leader Lin Zu­luan. Residents fought back with bricks as officers fired rubber bullets and lobbed tear gas canisters into lanes.
The clashes quieted down by 10am only to flare up in the afternoon as more than 1,000 police stormed the centre of Wukan. By nightfall, dozens of people had been detained.
Locals on Thursday said the atmosphere was the most tense they had witnessed. Traffic in and out of the area had been stopped, people checked at entry points, new surveillance cameras ­installed near the village plaza, and door-to-door searches continued for five wanted residents.
The previous reward for tip-offs about their whereabouts was raised from 100,000 yuan (HK$116,000) to 150,000 yuan. One of the wanted suspects is Yang Shaoji, the brother of Lin's wife, Yang Zhen.
Lin was jailed last week on ­corruption charges but locals say his confession was forced and politically motivated.
Villagers said they had to trek kilometres over fields to buy food secretly as supplies were running low because of the lockdown.
Some villagers also complained they were unable to unite with family members even during the Mid-Autumn Festival as they were blocked by police from entering the village.
"I believe they are still searching for demonstrators and trying to drive out journalists," said a ­villager in his 20s who gave his ­surname as Wu.
The arrests continued in the afternoon. Twin brothers in their 20s as well as a disabled woman were taken away, with locals describing it as a "payback time" by police.
"She couldn't even throw a stone. All she did was hold the banner and she had to have someone push her wheelchair from behind as she did that," said a villager surnamed Li, also in his 20s. "I'm already numb after seeing so many arrests on [Tuesday] afternoon," Li said.
Villagers said those arrested on Tuesday night had been beaten by police during detention.
In Lufeng, which administers Wukan, police said two people had been arrested for fabricating facts over the "illegal gathering".