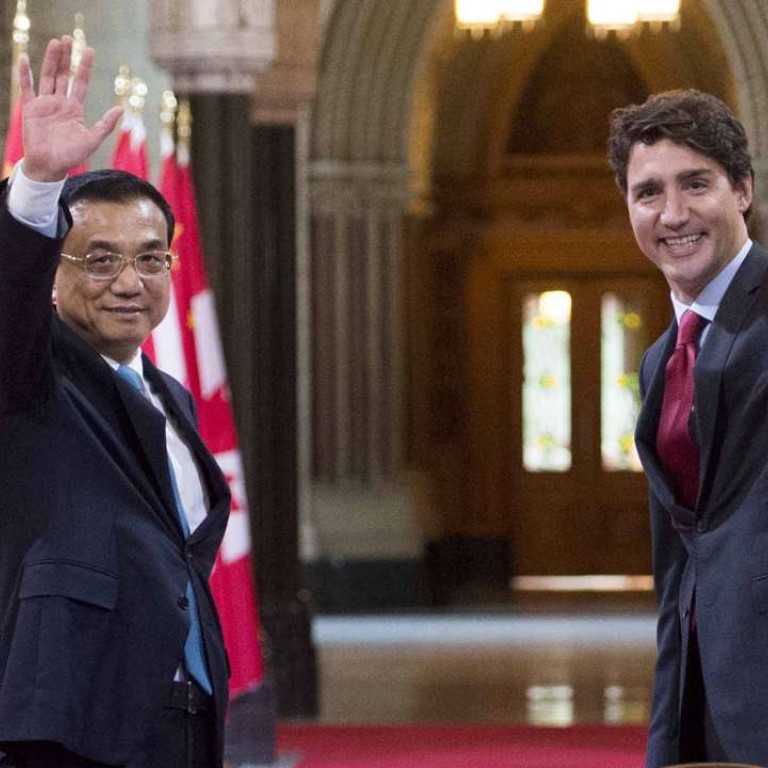 China and Canada seal deal on return of assets stolen by fugitive corruption suspects
North American nation one of main destinations for corrupt officials fleeing mainland and agreement said to be first of its kind China has signed with another country
China has sealed a landmark deal on the return of stolen assets with Canada, one of the main destinations for fugitive corruption suspects, state media reported on Friday.
Under the agreement, the two countries will share the assets if their origin cannot be confirmed.
The treaty on the sharing and return of forfeited assets was signed during Premier Li Keqiang's visit to Canada, which started on Thursday.
It is the first international deal Beijing has signed on recovering stolen assets since it embarked on its high-profile global hunt for graft fugitives two years ago.
"This agreement provides an effective legal measure between China and Canada to confiscate criminal proceeds transferred to the other country, and opened doors to more such cooperation with other countries," Legal Daily quoted foreign ministry official Sun Ang as saying.
More than a quarter of China's 100 most wanted graft suspects are believed to live in Canada, but the two countries do not have a formal extradition treaty.
China and Canada have been discussing a pact on recovering illegal assets since 1996, but urgency for the agreement rose as bilateral trade ties grew, Sun said.
"This is a strong signal to criminals that other countries are no longer a safe harbour for their criminal gains. They should not have the illusion that their family can sit on a mountain of silver and gold after the suspects are caught," Sun said.
The agreement stipulates that assets should be returned to their legitimate owners if ownership is confirmed. If the origin of the criminal proceeds cannot be identified, both countries will share the assets. The proportion of assets shared will depend on each country's contribution to the investigation.
Ideally all criminal gains should be returned, but under most circumstances this was impossible and sharing the assets ensured China got back as much as possible, Sun was quoted as saying.
China's anti-corruption agency said earlier this month that one-third of the nation's most wanted corruption fugitives had been returned home.
In the last two years, 1,915 suspects in more than 70 countries had been repatriated, along with 7.47 billion yuan (HK$8.7 billion), Beijing said.
Xu Hong, director general of the ministry's department of treaty and law, said the deal with Canada was a crucial step for China in building a more robust global network for cooperation on the issue.
Zhuang Deshui, a clean governance specialist at Peking University, said it was global practice to share assets seized in another country. The absence of such an agreement hampered international cooperation on netting fugitives and their stolen assets.
"This will become an example for countries that do not sign an extradition agreement with China to get back the fugitives and their assets," Zhuang said.
The United States, which is the most popular destination for fugitives partly due to the absence of an extradition agreement, among other conditions, could also follow the practice, Zhuang said.
This article appeared in the South China Morning Post print edition as: China and Canada seal deal on fugitives' stolen assetsChina and Canada seal deal on fugitives' stolen assets