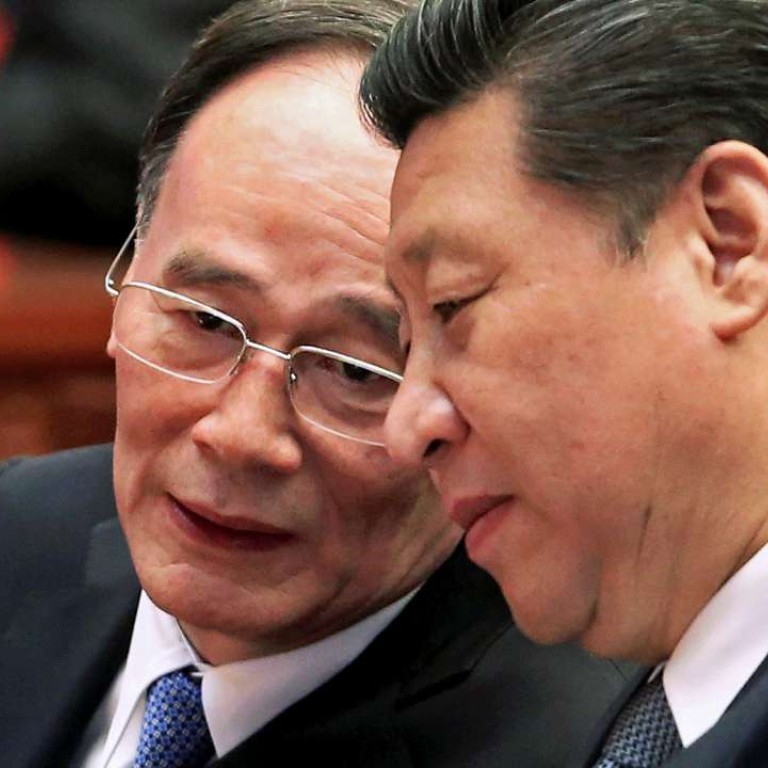 Is this a chance for China's top graft-buster to break a long-standing unofficial rule?
Signs that the Communist Party might bend on age limit for key cadres on the powerful Politburo Standing Committee
The Communist Party could be willing to bend unofficial age limits for the country's most powerful political body, according to one of the men behind a key party statement released last week.
Analysts said the comments by Deng Maosheng, who helped draft the communique for the Central Committee's sixth plenum, were strong signals that the party's top graft-buster could ­retain his seat on the Politburo Standing Committee next year.
Five of the seven Standing Committee members will reach the unofficial retirement age of 68 by the time of the party congress next year. Only party chief and President Xi Jinping, 63, and Premier Li Keqiang, 61, will be under the age limit. That threshold has not been included in any official document.
Asked yesterday if an exception would be made for Xi ally and discipline chief Wang Qishan, Deng, from the Central Committee's Policy Research Office, said there was room for flexibility.
"When selecting central party leaders, I think strict organisation and full democratic procedures will apply, but that needs to be ­adjusted according to specific ­circumstances. The party needs to be flexible about the age of Standing Committee members," he said.
Wang is the head of the Central Commission for Discipline ­Inspection and turns 69 next year.
"People say '67 in and 68 out' and some Standing Committee members retire before reaching 68," Deng said. "The party makes adjustments according to the circumstances. There is no specific standard age for [Standing Committee members to retire]."
Speculation is rife on whether Wang will prolong his tenure on the Standing Committee, with his five-year term ending next year.
Nanjing University professor Gu Su said breaking the unofficial threshold did not mean all those who reached the retirement age would stay. "It's more likely Wang Qishan will stay for the important [anti-corruption] campaign," Gu said. "Even with Xi's elevated status ... [having Wang stay on] would still require a lot of explanation and persuasion."
Xi was elevated as the "core" of the party's leadership at the plenum last week.
Deng said Xi's core status did not put him above other Standing Committee members in decision-making. Rather, different opinions would be "centralised" and Xi would be an "equal" when expressing his opinion or voting.
Xi's elevation was to safeguard the authority of the central party leadership, not to promote personal worship, Deng said.
Xi's predecessor, Hu Jintao, turned down calls to ­affirm his core status but some ­senior party members had since embraced decentralisation and individualism, making it difficult to implement party policies, Deng said. "With so many difficulties and challenges ... if we do not concentrate and unify leadership, I'm afraid these problems cannot be resolved and these duties cannot be fulfilled," he said.
This article appeared in the South China Morning Post print edition as: Signs party might bend on age rule for key cadres