Taiwan
Get more with myNEWS
A personalised news feed of stories that matter to you
Learn more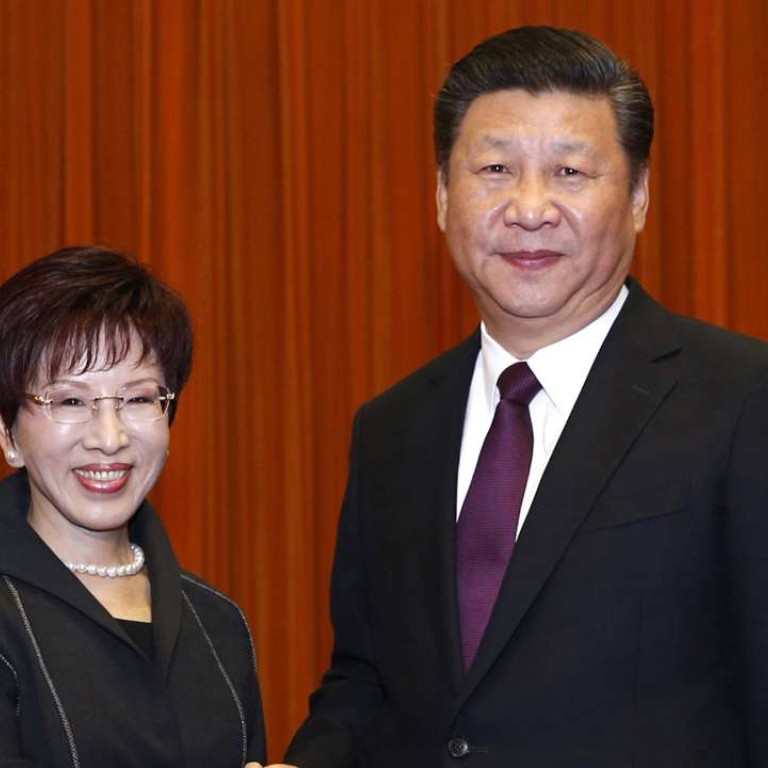 Xi and KMT chief draw hard line under need for landmark 1992 deal
Consensus on 'one China' reached 24 years ago is the political foundation for cross-strait talks, Kuomintang chairwoman says in meeting with Communist Party chief in Beijing
Leaders of Taiwan's Kuomintang and the mainland's Communist Party pledged on Tuesday to work together to uphold peaceful and prosperous cross-strait development under the umbrella of the "1992 consensus".
In their widely watched meeting in Beijing, Communist Party chief Xi Jinping and Kuomintang chairwoman Hung Hsiu-chu also expressed strong opposition to independence for the island.
"Our two sides share a common fate and we must resolutely uphold peace and stability across the Taiwan Strait based on the 1992 consensus and its 'one China' principle," Xi said on the eve of a two-day forum between the two parties.
It was the first time Xi and Hung had met in their capacity as leaders of the two parties.
Xi said that against all odds, the two parties opened the way for cross-strait peaceful development, bringing prosperity for people on both sides since 2008.
He said this was something the two sides must uphold to continue development of their relations and exchanges.
Stressing the need to uphold territorial integrity and oppose any moves to "separate the country", Xi said it was the resolve of all Chinese people to create a Chinese renaissance and a prosperous future.
"Such a historical trend cannot be reversed," he said.
Hung also said the consensus was the political foundation for cross-strait ties.
"The consensus reached in 1992 sought to underline the one-China principle and wisely contained the different contexts of one China, thereby maintaining the mutual trust and the political foundation of our two sides," she said.
The consensus is an understanding that there is only "one China", but each side has its own interpretation of what constitutes "China".
Because of this consensus, the two sides were able to hold talks and conduct exchanges, she said, referring to the warming of cross-strait relations after the KMT's Ma Ying-jeou became president in 2008 and signed various cooperation agreements with Beijing on the basis of the understanding.
Hung said that with ties between Beijing and Taipei strained, the KMT had to continue peaceful exchanges with the mainland for the sake of the Taiwanese public.
Cross-strait relations have stalled since Tsai Ing-wen of the independence-leaning Democratic Progressive Party became president in May after her resounding defeat of the KMT in January's presidential election.
Beijing suspended formal communication with Taipei in June after Tsai refused to publicly accept the consensus.
Tsai Cheng-yuan, who heads the KMT's policy committee, said after the Xi-Hung meeting that Hung also asked Xi not to oppose Taiwan's choice of envoy for the Asia-Pacific Economic Cooperation forum summit. Xi said that as long as Taiwan abided by the one-China principle, there should be no barrier to Taiwan joining events like this.