Taiwan
Get more with myNEWS
A personalised news feed of stories that matter to you
Learn more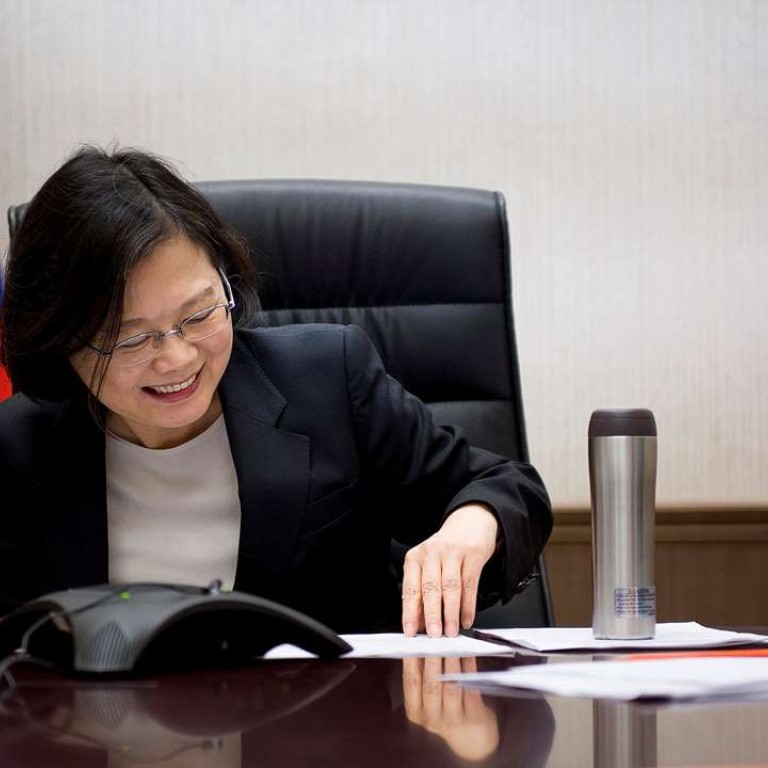 Taiwan's Tsai Ing-Wen initiated phone call with Donald Trump, says island's presidential spokesman
Call marks first such conversation between a Taiwanese leader and any US president or president-elect since 1979
It was Taiwan's President Tsai Ing-wen who initiated the unprecedented phone conversation with United States president-elect Donald Trump, following weeks of intense lobbying from Taipei, the island's presidential spokesman told the South China Morning Post.
The call lasted slightly more than 10 minutes, but it marked the first such conversation between any US president or president-elect and a Taiwanese leader since 1979, when Washington severed formal diplomatic ties with Taipei.
The Trump transition team said Tsai congratulated him on his victory and he offered a similar sentiment for her January win in the polls.
The move is set to rock Sino-US relations and deeply anger Beijing.
"The call was initiated by Taipei through the liaison and agreement channels between our two sides," he said in response to a Post question.
'Petty trick'
Edwin Feulner, founder of the Washington-based Heritage Foundation, played a key part in setting up the call, according to Taiwan's Central News Agency, quoting a source familiar with the matter.
Feulner, who met Tsai during a visit to Taipei in October, joined the Trump team in August.
In Beijing, Chinese Foreign Minister Wang Yi said the call was no more than "a petty trick" by Taipei, and it would not change international recognition of the one-China policy.
"This will never change the one-China consensus reached by the international community. I also believe that this will never change the one-China policy recognised by the US over the past years," Wang said at a forum.
"Sticking to the one-China principle is the cornerstone of the healthy development of Sino-US ties. We [hope there won't be] any disturbance and damage to this political foundation."
'Switched diplomatic recognition'
The phone call was the first such contact with Taiwan by a US president-elect or president since then president Jimmy Carter switched diplomatic recognition from Taipei to Beijing in 1979, acknowledging Taiwan as part of "one China".
Taiwan shrugged off Beijing's claims it was trying to disrupt ties, saying efforts to improve relations with Washington and Beijing did not conflict with each other. "We feel maintaining good US-Taiwan ties and cross-strait relations are equally important. This is in line with our national interest to do so. After all, good cross-strait and US-Taiwan ties are the key to peace and stability in the region, and this is what our government must strive to achieve," Huang said.
Tsai called for US "support of Taiwan's bid for more international participation and contributions to global agenda", and he said the two exchanged views on the current situation in Asia.
'No policy change'
Trump defended his decision to speak with Tsai, saying it was merely a call to congratulate him on his victory. "Interesting how the US sells Taiwan billions of dollars of military equipment but I should not accept a congratulatory call," Trump said in a tweet.
Ned Price, a spokesman for the White House National Security Council, said Trump's conversation did not signal any change to long-standing US policy on "cross-strait" issues. "We remain firmly committed to our 'one China' policy," Price was quoted by Associated Press as saying.
Analysts said it was unclear whether the call represented a deliberate pivot by Trump away from Washington's official stance on cross-strait affairs, but the move had fuelled fears he was improvising.
Jin Canrong, a foreign affairs professor at Renmin University in Beijing, said the phone call was significant but a gesture only. "Trump remains a president-elect who has yet to formulate official policies so it is much too early for China to begin issuing concrete response. He said Tsai was likely hoping to secure "some kind of affirmation that the US will shoulder up previous defence responsibility for Taiwan".