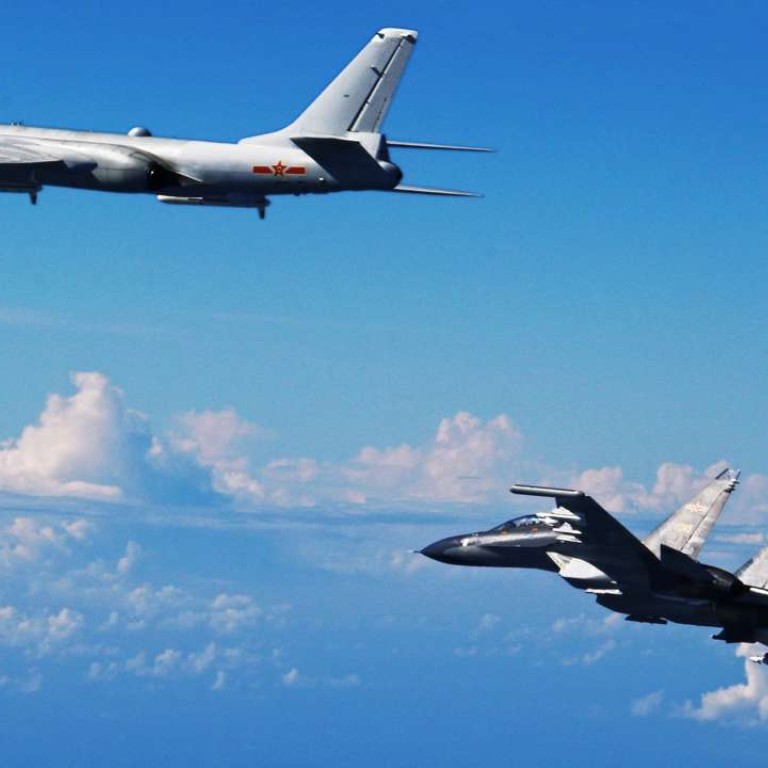 PLA will 'step up flights near Taiwan' to pressure Tsai after Trump phone call
Beijing wants to keep up the pressure on the island amid fears the US may soften its stance on its policy that Taiwan is part of one China
Chinese air force planes are likely to increase the number of flights close to Taiwan after its president's controversial telephone call with president-elect Donald Trump, escalating threats to the self-governed island, according to military analysts.
China's military has already flown a series of flights close to the island in recent months as it tries to ratchet up pressure on Taiwan's independence-leaning government.
Concerns that the US may shift its policy towards Taiwan are likely to further increase the number of flights close to the island, the observers said.
Beijing was infuriated by the call between Trump and Taiwan's President Tsai Ing-wen, fearing that it undermines US policy that the island is part of one China.
The phone call came after the US House of Representatives on Friday passed the National Defence Authorisation Act for next year, which included for the first time a section on senior military exchanges with Taiwan.
PLA aircraft have regularly flown past Taiwan since September on their way to the Western Pacific to carry out exercises, missions viewed by analysts as putting pressure on the island's government.
"There are some bad signals that Tsai's administration is going to seek support from Trump, raising worries in Beijing that Trump may cooperate with her because his mindset is different from other American politicians," Beijing-based military experts Li Jie said.
"Beijing will definably carry out drills to send a stronger signal to Tsai's pro-independence administration because it will create a greater military deterrence."
The PLA air force carried out joint operational drills in the Western Pacific last month with H-6K nuclear bombers flying through the Bashi Channel that separates Taiwan and the Philippines and the Miyako Strait near Japan's Okinawa island, the PLA Daily reported.
Japan scrambled eight F-15 fighter jets to shadow the planes.
The PLA aircraft never entered Taiwanese airspace and its air force merely tracked the flights.
PLA air force spokesman Shen Jinke said in September that its aircraft would make regular flights beyond the so-called "First Island Chain", a line stretching from Japan and Taiwan which China says has been used by the United States to contain it since the cold war.
The PLA sent more than 40 aircraft to conduct drills in the region on September 26.
The exercises involved H-6K nuclear bombers, Su-30 fighter jets, early-warning planes and other aircraft, state television reported.
A Taiwanese online media outlet Up Media reported that a PLA Sukhoi Su-30 fighter jet briefly trespassed into Taiwan's Air Defence Identification Zone during the drills when President Tsai was about to inspect troops in New Taipei's Linkou district.
The Macau-based miliary observer Antony Wong Dong said the PLA's drills were primarily aimed at collecting military electronic intelligence.
"The PLA air force's development has surpassed Taiwan because it had deployed several spy planes like the Russian Tu-154M," he said. "Beijing now has the most advanced early warning KJ-3000, different variants of the Jian series fighter jets and bombers, as well as other sophisticated missiles carried by aircraft."
Song Zhongping, a military commentator with Hong Kong-based Phoenix Television, said the regular flying drills in the Pacific did not target Taiwan, but the US-Japanese military alliance.
"The PLA's long-term strategy is to prevent Taiwan from becoming a chess piece of the US to contain mainland China. If Tsai attempts to seek support from the US for its Taiwan independence plan, Beijing will definitely take military action," he said.
Beijing has criticised Tsai for failing to fully back the 1992 consensus, a tacit understanding reached between Taipei and Beijing that year that there was only "one China" but each side has its own interpretation of what that stands for. Beijing considers Taiwan a breakaway Chinese province.
The Taipei-based political commentator Wang Hsing-ching said the public on the island considered the drills to be part of general pressure put on Taiwan by the mainland.
"Taiwanese believe the flying drills are none of the their business. It's just part of Beijing's aims to show the PLA's military power when dealing with East and South China Sea issues." he said.
This article appeared in the South China Morning Post print edition as: PLA expected to carry out more flights near Taiwan