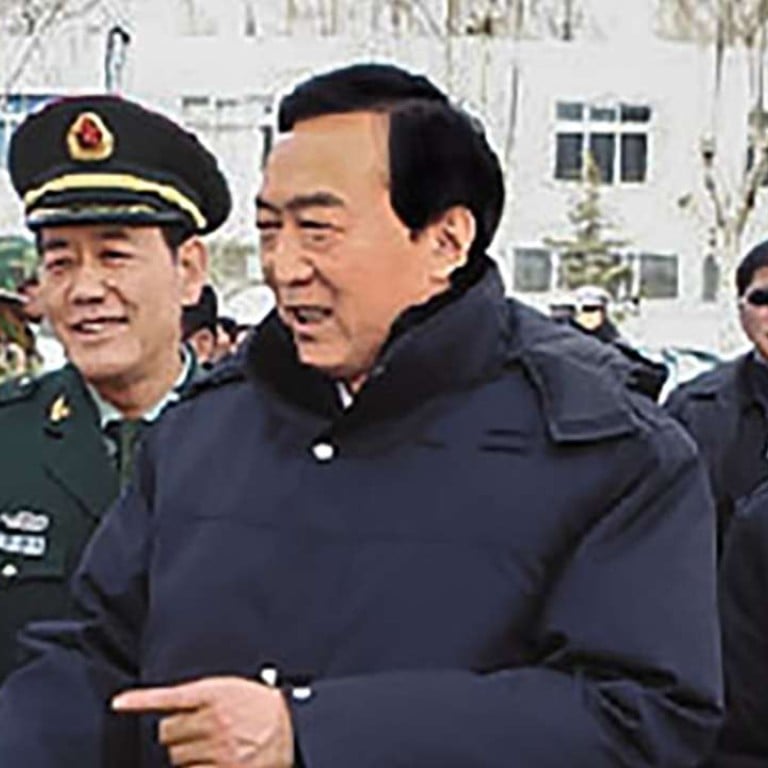 Passports taken, more police ... new party boss Chen Quanguo acts to tame Xinjiang with methods used in Tibet
24/7 police surveillance and spying neighbours are familiar to residents of Chen Quanguo's last post
Just three months after former Tibet party boss Chen Quanguo took up his new post in Xinjiang, the far western frontier is implementing new security and surveillance measures – policies its Tibetan neighbours to the south are only too familiar with.
Since October, residents in many parts of the Xinjiang Uygur autonomous region, both the predominantly Muslim Uygurs and the Han, have been told to hand over their passports to local police for safekeeping, according to police notices circulating online and residents' complaints on social media.
Those wishing to travel abroad had to first seek permission from the authorities before reclaiming their passports, the notices said.
In addition, to strengthen everyday policing, a sprawling net of "convenience police stations" has been built across cities and rural areas, with government websites and official media boasting of their opening.
These one- or two-storey concrete structures are stocked with wheelchairs, first aid kits, repair tools, umbrellas and even phone chargers for public use. They also come equipped with surveillance cameras and guards on 24-hour "seamless" patrols and can be quickly turned into checkpoints if needed.
Urumqi alone, the built area of which only covers 339 sq km, is expected to have 949 such stations, according to a website affiliated with the city government.
With the extra manpower required to staff the new stations, many cities and counties have advertised for auxiliary police officers – often seeking to recruit hundreds at a time.
Ordinary families have also been mobilised to help with social and security control.
In a small village on the outskirts of Kashgar, China's westernmost city, a "double-linked household management system" recently went into operation. Households were divided into groups of 10 to watch over each other for security and poverty alleviation — hence the "double" in the description.
The aim was to foster community supervision of potential security threats, religious extremism and "targeted individuals" on watch lists, as well as providing help and economic support, state-run news site China.com.cn reported.
These policies all resemble those enacted in neighbouring Tibet, where Chen ruled for five years before being appointed the party chief of Xinjiang at the end of August.
Authorities in the Tibet autonomous region have ordered the recall of all ordinary passports held by residents since 2012, the year after Chen assumed office on the high plateau. In the regional capital Lhasa, 156 convenience police stations were built in recent years, with the closest two only 15 metres apart from each other. Across Tibet, 81,140 units of double-linked households have been formed, covering more than three million residents.
Officials in Xinjiang are now actively looking to Tibet for lessons in social management. A team of Xinjiang officials paid a week-long visit to Lhasa and Nyingchi in September to learn about their social management, including the double-linked household system, official media reported.
James Leibold, an expert on China's ethnic issues at La Trobe University in Australia, said that, by his count, Chen had pioneered at least six major policy initiatives aimed at maintaining stability in Tibet and was now bringing his methods to Xinjiang.
"Chen Quanguo seems to be a real innovator, no doubt that's why he's been rewarded with a post in Xinjiang, which is considered a very difficult post. He's seen as being quite effective," Leibold said.
Chen's two predecessors leapfrogged from the position of Xinjiang party chief to seats in the 25-strong Politburo, the party's second-most-powerful body.
The ramping up of security and surveillance in Xinjiang dates back to 2009, when Uygur riots in Urumqi led to the deaths of about 200 people. It had intensified since President Xi Jinping came to power four years ago, but increased even further under Chen, Leibold said.
"His predecessor Zhang Chunxian was criticised – although I think largely due to factional infighting – for being soft on security issues. But everybody seems to agree that Chen is an iron-fisted ruler. And it seems like since he came to power he has stuck at that. He's putting his policy initiatives' sole emphasis on security," Leibold said.
Increasing party-state security and control could be quite effective in the short term on a superficial level, Leibold said, pointing to the sharp decline in the number of self immolations and the absence of any major outbreaks of violence in Tibet in recent years. But he warned that deeper penetration of party-state control into the daily lives of residents in frontier regions could also instil resentment in some families and individuals.
"What happens when you bottle up resentment and sow the seeds of division in a rapidly changing society? Either people change their behaviour and adapt – I'm sure many people might – or sometimes they strike back, become more radicalised and lash out. Most of the acts of terror that have occurred in the past few years are acts of desperation. Some people have been pushed to extremes; these are their final acts."
Leibold said it would be difficult to predict the outcome of Chen's measures in Xinjiang because a wide range of drivers affect ethnic tension. Economic incentives, in particular, should not be underestimated because, for many families, pragmatism is most important.
Some of the security policies come with a carrot-and-stick approach. In the double-linked household system, for instance, families will be appraised annually and those identified as having done a good job will be rewarded. In Tibet, children from "progressive" double-linked families receive 10 extra points on their university entrance exams. This gives them an edge over their peers in the fierce competition for university education, deemed a crucial way – and for many poor families the only way – to improve their livelihoods and economic status.
Barry Sautman, an expert on Chinese ethnic politics at Hong Kong University of Science and Technology, said repressive measures were unlikely to end the ethnic conflict in Xinjiang, but other measures Chen was taking might have more effect.
"There are some indications that he has not only these hard policies, but also some soft policies, mainly involving anti-poverty measures," Sautman said, citing as an example Chen's recent vow to eliminate poverty in Xinjiang by 2020 and raise income levels substantially.
The administration of Xi Jinping pledged to eliminate poverty by 2020 in its latest five year plan, and Xinjiang's 2.6 million impoverished residents must be included.
Some other soft approaches Chen had adopted included ethnic bonding programmes, Sautman said, in which civil servants – both Uygur and Han – were required to form bonds with ethnic minority families by visiting them regularly and interacting closely with them to gain a better understanding of the Uygur culture.
Sautman said the situation in Xinjiang should be viewed in the context of the international situation, where the typical approach of many governments to quell ethnic tension was some combination of hard and soft tactics, as was being done in Xinjiang.
"In the case of Xinjiang, there is some attempted balance between repression on one hand and attempts to win over people through various concrete means that involve both economic rewards and an attitude of greater friendliness," he said.