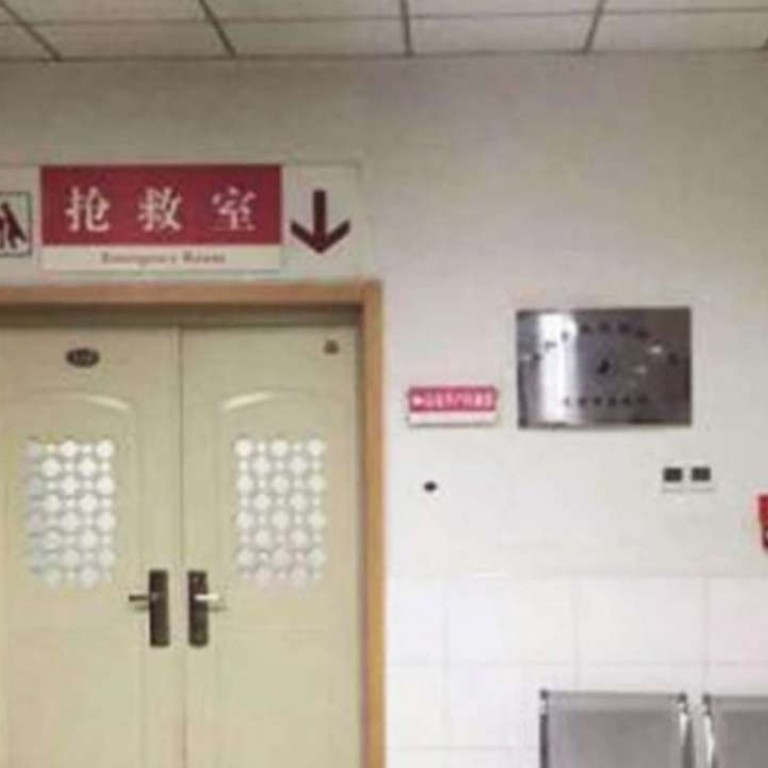 Beijing police missed opportunity in handling of death in custody case, say academics
Public distrust of law increases after police involved in death of young father Lei Yang are exempted from prosecution
Beijing police missed an opportunity to soothe public distrust and restore their image by their handling of an investigation into the suspicious death of a young man while in custody, academics say.
Last week, seven months after the death of a 29-year-old Lei Yang while in police custody, the case was closed with all of the police officers involved exempted from prosecution and a financial settlement between the family and police.
The handling of Lei Yang's death sparked public outrage, particularly with many Chinese who identified with the well-educated young father who worked for the government.
The muzzling of social media comment on the death of Lei in May is likely to add fuel to the fire of public discontent as Chinese platforms lit up at the time with questions regarding police conduct as the cause of death. Searches of Lei's name on the Weibo microblog now come up blank, with only a message saying "no display because of relevant laws and regulations".
"The Lei Yang case has become a public incident that attracts the attention of all of society," said Hu Xingdou, a political commentator and professor at the Beijing Institute of Technology. "This will definitely affect the public's confidence in the rule of law, especially when hopes had been high."
Many onlookers cannot understand why the police are not being held legally responsible for the death, with the prosecutor stating that their dereliction of duty was only minor, Hu said, which would lead to distrust of the country's legal system.
Lei, who had just celebrated his third wedding anniversary and had a one-month-old baby girl, left home in the Changping district of the capital on the night of May 7 to collect visiting relatives, but hours later was admitted to a hospital, where he was pronounced dead. Police announced following mounting public pressure that Lei had been taken into police custody for soliciting and he fought them violently and died of a heart attack.
Questions were asked by the public about the possibility of police brutality, and concerns of a police cover-up built. Days later, the five police officers involved were officially put under investigation.
The keen attention paid to Lei's death was partly because many of the middle class in China related to him and his background. Born in a small country town in Hunan, Lei earned a master's degree from the prestigious Renmin University in Beijing, and landed a good job with the government.
"Many identified with Lei and felt anxiety because, like Lei, they thought they were middle class and never made trouble," said Qiao Mu, a professor at Beijing International Studies University. "Lei's sudden death in a suspicious manner made them lose their usual sense of security."
Qiao said the case was an isolated one and would have been significant had it been allowed to be discussed in the public domain to address how to supervise the use of force by police.
The case went quiet for several months after an autopsy was performed on Lei in June, but then the five officers were formally charged at the end of November.
Prosecutors last week decided the officers' dereliction of duty was minor in Lei's death.
Lei's family, who expressed a desire to appeal after last week's announcement that no charges would be laid, eventually settled with the police, citing massive pressure.
Qiao said that handling the case in a political way, rather than from a legal point of view, was to protect the police as part of the state apparatus performing their duty.
Hu said such a strategy could backfire and compromise public confidence in the rule of law.
"Putting the officers on trial and handing down relevant sentences would earn the police a better image," Hu said.
Chen Zhonglin, a professor of law at Chongqing University, said the police could quash further criticism and public doubt by releasing evidence of how the officers treated Lei.
"In a sense, the case might improve how police regulate their behaviour in law reinforcement," he said.
This article appeared in the South China Morning Post print edition as: Lei Yang case 'takes fear of police to middle class'