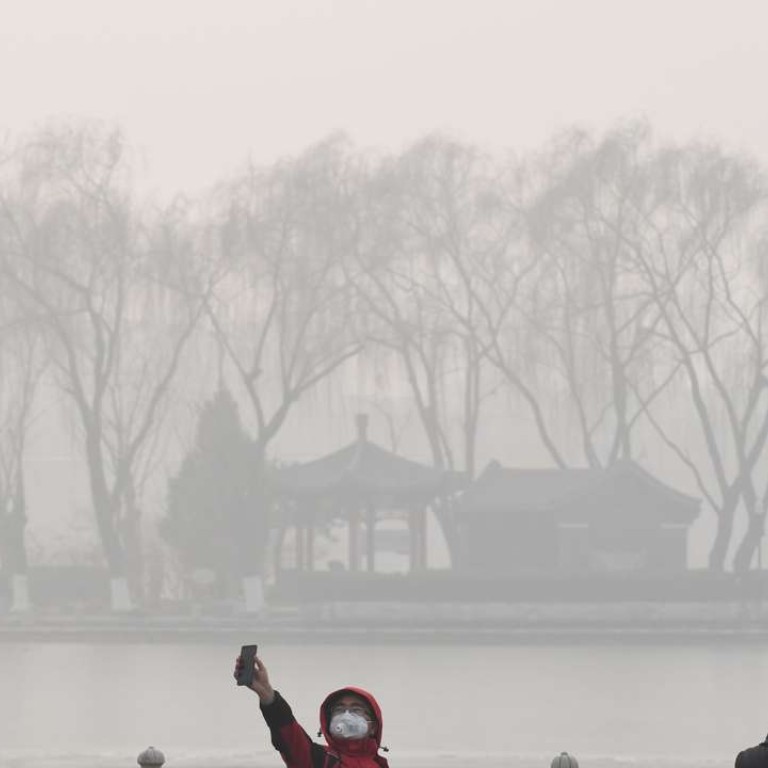 Smog levels in Beijing off the charts
Air quality reading exceeds maximum 500 mark on index, US embassy says, as blanket of acrid air descends across north, hitting holiday plans
Residents in Beijing kicked off the first day of the new year with smog that was off the charts.
The air quality index released by the municipal environmental protection bureau on Sunday hit 482, almost touching the 500 mark where the scale tops out, and far beyond the point deemed hazardous to health. The US embassy gives its own reading for air pollution in the capital, and said levels were well beyond 500.
More than a dozen other cities including Tianjin and others in neighbouring Hebei and Shandong provinces also saw smog return to dangerous levels.
The poor visibility led to the cancellation of hundreds of flights throughout the region.
Smog levels above 300 are deemed hazardous to health and could led to serious illness, according to the Beijing-based World Air Quality Index project.
Stations in Qinhuangdao and Shijiangzhuang in Hebei, and Taiyuan in Shanxi saw readings rise above 500. A few other cities in Shandong and Hebei saw levels climb past 400.
Beijing issued an orange alert for air pollution on Thursday that was extended to Wednesday. Heavy polluting vehicles and trucks carrying construction waste are banned from roads and some manufacturing firms have cut production.
An orange alert means heavy pollution – PM2.5 higher than 150 – is expected to last for three consecutive days. PM2.5 refers to particles smaller than a human hair which can enter the lungs, and are deemed the most harmful to health. When the alert is in force, outdoor activities at schools are cancelled and construction work suspended.
The return of heavy smog disrupted travellers hoping to take advantage of the three-day New Year holiday that started on Saturday.
Tianjin airport cancelled more than 300 flights, while in Beijing 50 flights had been cancelled up to last night. All long distance shuttle buses departing from the airport had been suspended.
Affected travellers will have to cover their own costs while they wait. Under an aviation regulation that came into force on Sunday, passengers must pay for their own accommodation and food, if their flight delays are caused by weather or traffic control, two major reasons for most disruptions.
"My thoughts are as heavy as the smog, I have no idea what the environmental protection departments are doing," said a woman surnamed Zhang in her 30s in Beijing.
"It's impossible for our children to avoid the outdoors under heavy smog. I don't think suspending school is a real solution," Zhang said, pointing to her toddler son, who was also wearing a mask.
Another woman, surnamed Zhao, who was in her 20s, said: "I feel powerless and helpless – there seems to be no quick solution. It's having a tremendous impact on our lives. Even the indoor air is not breathable if we don't turn on the air purifiers."
Smog is related to nearly one-third of deaths on the mainland, putting it on a par with smoking as a threat to health, according to an academic paper based on the study of air pollution and mortality data in 74 cities. The findings by Nanjing University's School of the Environment were published in the November edition of the journal Science of the Total Environment.